On Sunday, Joe Biden's main medical adviser refuted the vice president's claim that no one saw the Omicron variation coming.
'We did. We definitely saw variants coming,' said Dr Anthony Fauci, after being read out Kamala Harris's quote.
On Friday she told The Los Angeles Times: 'We didn't see Delta coming. I think most scientists did not — upon whose advice and direction we have relied — didn't see Delta coming.
'We didn't see Omicron coming. And that's the nature of what this, this awful virus has been, which as it turns out, has mutations and variants.'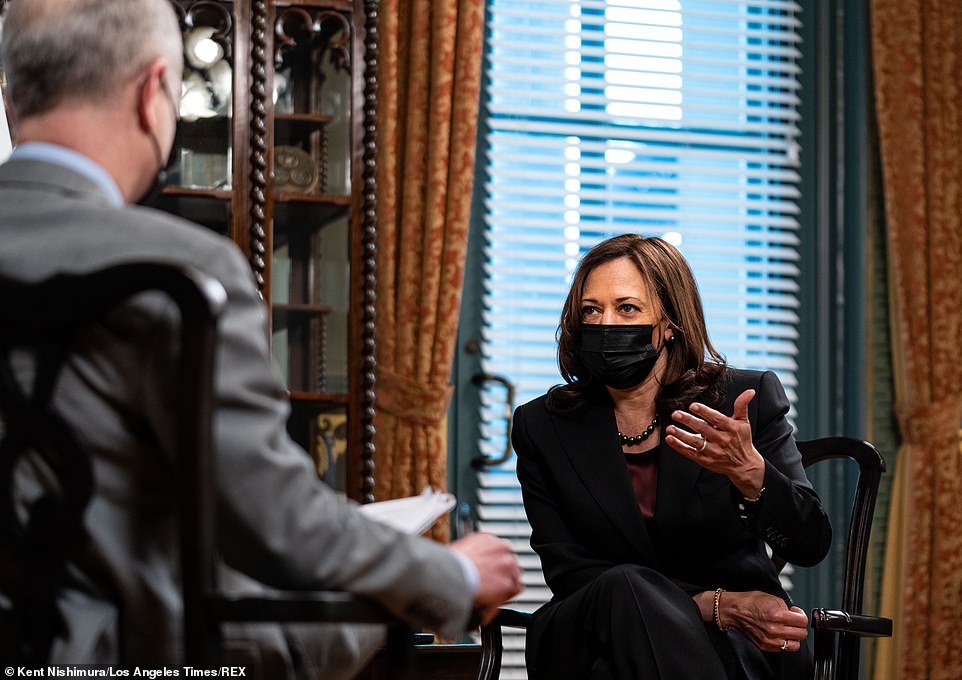 Fauci said that Harris was mistaken - but he accepted that Omicron's potency had not been forecast.
'What was not anticipated was the extent of the mutations and the amino acid substitutions in Omicron, that is really is unprecedented and came out of nowhere,' Fauci told CNN's Jake Tapper, on State of the Union.
'When you have a virus which has 50 mutations.
'To me that is really quite unprecedented so that is something you would not have anticipated.
'But we certainly were anticipating that there were going to be variants. Because when you have so much replication going on in the community, if you give a virus enough opportunity to replicate you know it's going to ultimately mutate.
'And sometimes those mutations become a new variant, and that's what happened with Delta, and certainly with Omicron.'
Fauci said the COVID-19 virus was 'very unpredictable'.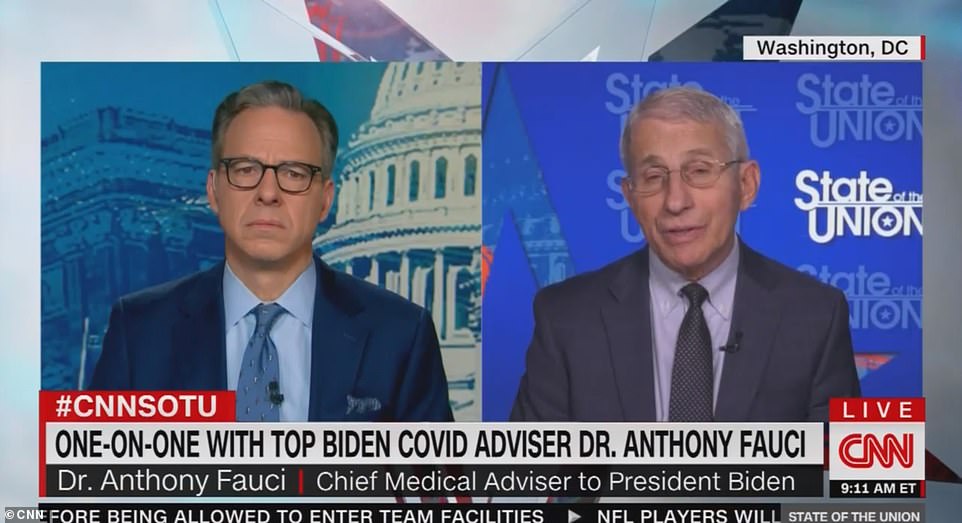 According to a Reuters count, COVID cases and deaths in the United States have increased by roughly 50% since the beginning of the month, while the number of hospitalized COVID patients has increased by 26%.

On Tuesday, Biden will make a lecture about the fast-spreading strain and how to tackle it, emphasizing the need of being vaccinated and getting a booster dose for those who are already vaccinated.

When asked about Biden's forecast that Christmas in 2021 will be "nearly normal," Fauci stated, "It's conceivable how one could expect, aspirationally, that we would be in a better place."

He emphasized the need of being vaccinated and boosted, 'especially with the scenario we're in now with Omicron.'

As of Saturday morning, there had been 830 confirmed instances of Omicron, up 50% from Friday, and it had been found in practically every state.
Kentucky, Arkansas, Maine, Kansas and Wyoming confirmed new Omicron cases, bringing the total to 45 states.
Fauci said that there needed to be more at-home testing.
'We are going to see a significant stress, in some regions, of the hospital system,' he said.
'This virus is extraordinary. It has a doubling time of anywhere from two to three days.'
He said Omicron 'is going to take over' and that 'we are going to be in for some significant difficulties'.
Fauci added: 'It's going to be tough. It's going to be a tough few weeks and months, as we head more into the winter.'
But, he said he thought schools could stay open.
'Right now we can keep the children in schools safely. What the CDC came out a few days ago was the Test to Stay system, and it does work,' he said.
'We are trying as best we can to keep the schools open.
'I believe that even with the stress of what we are feeling now, we can keep the schools open.'
He said they were 'trying to get a veil of protection over the country', and that vaccination was 'an absolutely essential part of the process' - but masking and testing was also vital.
'Testing is absolutely essential,' he said. 'Particularly the point of care, where you can do testing yourself and get a result in 15 minutes.
'It's more than one thing. It's a comprehensive approach.'
On Monday, Jen Psaki, the White House press secretary, mocked the idea of at-home tests being distributed for free - as is the case in multiple other countries.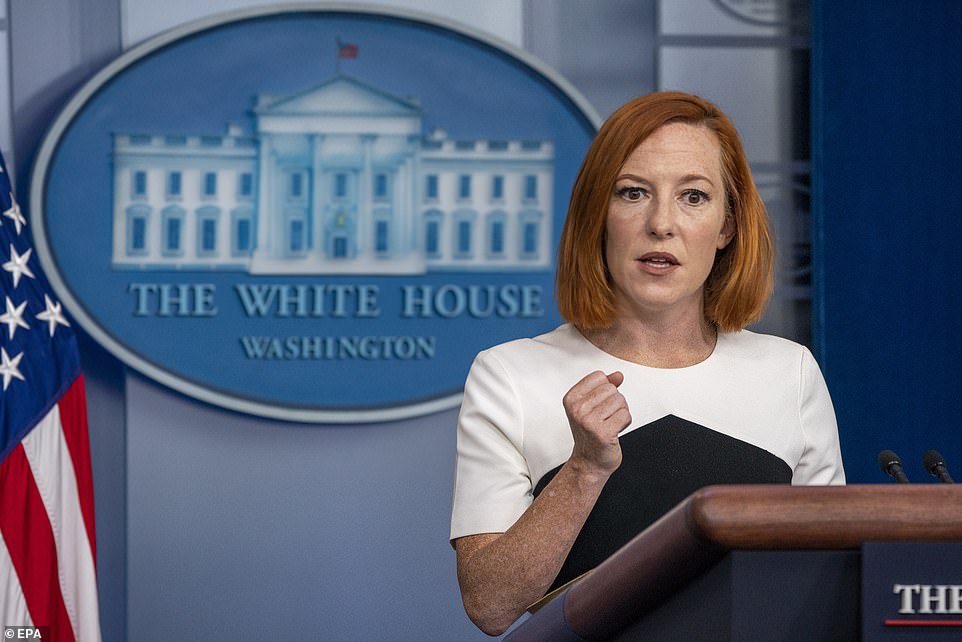 Asked why the U.S. was not doing the same, Psaki replied: 'Should we just send one to every American?'
'Maybe,' the reporter replied, before again trying to point out the example of other countries, only to be cut off by Psaki.
'Then what happens if every American has one test? How much does that cost, and then what happens after that?' Psaki asked.
The testy briefing room back-and-forth quickly caught the attention of doctors and public health experts, who wasted no time raking Psaki over the coals for what one commenter described as her 'terrible, flippant, wrong' response.
'Actually stunned by this response by the @PressSec @WHCOVIDResponse @WhiteHouse,' tweeted Rick Bright, CEO of the Rockefeller Foundation.
'We should remove all access barriers to rapid tests.
'They're too expensive, in short supply & adding extra insurance barriers isn't the answer. Yes, mail them to all Americans.'
Gregg Gonzalves, a Yale University researcher did not mince words, writing in a tweet: 'this answer was terrible, flippant, wrong.
'Rapid tests are hard to get, expensive & could be a key intervention in fighting #COVID19.
'Other countries have figured out better ways to get these tools into the hands of their citizens. Do better.'
Dr Tatiana Powell, an oncologist, argued that nearly two years into the pandemic, at-home tests should be free and available to everyone.
'If we run out when we send one to every [home], we're doing something very wrong,' she tweeted.
Dr. Craig Spencer, Director of Global Health in Emergency Medicine at New York-Presbyterian/Columbia University Medical Center, said that the US government had previously spent billions on vaccinations, so "testing should be no different."

The eight at-home tests certified by the US Food and Drug Administration, according to Psaki, are "the gold standard."

She indicated that other countries may fall short of that goal by making the kits free and freely available.

She then praised the increase of at-home testing, claiming that 150 million Americans will be able to obtain free tests owing to the Biden administration's reimbursement plan.

Reporters, on the other hand, were dubious, arguing that the scheme was "too convoluted" and questioning why the government did not simply provide the exams to everyone for free.
Harris' remarks about failing to predict Omicron and Delta four days after Psaki's Monday discussion aroused eyebrows.

Coronaviruses have long been recognized for their mutations and variations.

The WHO had already identified three 'variants of concern' - Alpha, Beta, and Gamma - by the time Harris and Biden took command in January 2021.

During the Biden-Harris administration, two more, Delta and Omicron, were founded.

The beleaguered vice president addressed the press as the Omicron variety spreads throughout the country, with 45 states and Puerto Rico reporting cases as of Saturday morning, according to the Centers for Disease Control and Prevention (CDC).

In only 24 hours, the number of verified Omicron cases in the United States has doubled, with the variety now confirmed in all but five states.
There were 830 instances of Omicron verified by DNA sequencing across the country as of Saturday morning, up 97% from Friday morning's total.