Americans have been setting aside days of gratitude, prayer, and fasting in response to noteworthy occurrences since the colonial era.
President George Washington declared November 26th, 1789, as a national day of thanksgiving to honor the role of providence in the formation of the new United States and the new federal Constitution. President Abraham Lincoln later made efforts to make it a permanent government holiday.
The "first" Thanksgiving, according to American tradition, took place in the autumn of 1621 in Plymouth Colony. After their first harvest, the Separatist Puritan settlers of Plymouth, known as Pilgrims, held a feast to thank God for his benefits. Members of the nearby Wampanoag tribe were invited to join them in their celebration, which was not unusual nor foreign to them. The 1621 thanksgiving festival, on the other hand, did not become an annual event; instead, citizens of Plymouth and the other colonies conducted days of thankfulness and fasting at various times throughout the year for various reasons.
The tradition persisted during the American Revolution. To commemorate military successes over the British army, colonial legislatures set aside days of prayer. The Continental Congress proposed that a national day be set aside to commemorate British General John Burgoyne's surrender to the Americans at Saratoga, New York, in October 1777. General George Washington, commander of the Continental Army, concurred, establishing December 18, 1777 as the first national Thanksgiving Day. Similar thanksgiving proclamations were sponsored by the Continental Congress until 1784.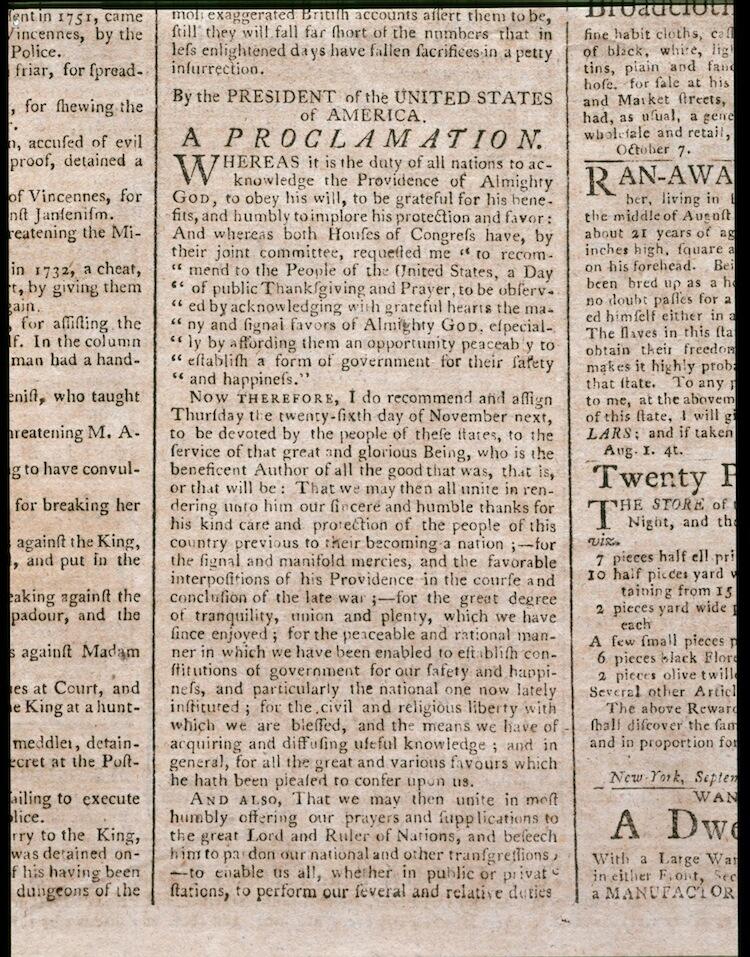 Representative Elias Boudinot of New Jersey introduced a motion in Congress in 1789 urging that President George Washington establish a thanksgiving observance in honor of the new United States Constitution's formation. The resolution establishing a joint committee to submit their appeal to the president was approved by Congress.
On October 3, 1789, Washington signed a proclamation declaring November 26 as a national day of thanksgiving. Washington said in his proclamation that the need for such a day arose from the Almighty's protection of Americans previous to the Revolution, support in obtaining independence, and assistance in building a constitutional government. Not to be outdone, Washington sent his proclamation to the governors, suggesting that they proclaim and commemorate the day in their own states. The declaration was then published in newspapers around the country, and public festivities were organized. Washington personally observed the day by attending services at New York City's St. Paul's Chapel and distributing beer and food to the city's imprisoned debtors.
The Thanksgiving Proclamation of 1789, on the other hand, did not create a permanent government holiday. In February 1795, Washington issued another proclamation to acknowledge the defeat of a taxation insurrection in Pennsylvania. Presidents such as John Adams and James Madison proclaimed gratitude days later. But it wasn't until the Civil War in the 1860s that President Abraham Lincoln established Thanksgiving as a national holiday in the United States.
T. K. Byron, Ph.D.
Assistant Professor of History
Dalton State College