It's been a thrilling month for the cryptocurrency industry, particularly for the largest digital asset. Earlier this week, Bitcoin reached a new all-time high of $67,000. However, rather than resuming market momentum, BTC displayed faded strength on the charts.
This month, Bitcoin, for the most part, rallied the entire industry. However, over the last few days, the asset has corrected by more than 10%, briefly falling below $60,000.
However, at the time of publication, the asset had recovered and was worth close to $63,000. Having said that, there is another coin in the air, and it may end up on the bullish side of the coin over the next week.
Is Ethereum tagging along with Bitcoin?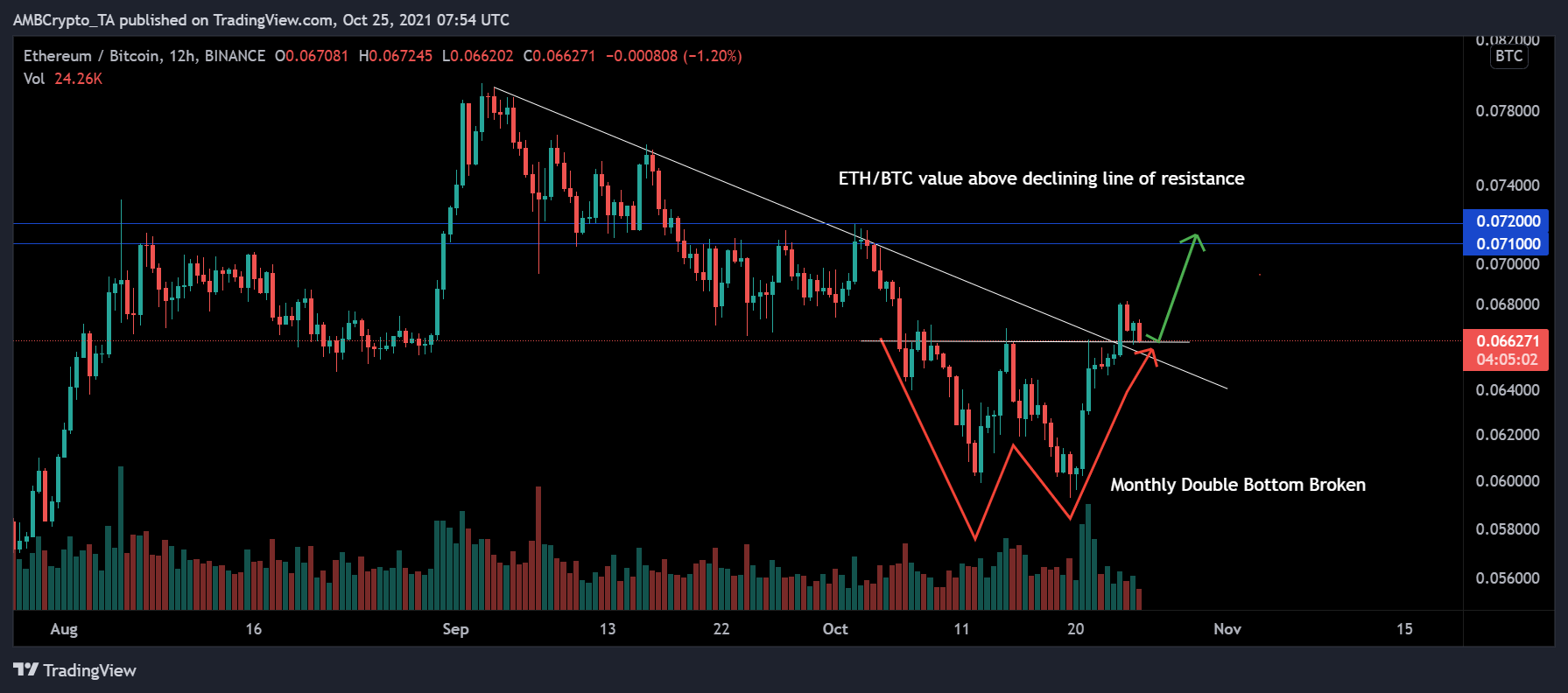 An article on AMBCrypto last week discussed the possibility of an altcoin season in the future, but the dynamics have shifted in the last few days. Following the breach of the ATH, BTC was expected to surge above $70,000. However, this has not been the case, and consolidation may have begun too soon.
Keeping that in mind, the ETH/BTC chart shows a number of indicators indicating that this could be Ethereum's week to establish bullish momentum.
As seen, the ETH/BTC pair broke through the declining resistance that had been in place since the beginning of September. It was tested on September 16th and October 3rd, 2021, but on October 23rd, ETH/BTC established a position beyond the resistance.
The formation and breach of a monthly double bottom was another bullish pattern seen in the chart. On the 23rd of October, ETH/BTC moved and closed a candle above the pattern, which can be interpreted as additional confirmation of the bullish pattern.
With Ethereum encountering some resistance at $4150 at press time, a break above $4200-$4300 could see the largest Altcoin take command in the coming days.
Altcoins to profit from ETH's market fervor?
Furthermore, it is obvious that liquidity flowing into Ethereum will have an indirect impact on the market rallies of other altcoins. According to Skew data, Ethereum Classic and Chainlink are the most likely to trail Ether. With a strong correlation of 0.89 and 0.84 with ETH, respectively, ETC and LINK have struggled to establish bullish momentum in recent weeks.
With Ethereum breaching above and potentially reaching a new all-time high, ETC and LINK may follow suit, as the assets are currently looking to breach their respective resistance levels of $60 and $40.