Bitcoin reached a new all-time high of $67,276 less than 24 hours ago, following a 188-day drawdown and a 55 percent correction from the peak. The recovery took exactly three months, with BTC reaching a cyclical low of $29,200 on July 20, 2021.
Since then, the market has recovered collectively on the charts. And, following in the footsteps of Cardano and Solana, Bitcoin has finally established its own new ATH.
With Bitcoin's new peak in mind, the narrative for an upcoming altcoin season gains credence. However, before investors start pouring money into mid- and small-cap assets, these market indicators should be monitored in order to maximize efficiency and returns.
In a nutshell, here's how an altcoin season works:
During bearish market cycles, the accumulation of BTC with dollars occurs.
Bitcoin makes parabolic moves, and the public pours into BTC – Altcoins' Satoshi value will soon fall.
Bitcoin consolidates at the top, and altcoins begin to advance – Later, before the parabolic move, the accumulation of altcoins begins with the purchase of BTC.
When the rate of new market participants slows, Bitcoin blows at the market top, and it's time to sell altcoins and keep profits.
Depending on BTC's bullish leg, multiple altseasons could occur in a single cycle.
Keeping this flow of capital in mind, the Bitcoin dominance chart can be used to identify the trend shift from Bitcoin to altcoins.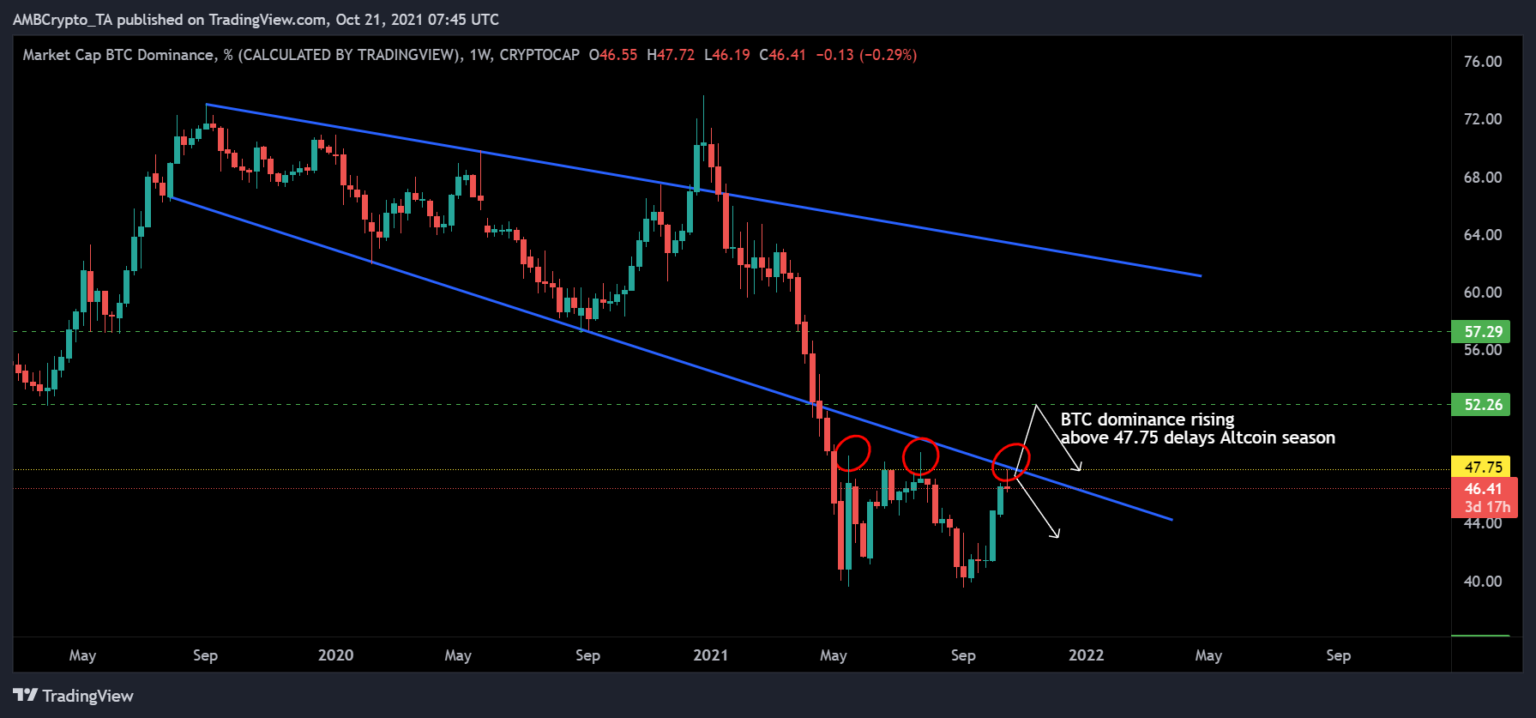 When the BTC.d chart rises, the trend is especially on Bitcoin's side, and more capital is flowing in its direction. However, as illustrated by the chart, the 47.75 mark has been a turning point during the current bullish cycle in 2021.
With Bitcoin reaching $67000, the likelihood of BTC dominance breaking the 47.75-point barrier is high. As a result, it may take another 2-4 weeks for the market to confirm the emergence of an altcoin season.
If BTC.d shows a weekly retracement from its press time value and Bitcoin consolidates in the $62k-$66k range, capital will begin to flow into alts. This increases the likelihood of an alternative rally.
What's the final word?
It is still too early to declare an altcoin season, as Bitcoin has only recently reached its new all-time high. While BTC is expected to rise further on the chart in the coming weeks, alts may have to take a back seat until the momentum shifts from Bitcoin to them.
Overall, keeping an eye on the BTC.d chart is critical. Especially if altcoin entries must be precisely timed during a volatile market period.