The London Museum of Natural History awards prizes each year for the best photos of wildlife. Here are the seventeen awarded out of nearly 50,000, with the culmination of a Siberian tigress.
"The snapshot of an ecstatic tigress clutching between its paws an old Manchurian fir in a distant Siberian forest has won one of the most prestigious photography prizes in the world," announced The Guardian on October 13, three days before the official presentation of the Best Wildlife Photographer of the Year Award by the Duchess of Cambridge at the Natural History Museum in London.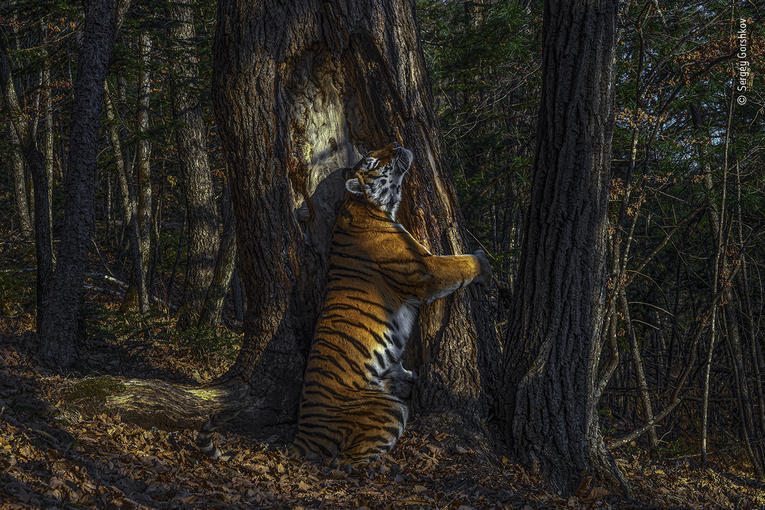 The British newspaper said it took 11 months for the winner, Russian photographer Sergey Gorshkov, to "capture this moment with hidden cameras." A moment of plenitude chosen from over 49,000 shots, "which Roz Kidman Cox, chairman of the jury, called a 'unique glimpse of a moment of great intimacy in the heart of a magical forest.'

"The animal is an Amur, or Siberian, tiger that lives in the vast forests of the Russian Far East, with small numbers surviving across the border, in China and possibly be in North Korea. Endangered due to intensive hunting, its population remains threatened by poaching and tree felling, which also affects their prey: mainly deer and wild boar. However, recent studies show that, thanks to conservation efforts, the species now numbers 500 to 600 individuals. "

These tigers live in huge territories, up to 2000 km for males and 450 km for females. Sergey Gorshkov knew his chances of photographing one of them were extremely slim. "He searched the forests for possible messages - smell, hair, urine or scratches - on the trees. He set up his camera in front of this tree in January 2019 and hit the jackpot in November. He titled the shot The Embrace. "