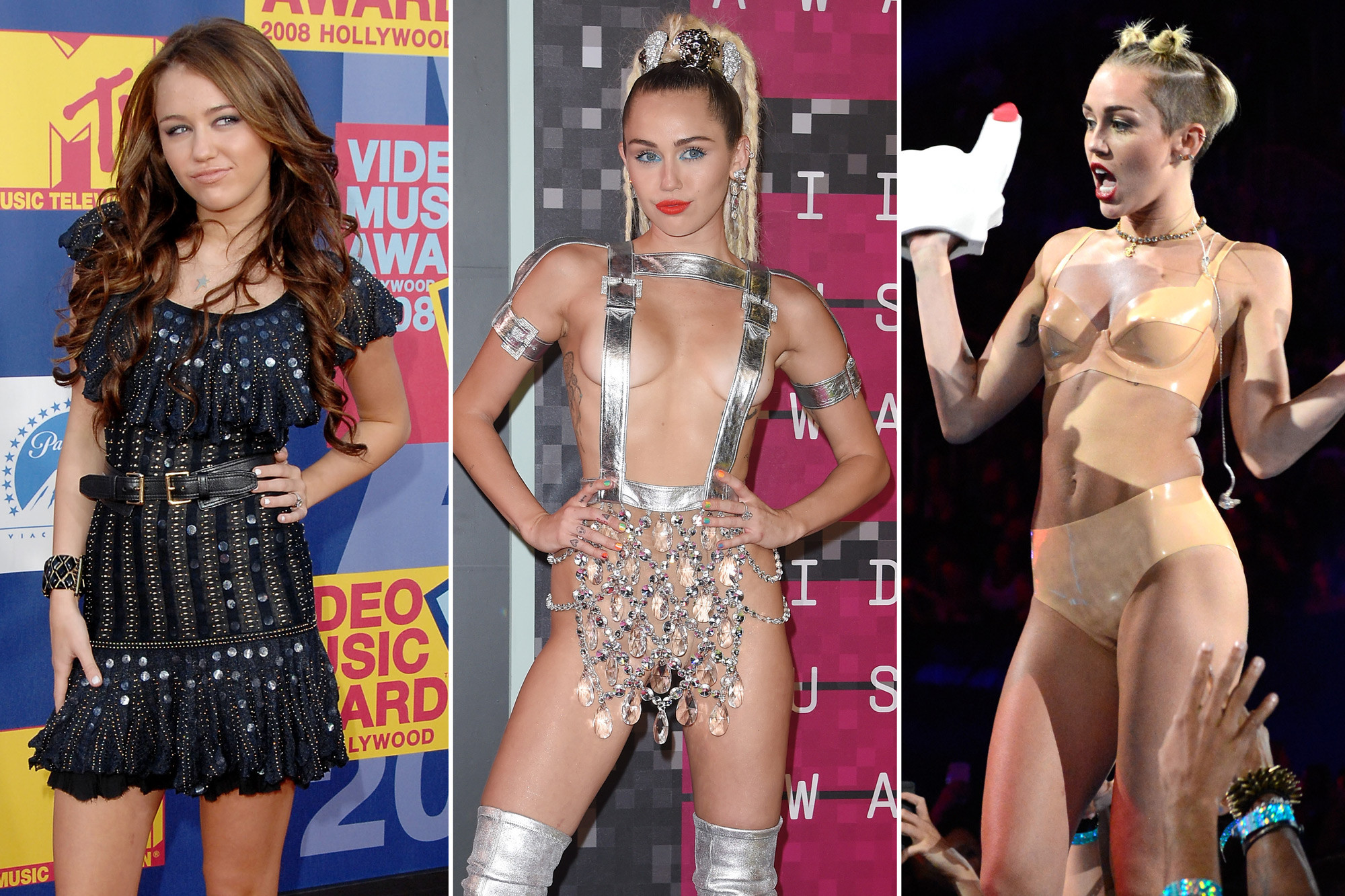 Miley Cyrus may just be the queen of the VMAs. Making her debut in 2008 as a young "Hannah Montana," she quickly shed her innocent look and, in 2013, shocked the world when she showed off her twerking skills and joined Robin Thicke for a performance of "Blurred Lines."
Two years later, Cyrus was tapped to host the MTV awards show, and sported some of the raciest looks ever seen on the red carpet. In between it all, she's taken the VMAs stage to announce the launch of her Happy Hippie Foundation, sing "Slide Away" after her divorce from Liam Hemsworth and accept the Video of the Year Award for "Wrecking Ball." Ahead, see every dazzling, daring look Cyrus has ever worn to the VMAs.
Getty Images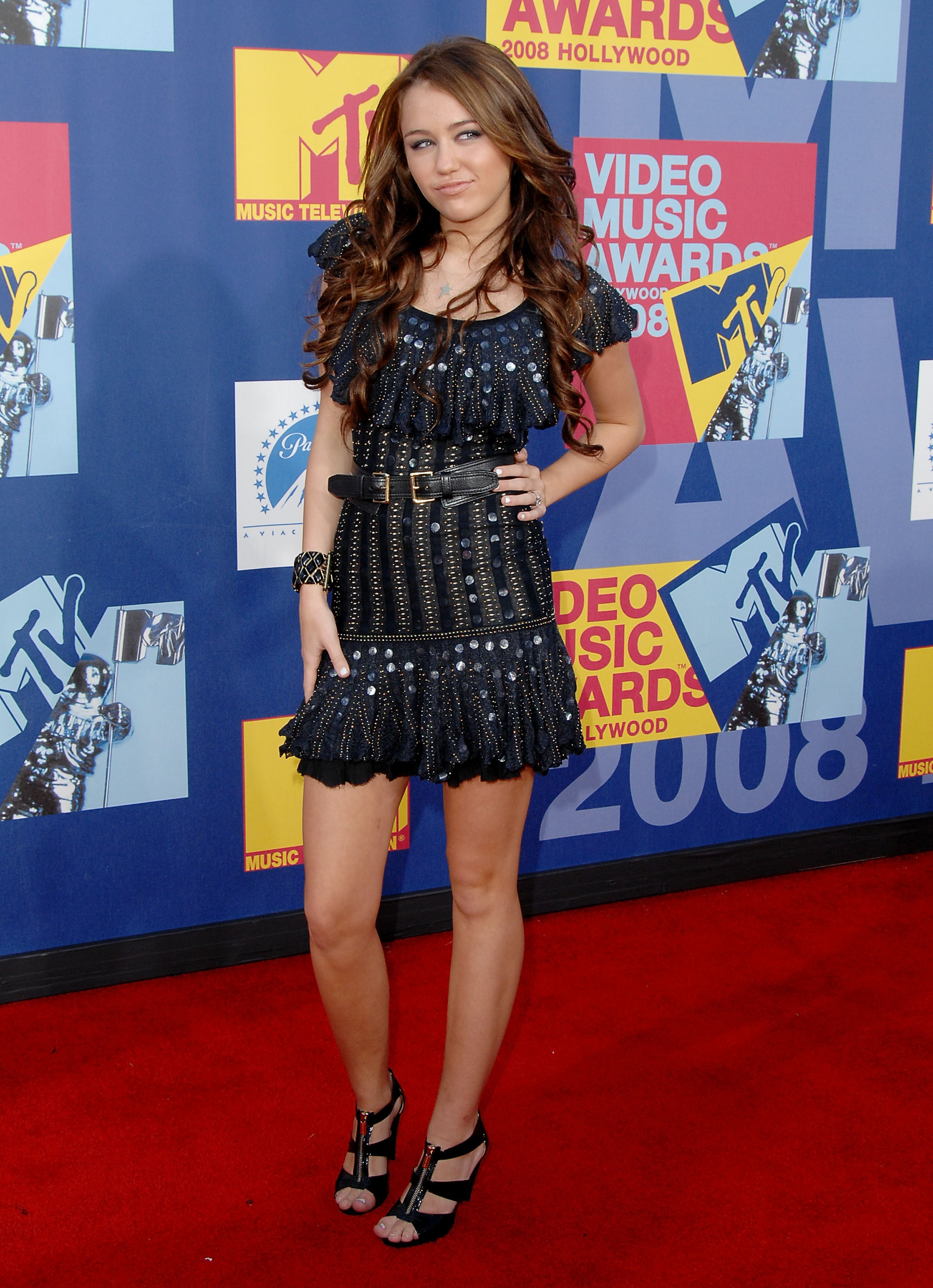 The young "Hannah Montana" star made her VMAs debut at the age of 15 in 2008, wearing a simple yet sassy black dress by Zac Posen. The night was surely unforgettable, as Cyrus was nominated for Best New Artist.
FilmMagic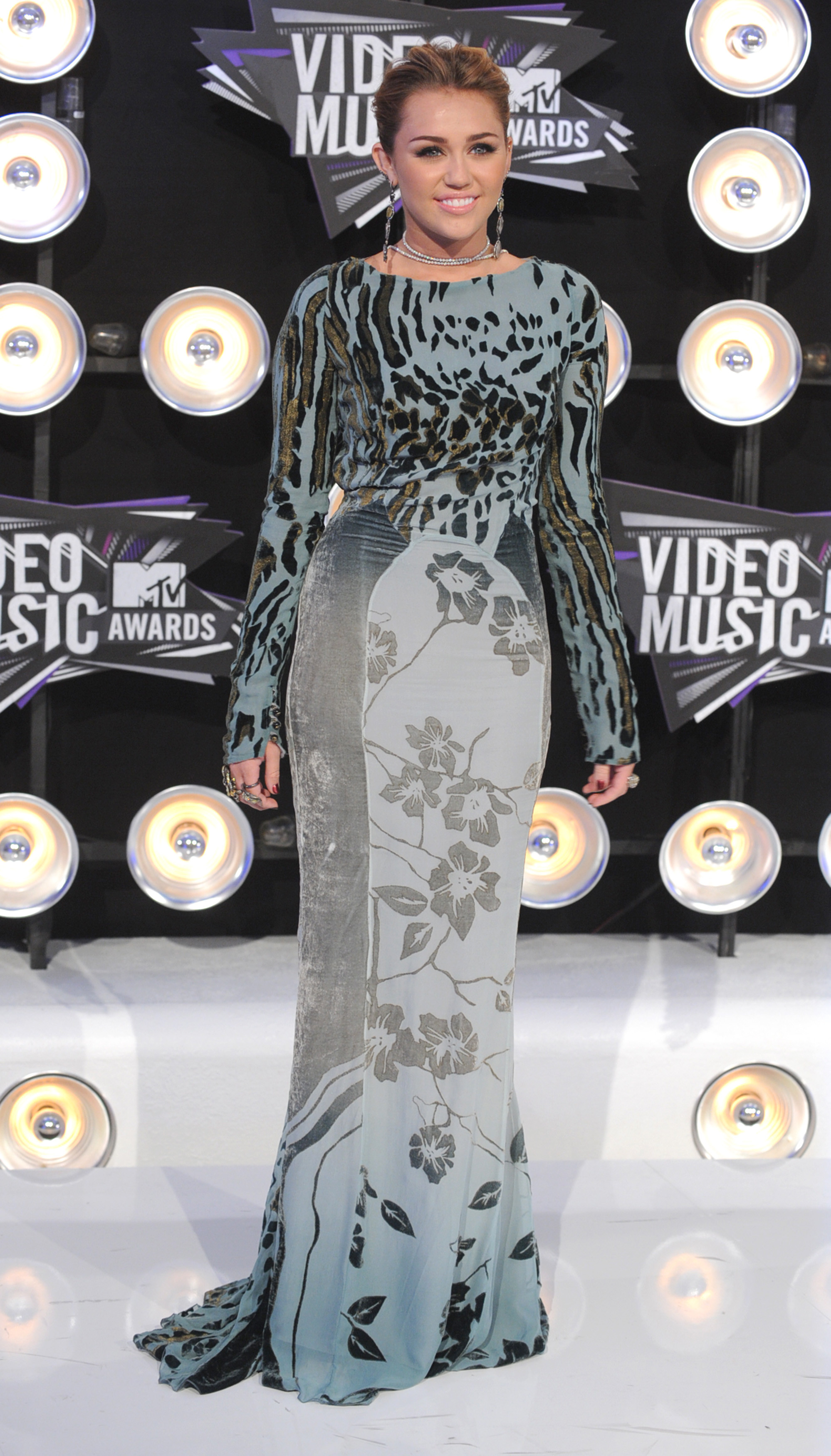 After skipping the 2009 and 2010 shows, Cyrus was back at the VMAs in 2011, sporting a very mature full-length Roberto Cavalli gown.
PA Images via Getty Images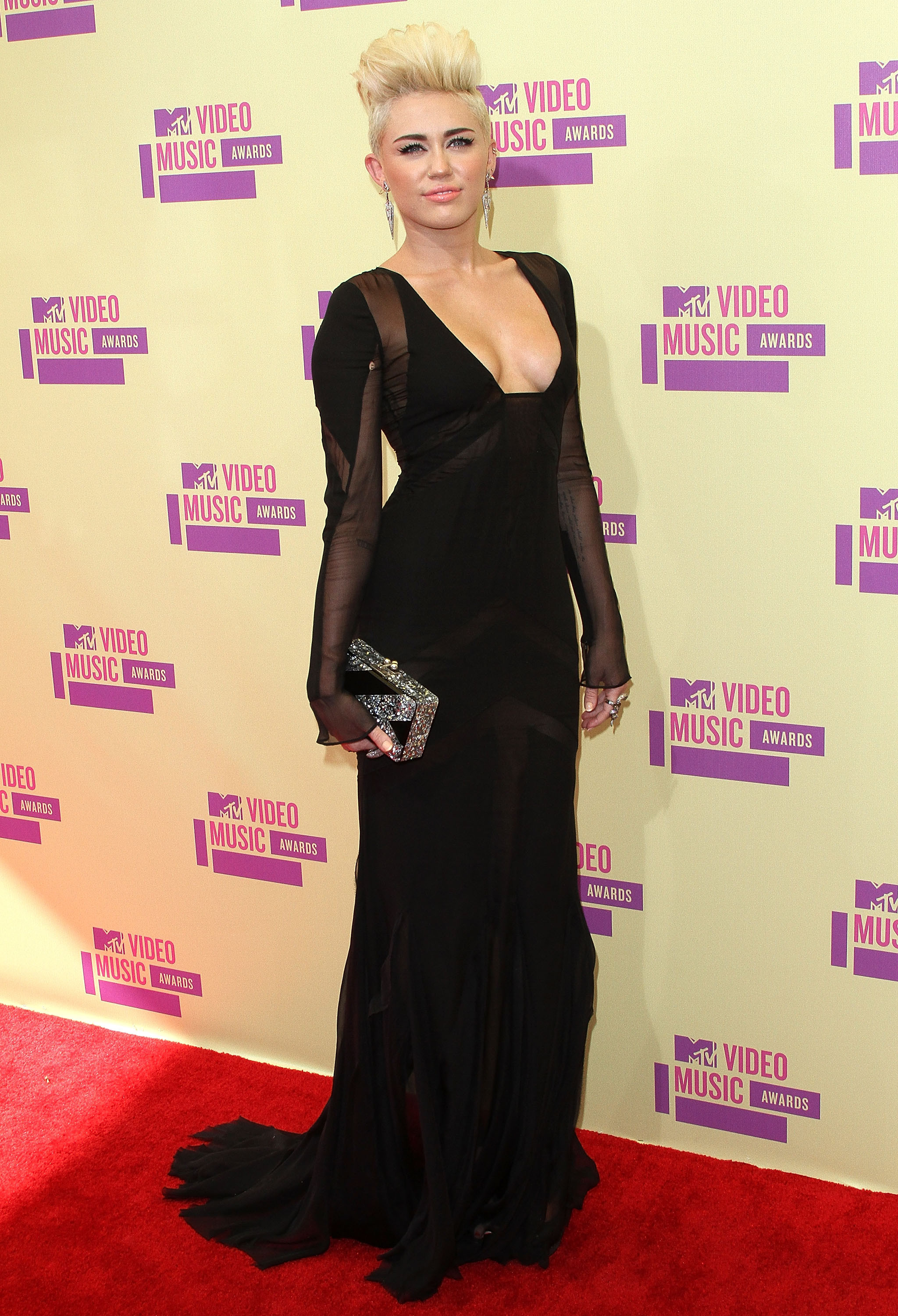 Miley Cyrus paired her platinum blond mohawk hairstyle with this subtly sexy Emilio Pucci gown with a plunging neckline in 2012.
WireImage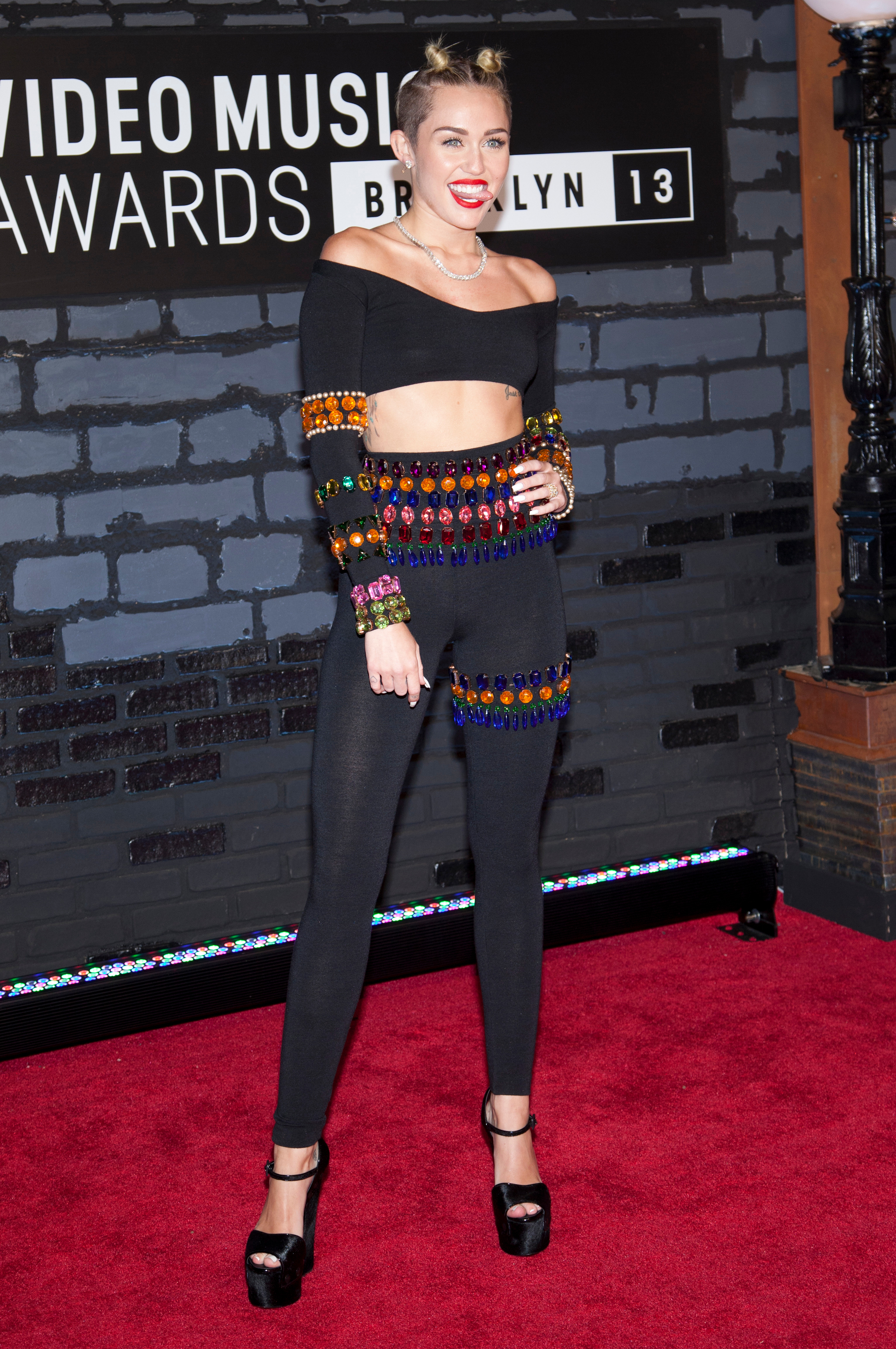 Before shocking the world with her performance in 2013, Miley made a statement on the red carpet with her mini buns, stuck-out tongue and vintage Dolce & Gabbana two-piece look.
Corbis via Getty Images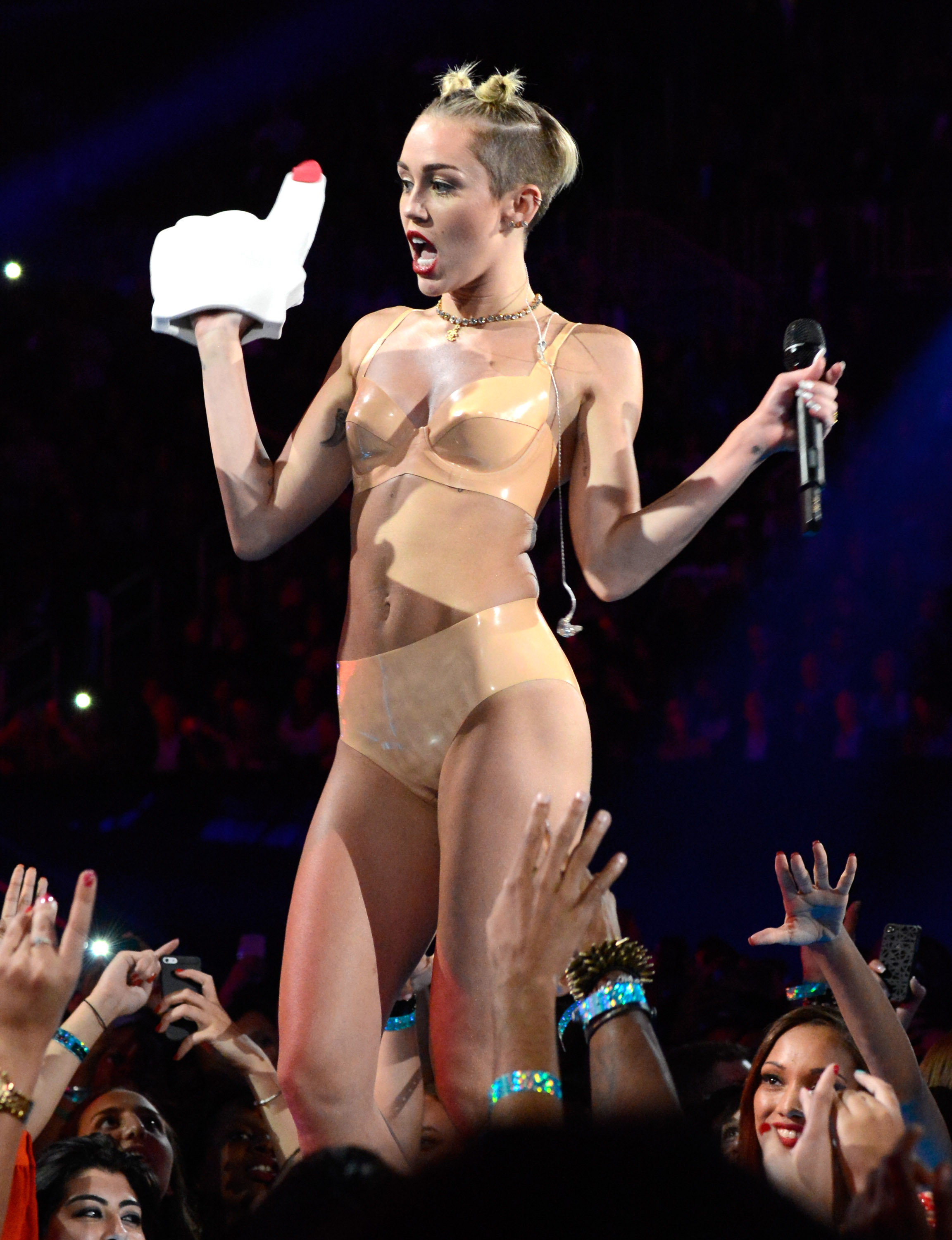 Undoubtedly Cyrus' most infamous look? The nude latex bra and panties she revealed after stripping off a bear-shaped onesie for her remixed performance of "We Can't Stop" and "Blurred Lines" with Robin Thicke.
Kevin Mazur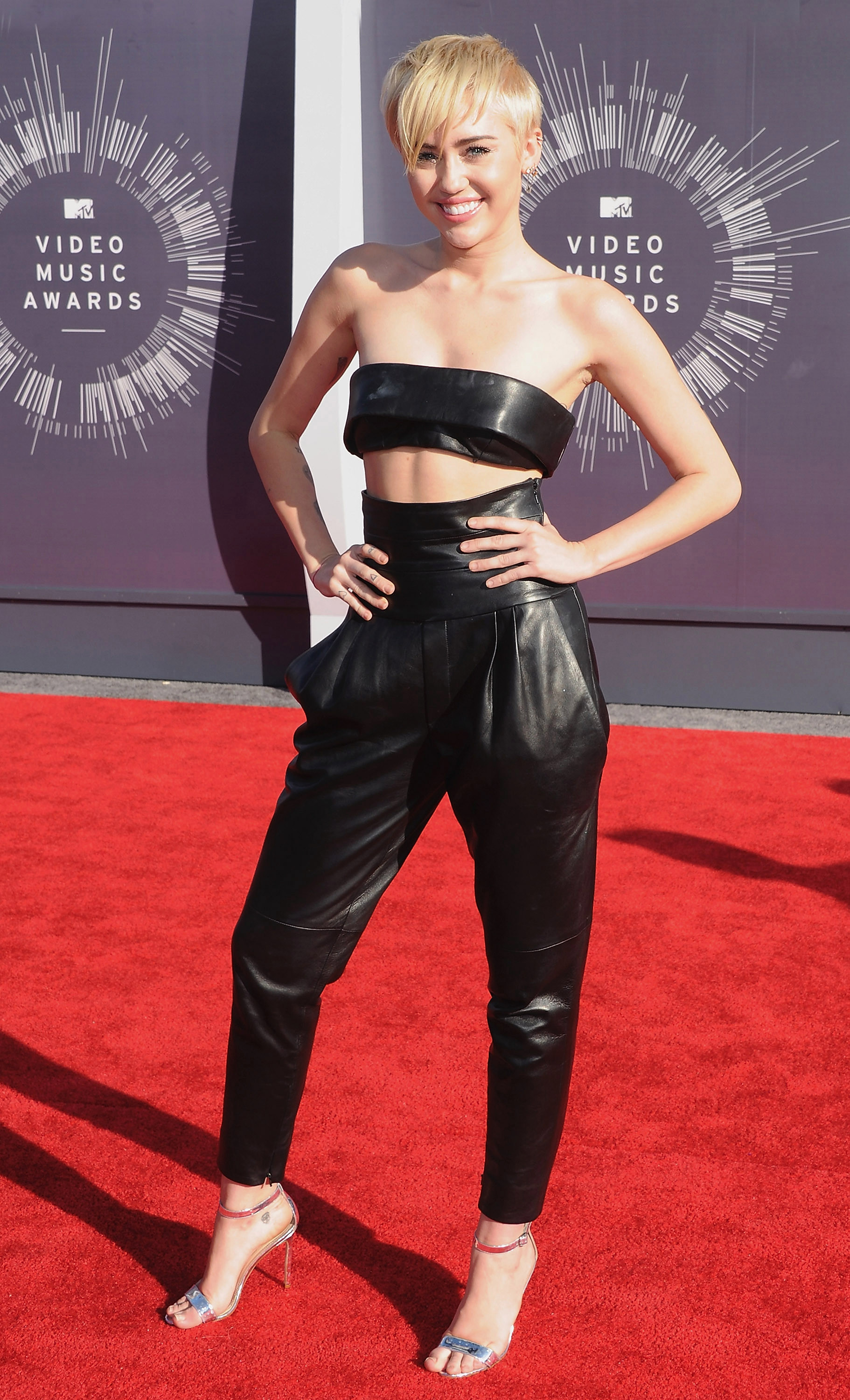 One year after twerking with Thicke, Miley kept the theatrics to a minimum on the red carpet, wearing a black leather bandeau and high-waisted pants by Alexandre Vauthier. During the 2014 show, when she won the award for Video of the Year for "Wrecking Ball," Cyrus gave up her speech time to Jesse Helt, a young homeless man, and later announced her Happy Hippie Foundation.
FilmMagic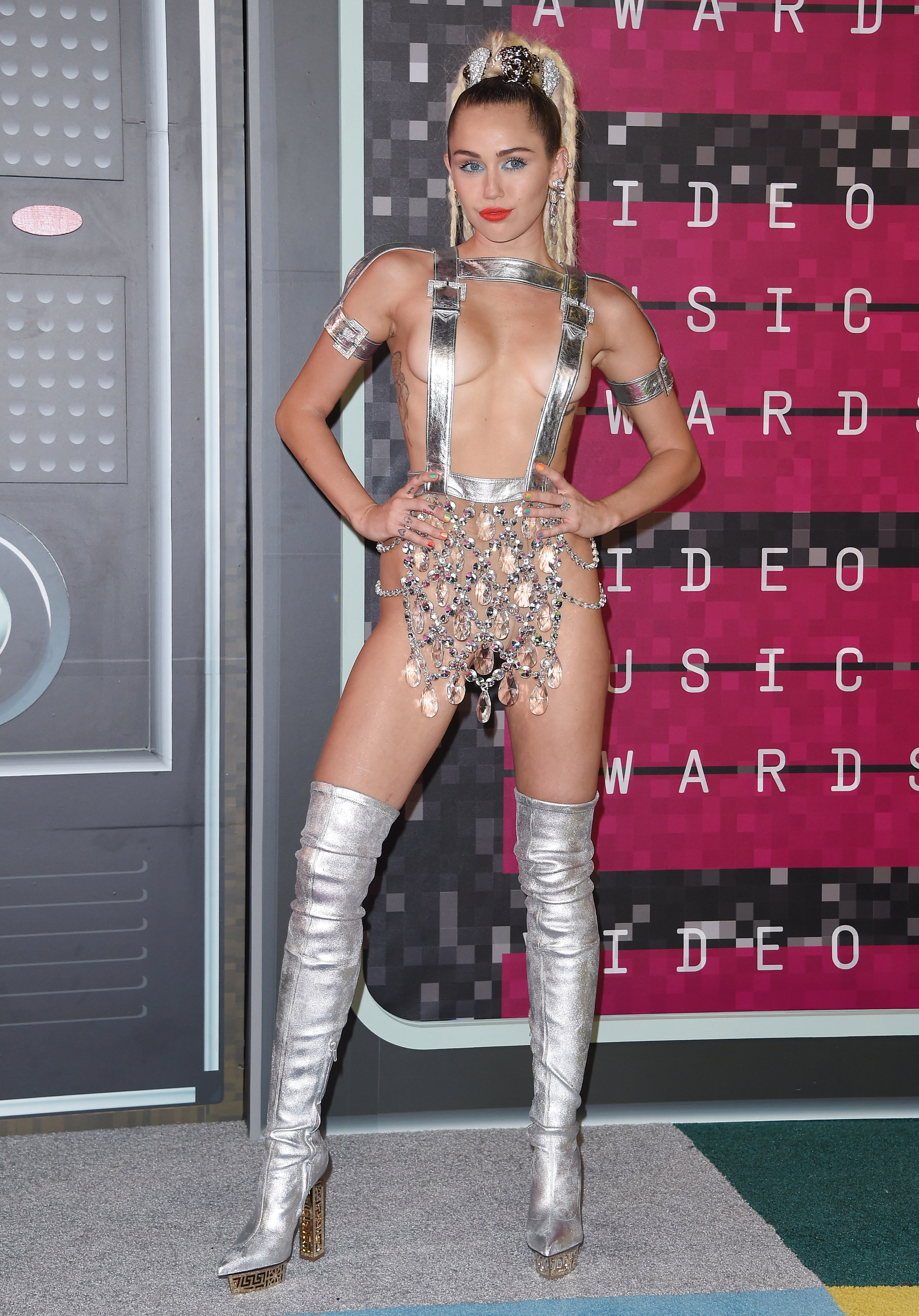 In 2015, Cyrus was named the show's host — and she went big with her wardrobe. Miley kicked off the night in a nearly-nude silver Versace suspender outfit, leaving very little to the imagination.
FilmMagic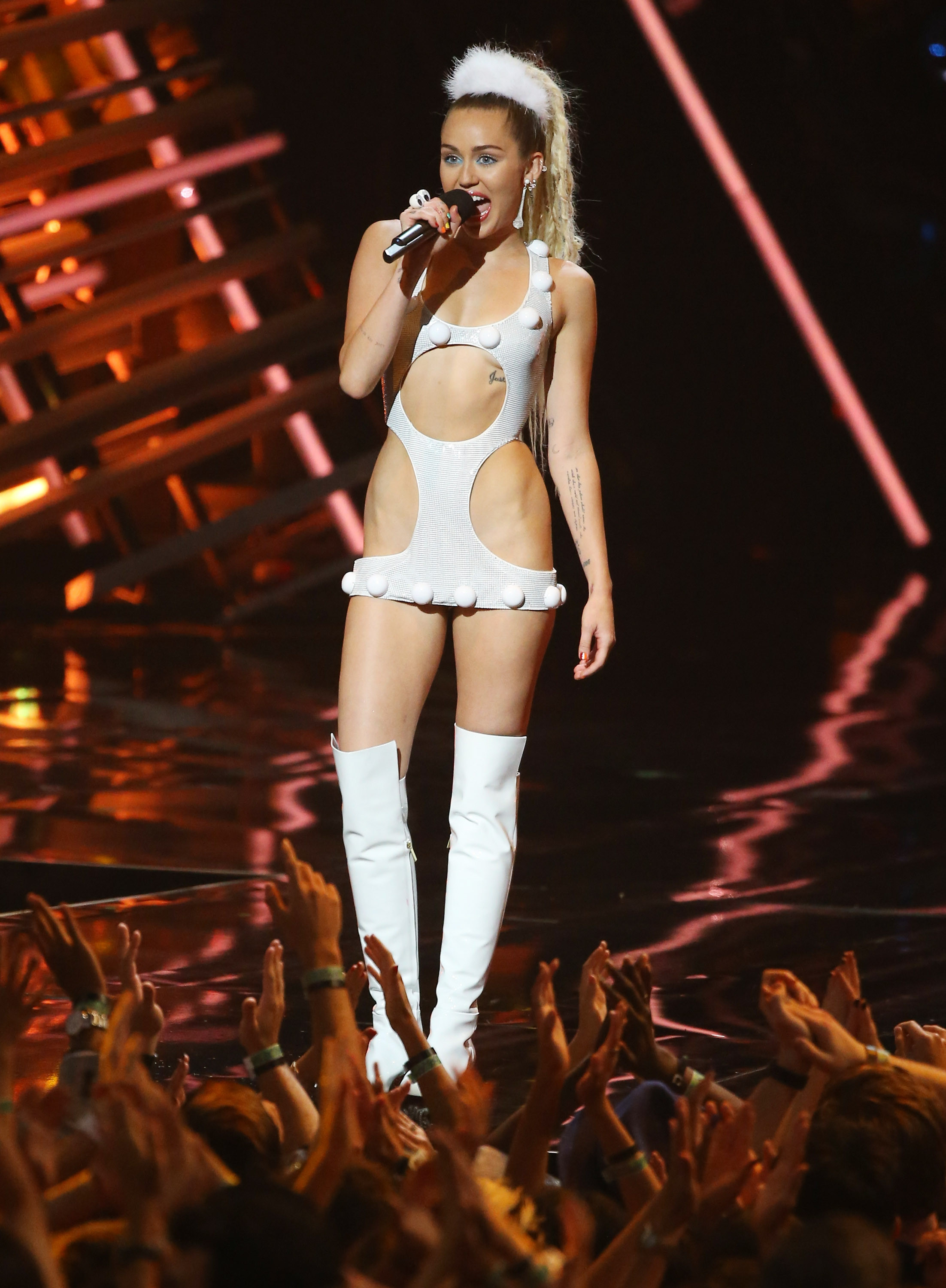 During the show, Cyrus changed into another dangerously low-cut Versace number, this one featuring strategically placed pom-poms.
FilmMagic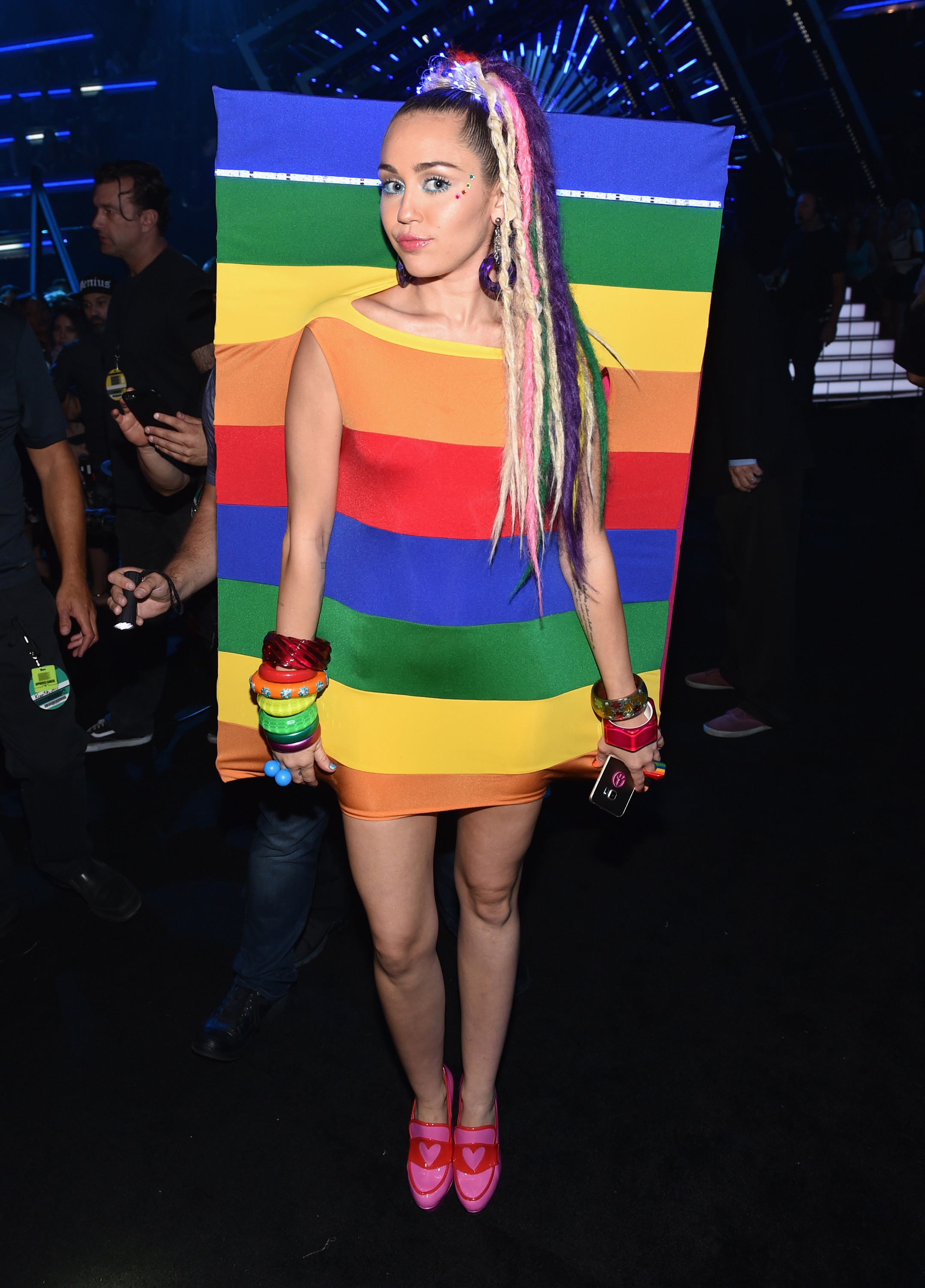 Showing her continued support for the LGBTQ community, Cyrus literally wore her heart on her sleeve with this rainbow dress and platform heels, both by Agatha Ruiz de la Prada.
Getty Images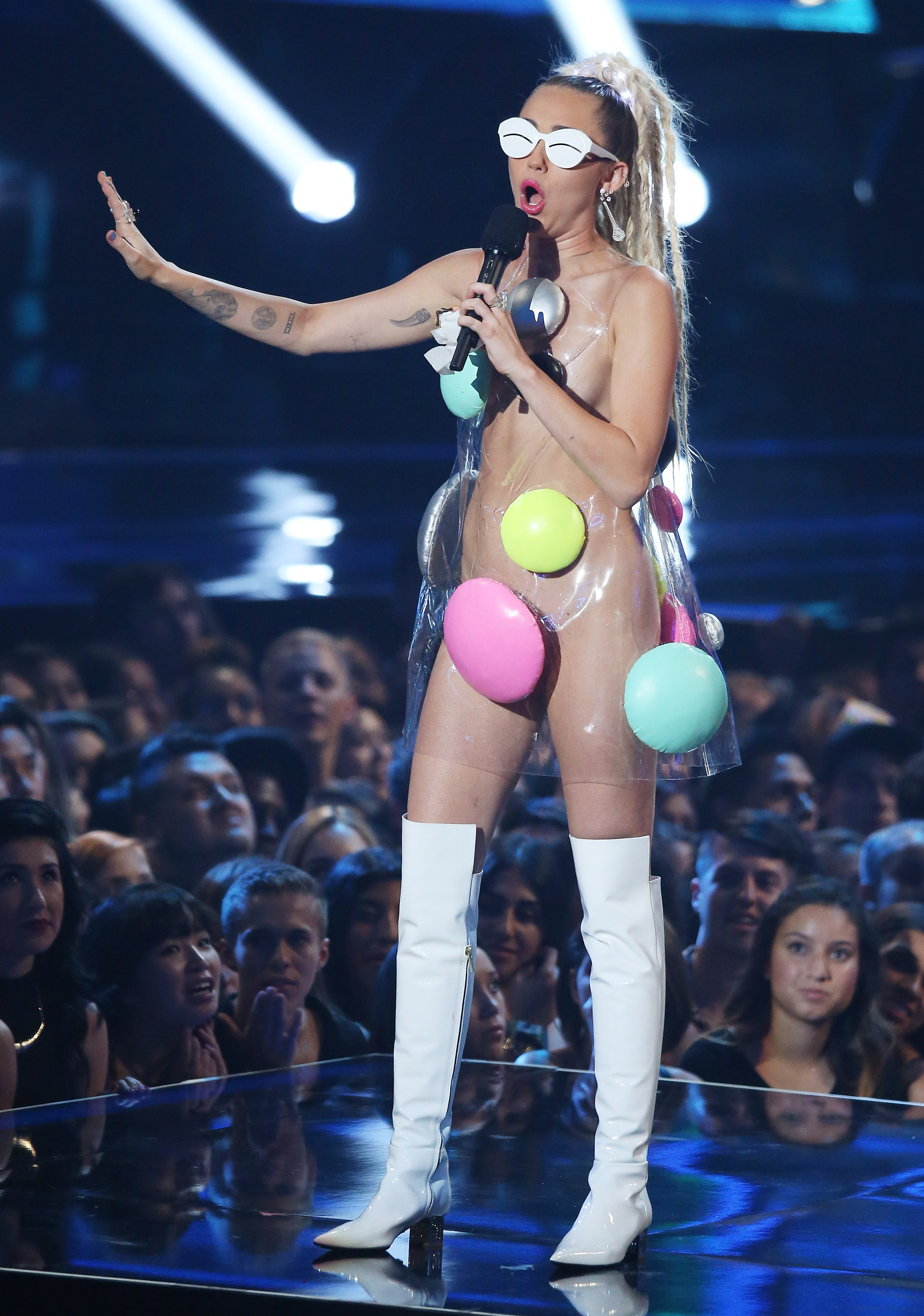 Equally risqué was this vinyl dress by Mamadoux, which Miley wore with white Courrèges sunglasses.
FilmMagic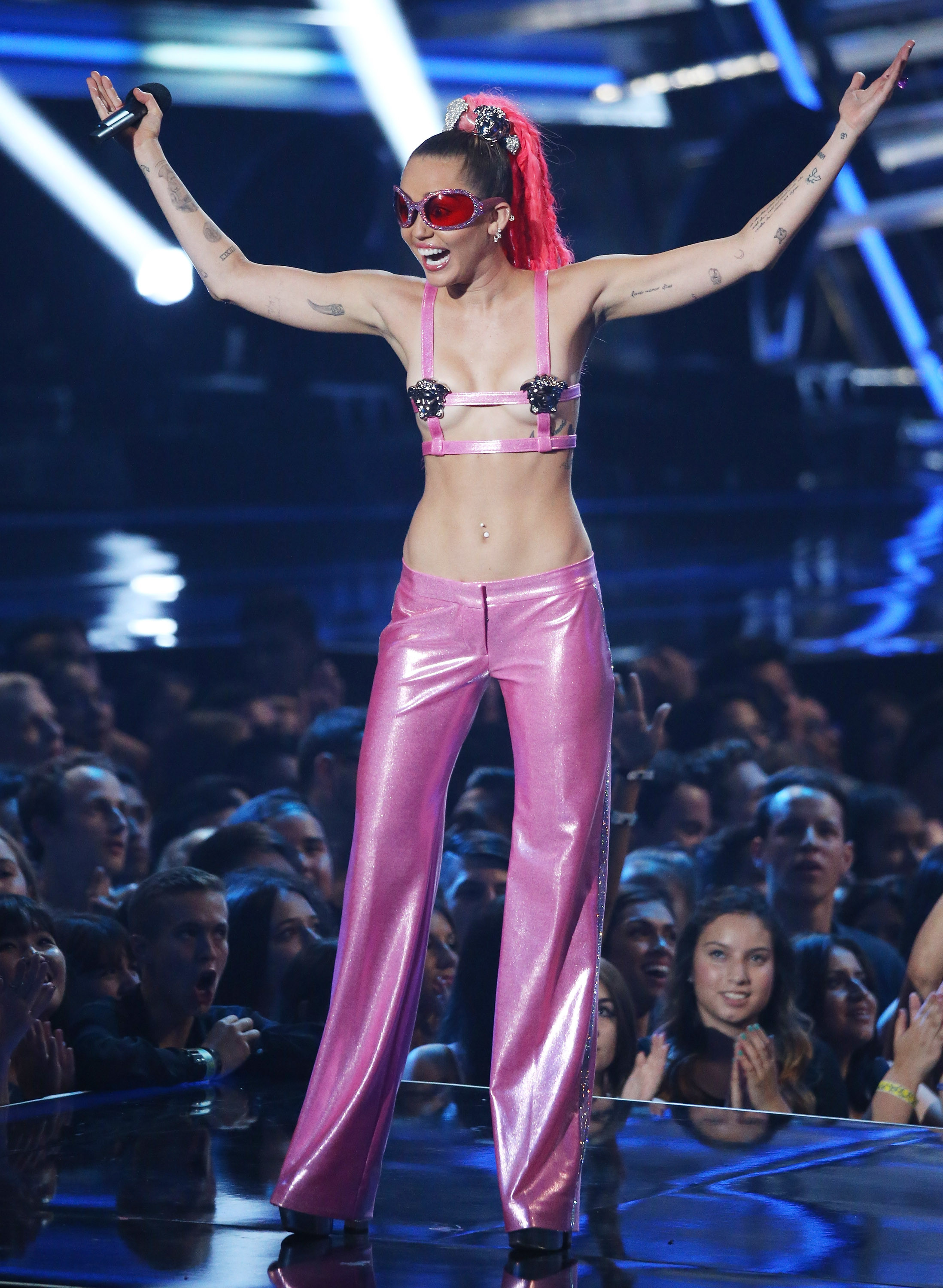 Cyrus then changed into a metallic pink look with Versace's Medusa logo covering her nipples, accessorizing with red shades and matching hair.
FilmMagic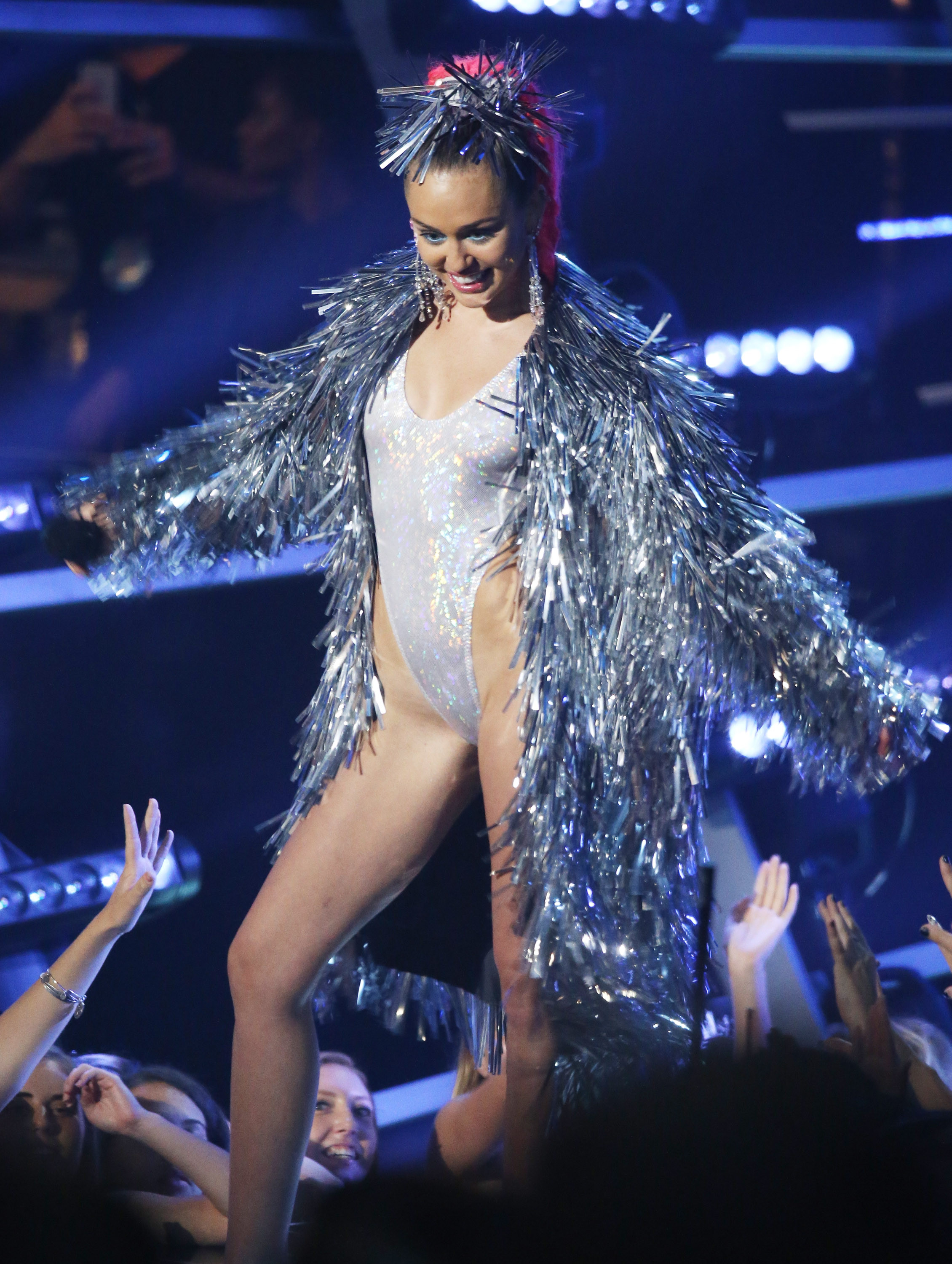 This tinsel-covered Prada jacket may have been meant as a cover-up, but Cyrus quickly shed it to reveal an equally sparkly high-cut bodysuit underneath.
FilmMagic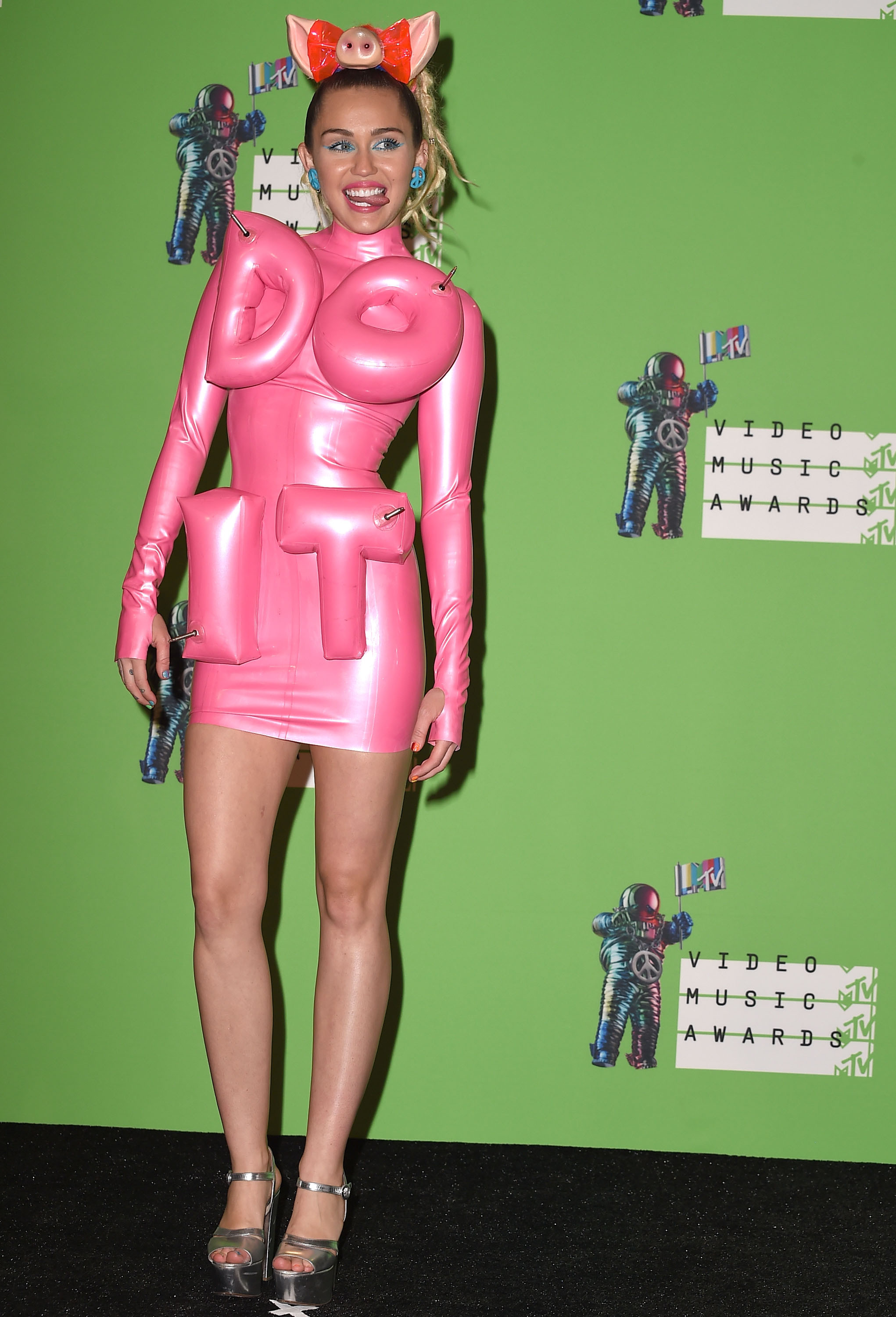 And finally, the singer stepped into the 2015 VMAs press room wearing a pink latex dress with the words "Do It" across the front — a nod to her "Miley Cyrus & Her Dead Petz" song by the same name — and accessorized with a pig-themed hair bow.
WireImage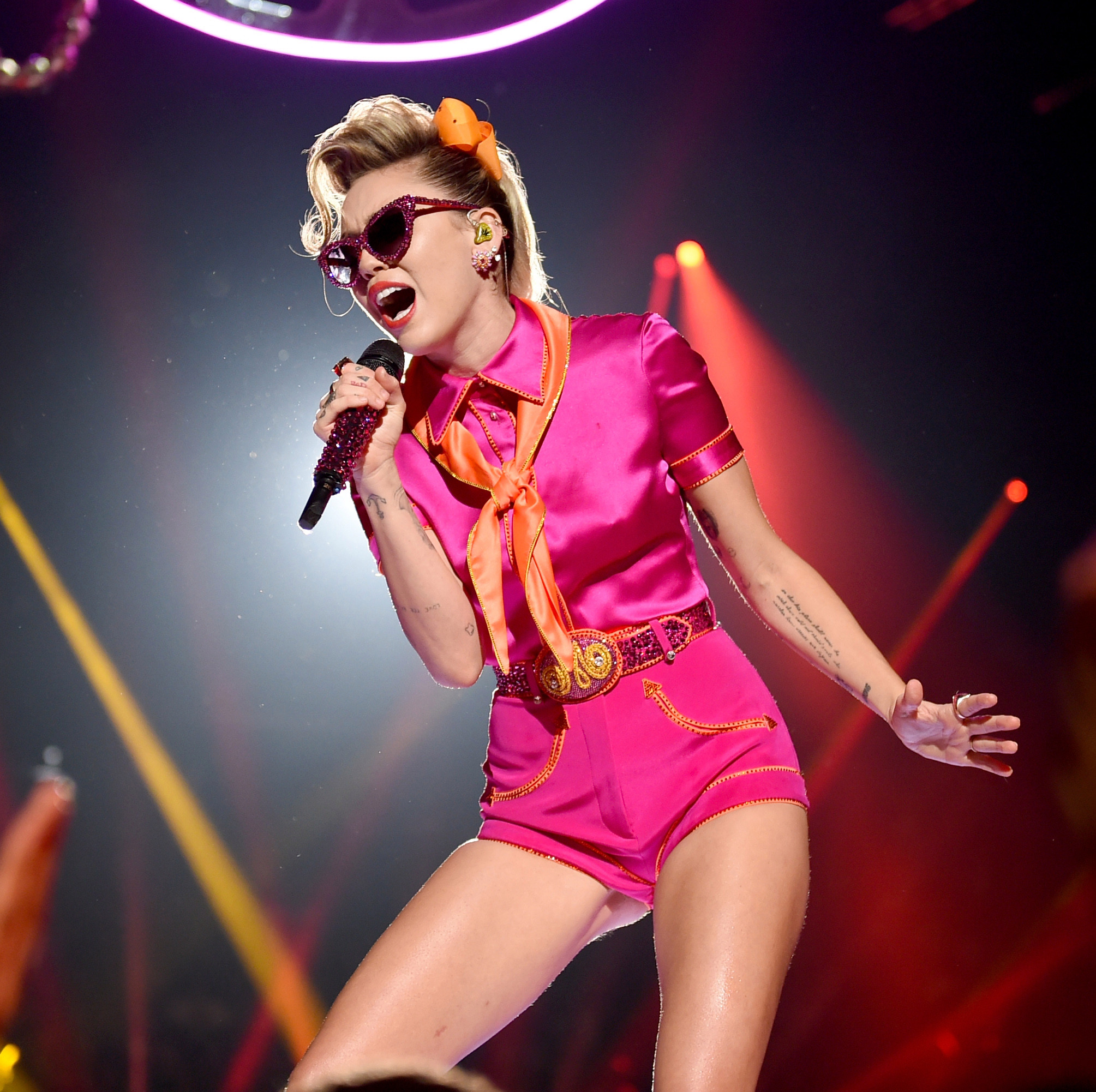 After hosting in 2015, Miley skipped out on the 2016 show. But she returned in 2017 to perform her song "Younger Now" in a pink rockabilly getup.
Getty Images for MTV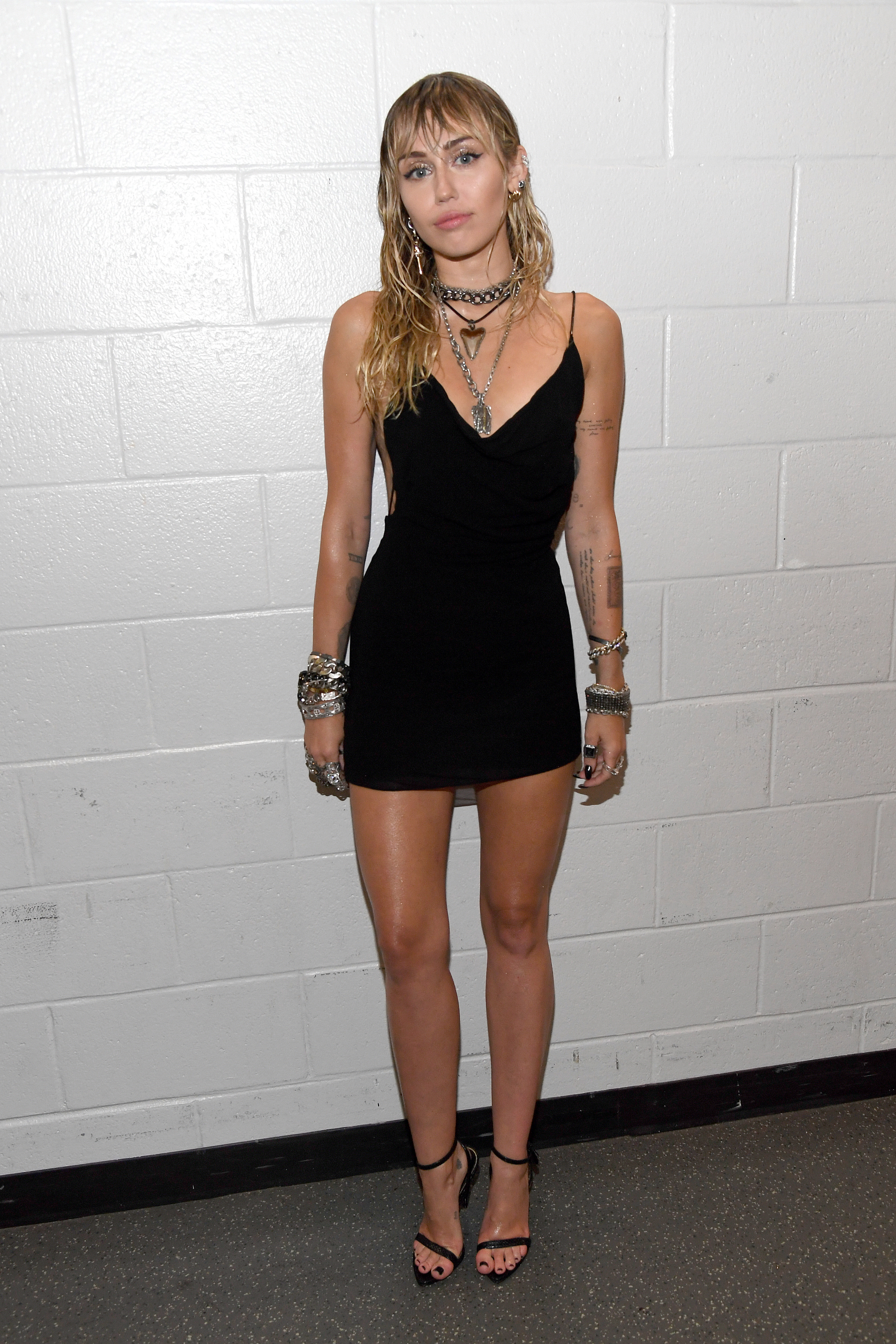 It was unclear whether Cyrus would show up to the 2019 VMAs after she publicly bashed the MTV show for snubbing her "Mother's Daughter" music video. She even responded to a fan who said they wouldn't watch the telecast unless she performed, saying, "no f–king way."
However, the star did end up making a secret entrance, skipping the red carpet with then-girlfriend Kaitlynn Carter. Hot off her divorce from Liam Hemsworth, Miley sang her breakup song "Slide Away" in a very simple black dress. It remains to be seen what the singer will wear to make a statement while performing her newest single, "Midnight Sun," during the 2020 show.
WireImage