Yuga Labs, the creator of the popular Bored Apes Yacht Club line of NFTs, led a sale of virtual land related to its upcoming metaverse project, which raised about $320 million in the largest sale of its kind.
Demand for the event was so high that it caused ripple effects across the entire Ethereum blockchain, which caused a lot of problems and raised transaction fees.
It was a race to buy deeds for the 55,000 virtual parcels of land in the project's planned metaverse game, Otherside. ApeCoin holders who had their identities checked raced to buy them. The price of ApeCoin rose this week because people thought there would be a lot of interest in the plots, which are Ethereum-based NFTs called Otherdeeds.
After the sale started at 9 p.m. New York time on Saturday, the price of ApeCoin went up to $19, and transaction costs, or "gas fees," in Ether, went up as well. Each plot cost about $5,800. Just minting Otherdeed NFTs after they were released cost $123 million in fees, or $6,000 for each one. This is more than the cost of the deed itself.
DeFiner founder Jason Wu says that the sale of virtual land by Yuga Labs has led to one of the biggest rises in transaction fees on the Ethereum platform. There have been other NFT launches that have caused a lot of gas costs, but this is by far the most.
It costs people who make tokens and people who buy and sell them to pay a fee to people who order transactions on the network. Transaction fees go up when the network is very busy because more fees are needed to make a transaction more important. That could hurt the Ethereum-based business of apps like Uniswap, which could slow down transactions on other platforms.
Initial plans for the sale at Yuga Labs called for the sale to be done through "Dutch auction," in which the price of the Otherdeed NFT would go down over time to keep Ethereum from becoming clogged up with high transaction fees. That format was scrapped later. Instead, the company came up with another plan to limit the number of Otherdeeds that could be bought from each wallet in each wave of the sale, so that each wallet could only buy a certain number of Otherdeeds in each wave. Congestion did not go away with the new plan. Yuga Labs said on Twitter that they were sorry for "turning off the light on Ethereum." They also said that they might be able to set up an ApeCoin blockchain.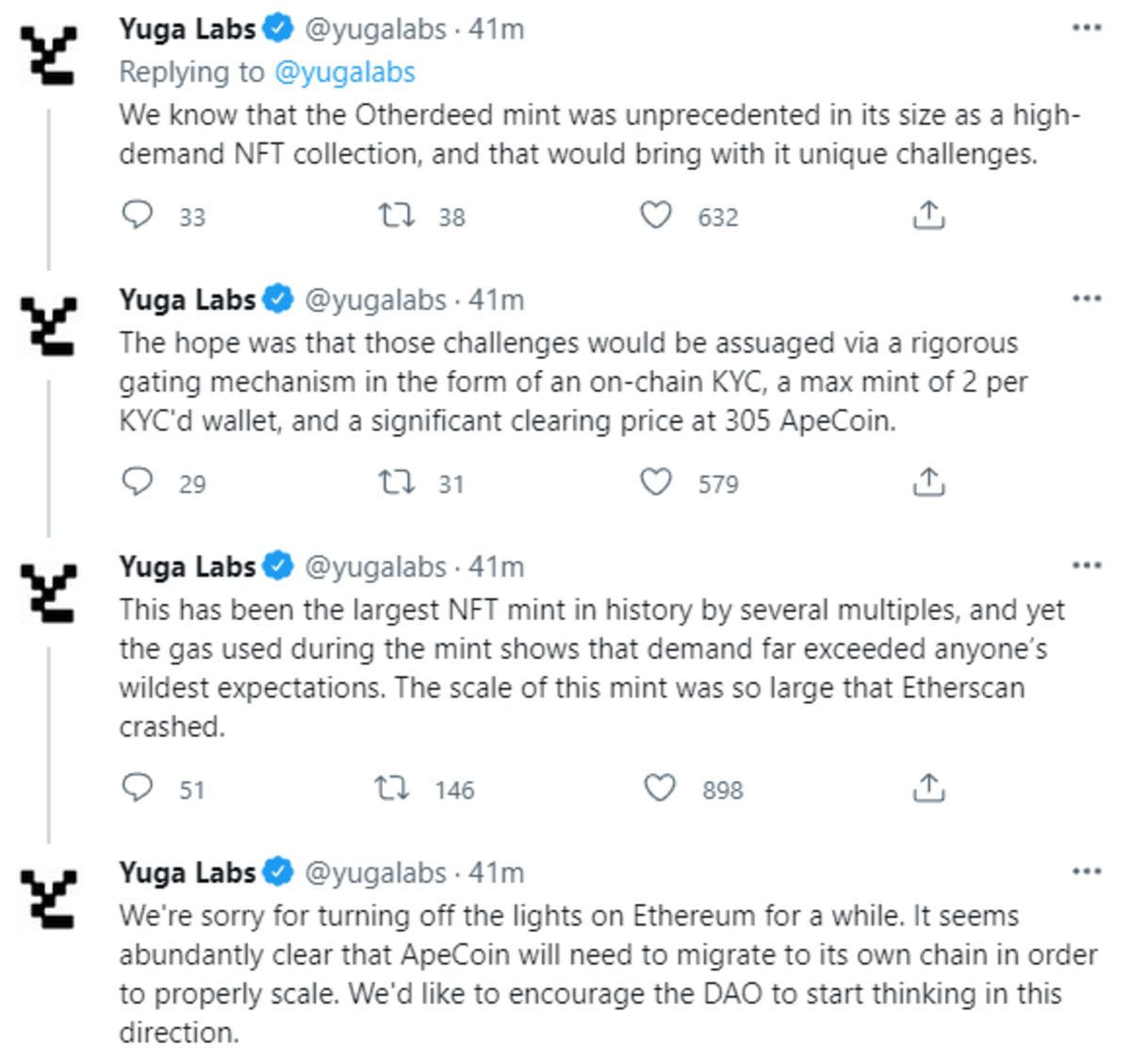 One year after the sale, the ApeCoins that were raised will be locked up, which means they can't be sold, which means there will be fewer coins in circulation. People who work for Yuga Labs didn't say where the money would go, or if big investors in ApeCoin, like Andreessen Horowitz and Animoca Brands, were going to buy land with the money.
Animoca's Yat Siu said in an email before the sale that "Yes, we will be purchasing as well." He added that there are limits on how many NFTs a single digital wallet can buy in different stages of the land deed sale.
On Saturday, there were 55,000 Otherdeeds for sale. Then, another 45,000 tokens were set aside for the owners of the Mutant Ape NFTs, as well as Yuga Labs and other project developers. Another 100,000 tokens were set aside for Otherdeed holders, according to the Otherside website.
ApeCoin wants to be used in a lot of web3 apps that use digital coins and blockchains. Owners should be able to go to a lot of different events, buy things, and play games. If you want to run ApeCoin DAO, you need this token. The board includes Reddit founder Alexis Ohanian, FTX's Amy Wu, and Siu, who runs Animoca. As of Saturday evening, OpenSea said it would accept ApeCoin.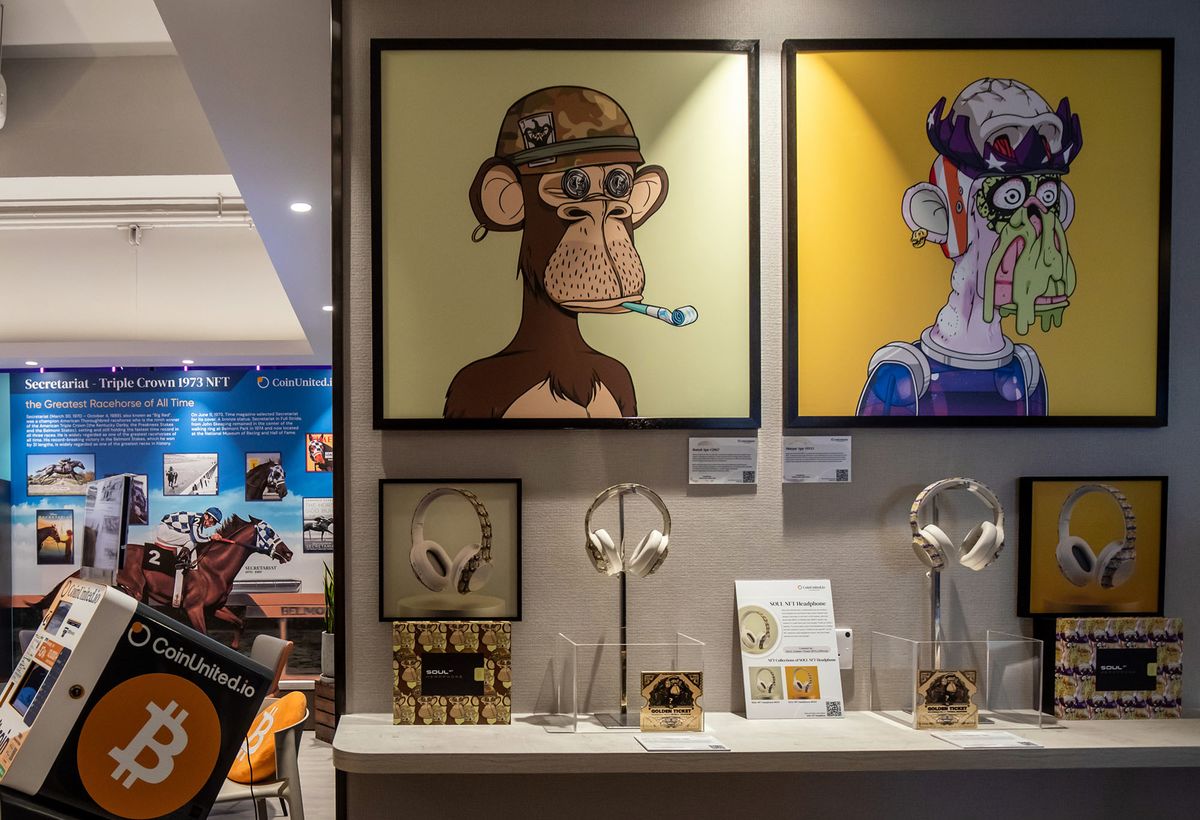 An "airdrop," in which certain groups of crypto owners were given 1 billion tokens as a reward, made ApeCoin a big hit. Animoca was one of the biggest winners. They and other people who helped launch the game got 14 percent, or 140 million tokens. Data from CoinMarketCap shows that the price of ApeCoin has almost tripled since the coin was released last year.
There is a lot of excitement going on all over the country, which is very different from the rest of the crypto market, which has been going up and down recently. Bitcoin has lost about 18 percent since the start of the year. OpenSea, the world's biggest NFT marketplace, saw more sales in April than March but still fell short of January's all-time high, according to Dune, a company that tracks NFT sales data.
Many apps have sold virtual land for cryptocurrency in the past, but most of them have only had a small number of users and a few transactions. This new app is different. A data tracker called DappRadar says that the number of transactions on Decentraland has dropped by 35% in the last 30 days.
It hasn't been announced when Otherside will be out yet, says a Yuga Labs representative. In a trailer from Yuga Labs, an ape is shown drinking from an empty bottle and then setting off on a new journey. Anotherside will be built with the help of Improbable. This is a company that makes software that helps people in the metaverse.
** Information on these pages contains forward-looking statements that involve risks and uncertainties. Markets and instruments profiled on this page are for informational purposes only and should not in any way come across as a recommendation to buy or sell in these assets. You should do your own thorough research before making any investment decisions. All risks, losses and costs associated with investing, including total loss of principal, are your responsibility. The views and opinions expressed in this article are those of the authors and do not necessarily reflect the official policy or position of USA GAG nor its advertisers. The author will not be held responsible for information that is found at the end of links posted on this page.