Scheduled as a prelude to the bicentenary of his death, on May 5, 2021, the restoration of Napoleon I's tomb at Les Invalides was the subject of a national subscription which still continues today.
Appeal to generous donors. There is still 70,000 euros missing to restore the tomb of Emperor Napoleon I. Or more exactly parts of the Dôme des Invalides church where it rests in its red quartzite tomb, as well as elements from other Napoleonic places of memory. A large sum of course, but which now represents only a small part of that required for the various jobs that had been listed. Launched on May 5, 2019 by the Musée de l'Armée and the Fondation Napoléon and running until February 1, 2021, the national subscription had in fact the objective of raising no less than 800,000 euros. To date, more than 730,000 euros have already been collected, thanks to nearly 1,800 donors and the support of the Roc Eclerc Foundation and the Souvenir Napoléonien.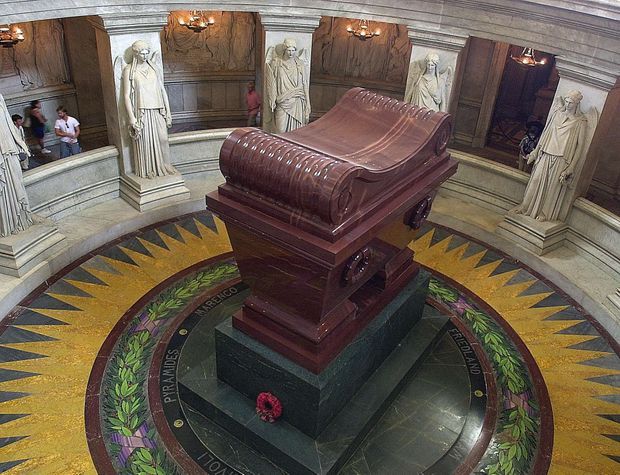 The money raised was intended to allow the restoration of the floors, where the stone, enamel and marble marquetry had been partially damaged during rock falls from the dome. Which has since been restored. But also to consolidate, as a preventive measure, all of the floors around the tomb (circular marble, enamelled floor) and resume the gilding of the inscription "I want my Ashes to rest on the banks of the Seine, in the middle of this French people whom I loved so much ", at the entrance to the crypt. Meticulous cleaning was also planned to restore its shine to the stone of the tombs of Generals Duroc and Bertrand, to the Atlanteans guarding the entrance to the crypt and, more generally, to all the statuary and decorations. In addition, a fine cleaning of the tombs of Joseph and Jérôme Bonaparte, the restoration of the Napoleon chapel (in the Saint-Louis des Invalides cathedral) and that of the tombstones of Saint Helena which are in the courtyard of Nîmes.

Work continues during re-containment

Even though the expected total has not yet been reached, work has started. Several paintings have already been restored and that of the Saint-Jérôme chapel, which houses the tomb of Napoleon's younger brother. They continue on to the monument and the sculptures surrounding the Emperor's tomb, during the reconfinement. With the goal of having everything completed by 2021, the bicentenary year of the death of Napoleon I during which the Invalides, in collaboration with the Fondation Napoléon, are planning a "great Napoleon season", with exhibition, contemporary art route , concerts, conferences, cinema, tours and many other events.