Sunmi, a popular K-Pop singer, received criticism after launching NFTs, Valve CEO Gabe Newell aggressively hailed NFT technology while slamming people in the industry, and Dolly Parton introduced Dollyverse NFTs.
According to DappRadar statistics, Snoop Dogg's and prominent entrepreneur Gary Vaynerchuck's nonfungible token (NFT) holdings are worth a total of $95 million.

At the time of writing, Vaynerchuck's wallet held the lion's share of the value, totaling $81.89 million. He owns many NFTs from top collections such as CryptoPunks (he owns a total of 60), the Bored Ape Yacht Club, and World of Women.

Snoop Dogg is an ardent NFT collector, and his wallet has a number of CryptoPunks, Meebits, and Fidenza NFTs, the most costly of which is CryptoPunk #3831, which is worth $2.57 million at current pricing.

The wallets were highlighted in a DappRadar blog post that generated a list of the top ten most valued celebrity NFT portfolios. Other notable personalities were Reddit co-founder Alexis Ohanian, who has a net worth of $4.9 million, and Logan Paul, a YouTuber and self-proclaimed future U.S. presidential contender, who has a net worth of $4.36 million.

Snoop Dogg's inclusion on the list comes as no surprise given that he has launched a number of NFT ventures, acquired virtual property in the Metaverse, and teamed with The Sandbox in late January to debut "Snoop avatars."

Vaynerchuck is also very engaged in the scene, having launched his own initiative named "Veefriends" in May 2021, which has produced more than $132,000 in secondary sales.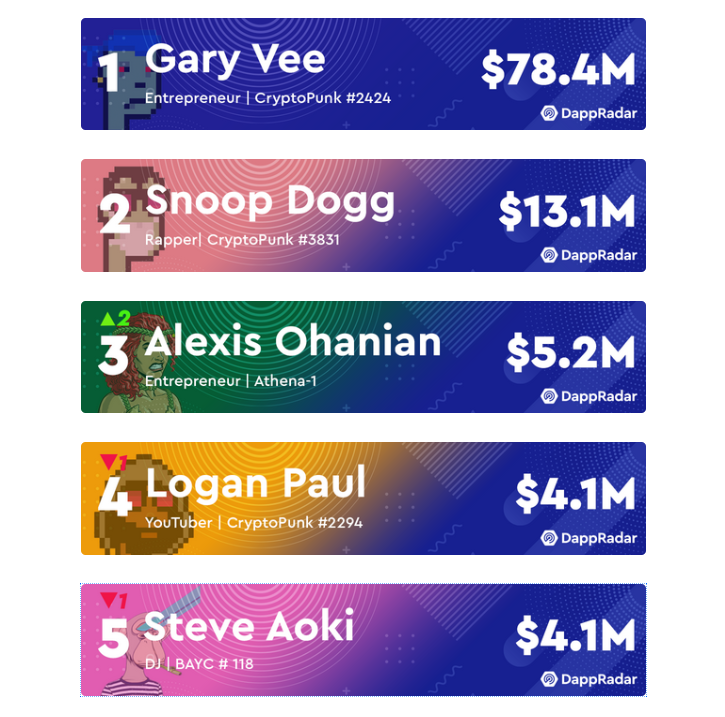 More NFT pushback
Sunmi (also known as Miyane), a popular K-pop idol, has faced backlash from fans over the NFT memorabilia she and her agency, the Abyss Company, released last week.

The "Sunmiya Club" project, which consisted of 10,000 computer-generated NFTs portraying various cartoon Sunmi avatars, was released on February 23. Some of her followers, however, lambasted the musician for only trying to make "fast cash for her company."

Sunmi shared a statement from Abyss Company regarding the backlash on Monday, but the company simply reiterated its long-term stance on the project and did not appear to address any of the fan concerns, noting that "we kindly ask for your continuous love and support in our artist's future performances."

Fans reacted angrily to the comment, with Twitter user cruelrush citing environmental worries about NFTs, while others vowed to boycott the K-pop Idol: K-pop Idol: K-pop Idol: K-pop Idol: K-pop Idol: K-pop Idol: K-pop Idol

"We'd like to help Sunmi, but not at the expense of our ecosystem." NFTs are harmful. We wish to help Sunmi and communicate with her by purchasing her CDs and songs. By attending her performances. "We would have liked more online concerts to show our support for her," they stated.
just a bunch of lies, NFTs are NOT needed to further support an artist. Sunmi already has a lot of fans who genuinely enjoy her music and personality. NOBODY asked or wanted this, Abyss is just being greedy https://t.co/cZKi4T6iBt

— Quarantine Lil💖(SAINTS ROW ERA) BLM ✊🏿 (@lil_drawsart) February 28, 2022
With friends like these.
Despite the fact that NFTs are a contentious issue in the gaming world, Valve CEO Gabe Newell has complimented the technology and outlined the possible benefits of combining it with triple-A games.

In an interview with Rock Paper Shotgun, Newell was quick to draw a line in the sand between NFT technology and the individuals who are now using it.

He emphasized that fundamental elements such as distributed ledgers, digital ownership, and shared universes are "all quite logical" and should not be overlooked:
"You have to separate the underlying technology versus which actors are utilizing that technology. It's like if you're a chemist, and you're looking at nitrocellulose, you're like 'Oh, yeah, we can do some really interesting stuff with that.'"
"The people in the space, though, tend to be involved in a lot of criminal activity and a lot of sketchy behaviors. So it's much more about the actors than it is about the underlying technology or the rationale for what we're doing," he added.
Thanks for the "support," Newell, 'appreciate it.
Dolly Parton launches Dollyverse
Dolly Parton, a well-known country music star, is creating the "Dollyverse," an NFT collection and marketplace.

While the moniker suggests virtual reality and the Metaverse, Parton's endeavor is merely tokenized artwork and music as part of a promotion for her new album Run, Rose, Run.

The CD is also accompanied by a book of the same name co-written by James Patterson, a best-selling author whose works include Alex Cross, Michael Bennett, and the Women's Murder Club.

Eluvio created the Dollyverse site, which will host the NFT sales as well as a live streamed musical event on March 18 featuring Parton and songs from the upcoming album.

The NFTs will be available for purchase both during and after the live performance, and users who watch the performance will earn free NFTs to validate their attendance at such a historic event.
Other Nifty News
Early Pixelmon NFT collectors were dissatisfied with their hefty 3 Ether (ETH) mint after discovering the artwork shown in the tokens was substandard and badly designed.

Metaverse platform for celebrities Gemie has raised $3.8 million to develop partnerships and add more collections to its NFT marketplace.
** Information on these pages contains forward-looking statements that involve risks and uncertainties. Markets and instruments profiled on this page are for informational purposes only and should not in any way come across as a recommendation to buy or sell in these assets. You should do your own thorough research before making any investment decisions. All risks, losses and costs associated with investing, including total loss of principal, are your responsibility. The views and opinions expressed in this article are those of the authors and do not necessarily reflect the official policy or position of USA GAG nor its advertisers. The author will not be held responsible for information that is found at the end of links posted on this page.