Russia is conducting surprise military maneuvers in Belarus today, only a few kilometers from Poland's border, as suspicions mount that Vladimir Putin is planning an invasion of Eastern Europe.
The unannounced drill took place in the Gozhsky range, barely 20 miles from where hundreds of migrants have congregated at the Polish border, where paratroopers from both nations rehearsed capturing bridges as well as hunting down and destroying enemy patrols, according to Russia's defense ministry.
Belarus said the practice was in reaction to the 'intensification of military activities' at the Polish border, where 15,000 troops have been stationed to keep migrants at bay, while Russia said it was to assess its forces' battle fitness.

At the same time, Polish Defense Minister Mariusz Baszczak announced that British military engineers had been dispatched to help bolster border defenses, amid fears from all sides that the crisis might devolve into a violent clash. A'small crew' has been dispatched to give engineering help, according to the Ministry of Defense.
The men are most likely from the Royal Electrical Mechanical Engineers' light cavalry squadron, which is presently stationed in Poland as part of NATO's Enhanced Forward Presence.

RAF Typhoons from Lossiemouth and Coningsby were also dispatched today to accompany two Russian nuclear-capable bombers as they flew over the North Sea and into the English Channel. According to the RAF, they were joined on the trip by a Voyager Tanker from RAF Brize Norton.
Separately, the US cautioned its European partners that Putin may be planning an assault of Ukraine's eastern borders, hundreds of miles away from where the migrant crisis is unfolding, after satellites detected troops, tanks, and artillery pieces massing there.

Ukraine has responded by sending 8,500 additional troops to its eastern regions, where it has been fighting a proxy war against Russian-backed rebels for years.
Addressing the crisis today, Kremlin spokesman Dmitry Peskov denounced what he called 'increased provocations' against Russia, saying his country 'can't stay indifferent to that; we must be on our guard.'
'We take measures to ensure our security when opponents take defiant action near our borders,' Peskov added.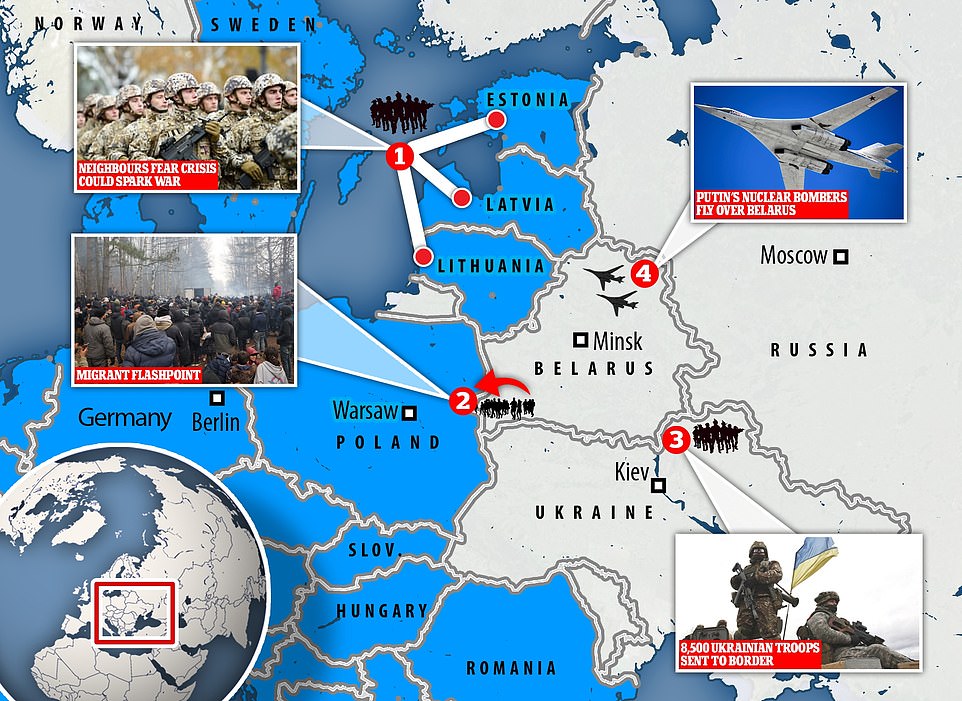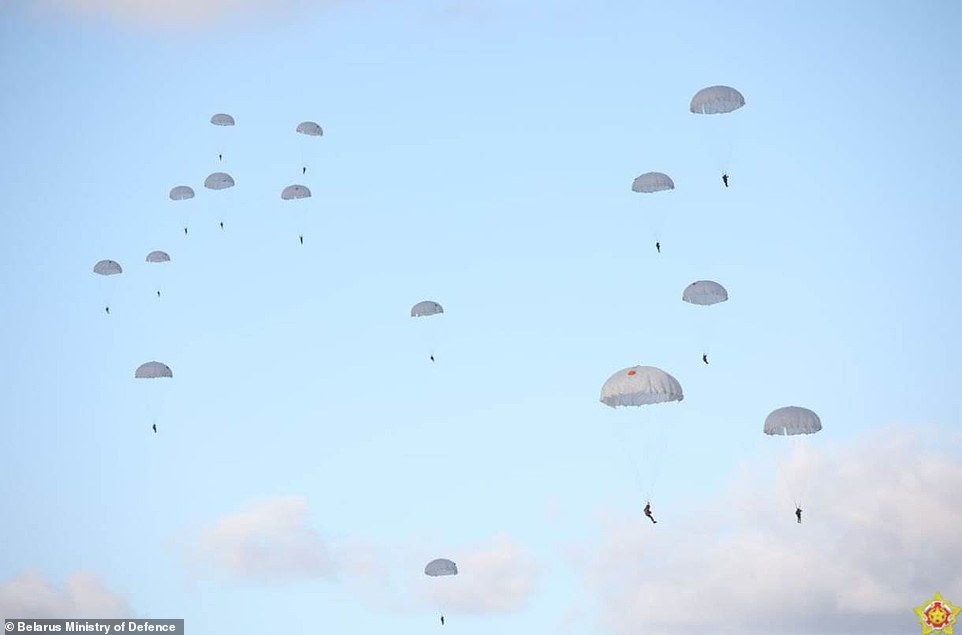 Russia and Belarus said paratroopers from both countries had been involved in joint drills in Gozhsky today, located just 20 miles from the Polish border where migrants are trying to cross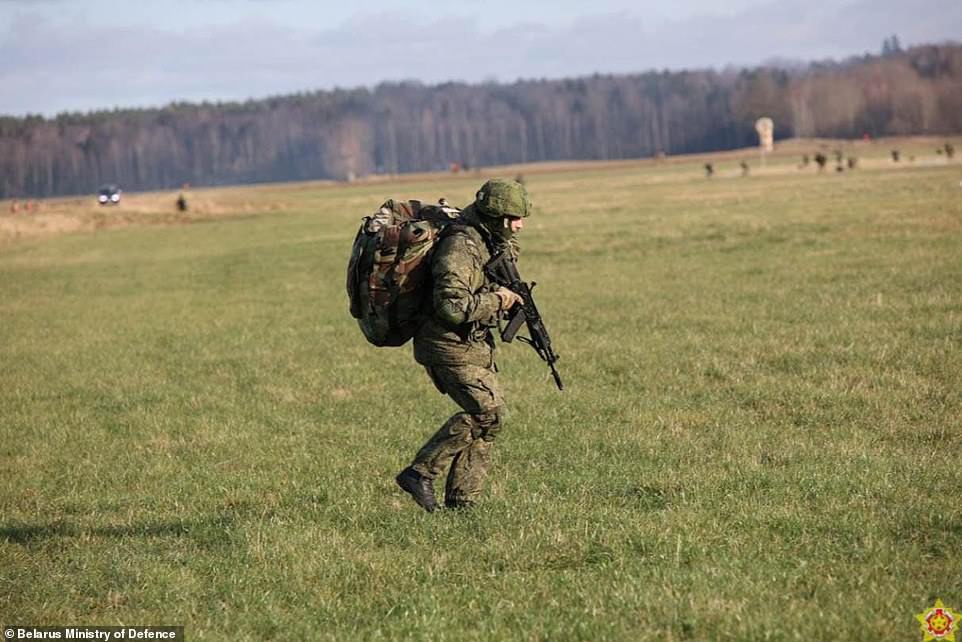 The Belarusian defence ministry said the troops practiced capturing bridges, hunting down and destroying targets, and defeating enemy patrols during the drill to 'test combat readiness'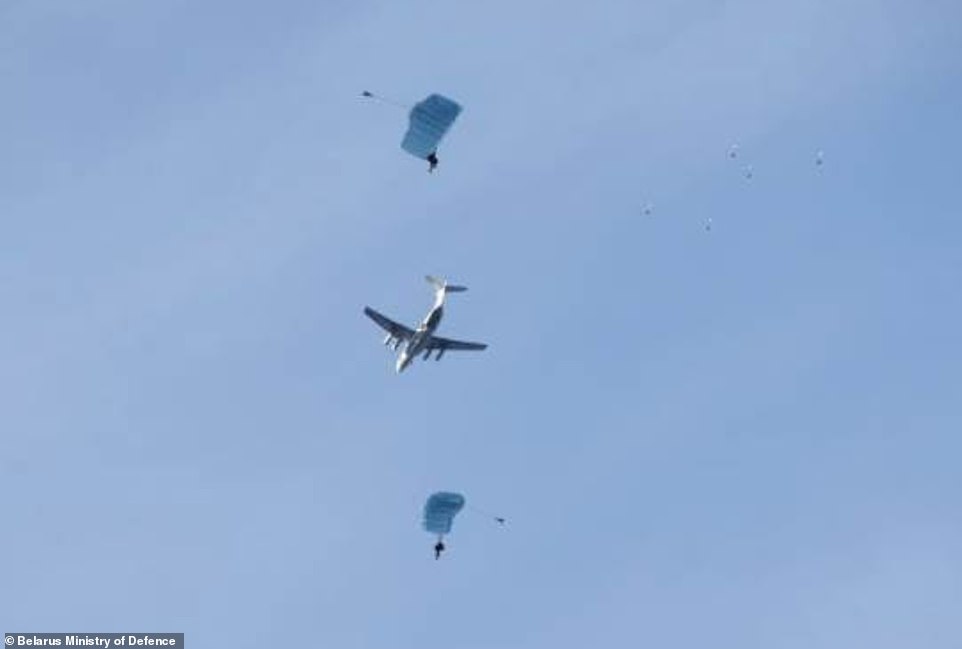 The surprise training mission came as it was revealed British military engineers are now at the border to strengthen the defences, amid warnings from all sides that the situation risks spilling over into armed conflict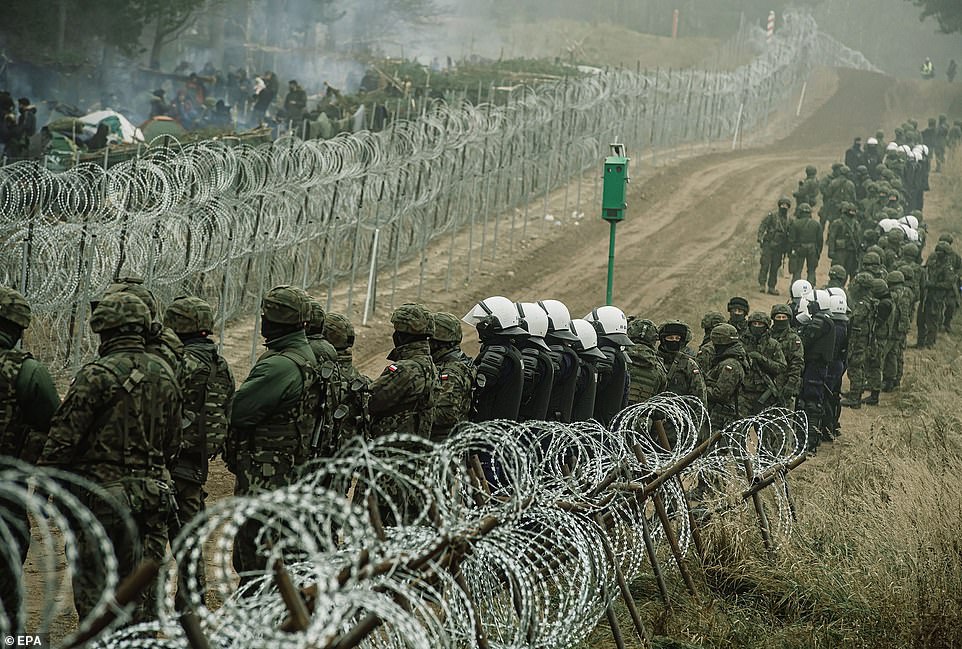 Poland has deployed some 15,000 troops to its eastern border where they have spent much of this week trying to hold back thousands of migrants that Lukashenko's regime is accused of forcing into the region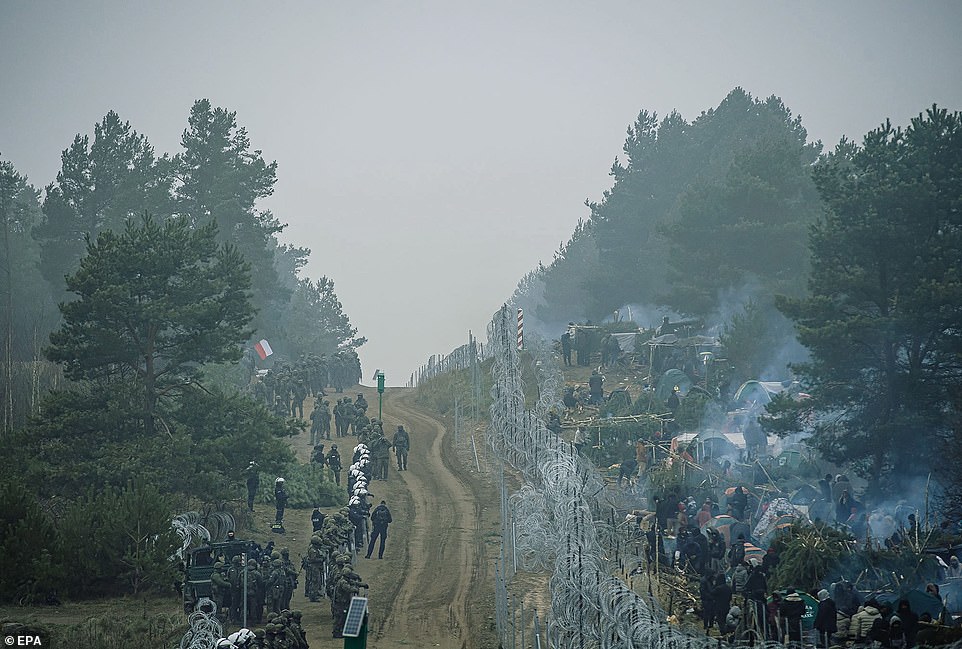 Poland, along with the leaders of nearby Latvia, Lithuania and Estonia, has been warning that the crisis has the potential to spill over into a full-blown conflict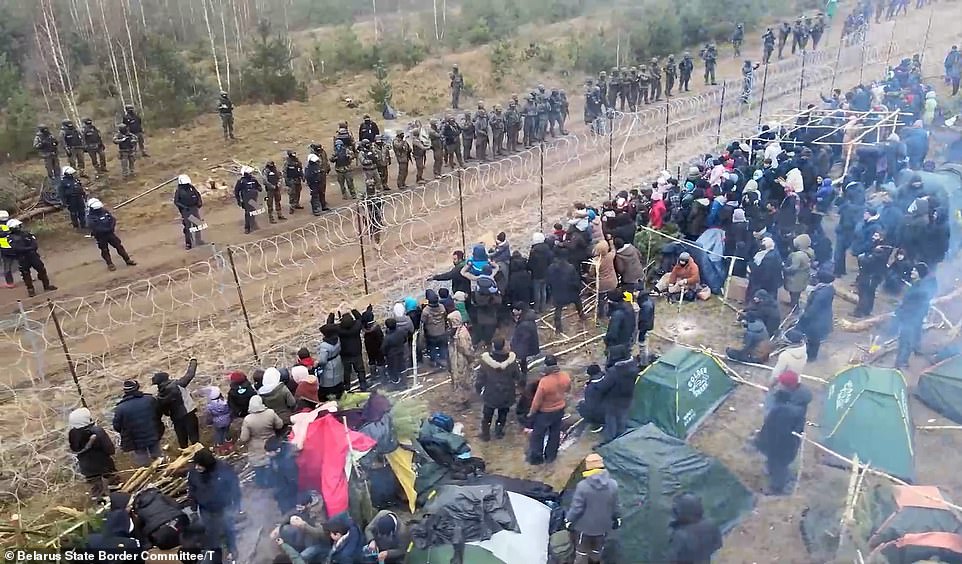 The military drills are taking place just 20 miles from the Kuznica border crossing with Poland, where thousands of migrants are currently gathered trying to cross over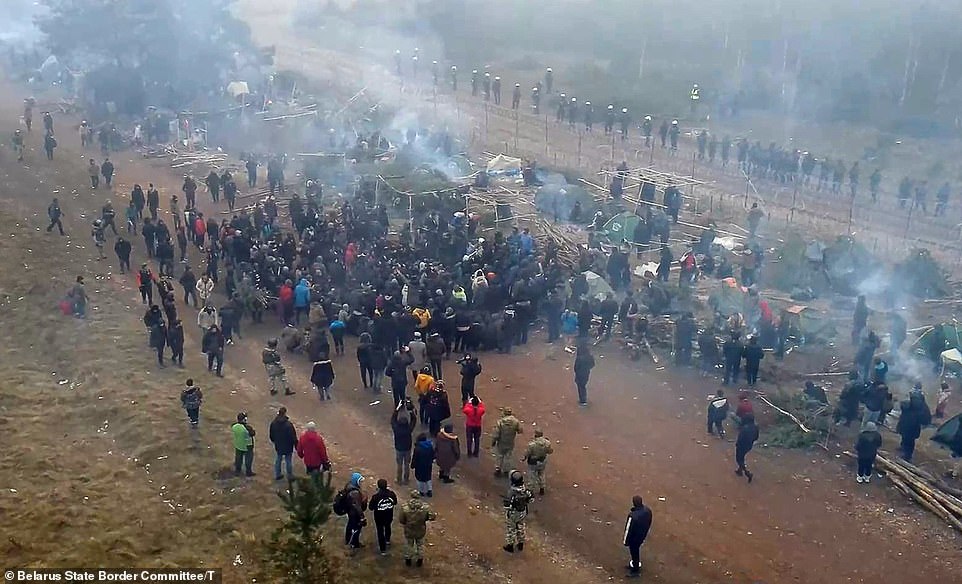 Meanwhile, Russia's defense minister, Sergei Shoigu, told his French colleagues that the military situation in Europe 'continues to deteriorate,' and chastised NATO for 'increasing its military posture' near Russia's border.
Shoigu stressed that Russia is striving to 'improve predictability and decrease the possibility of incidents' in the border region after meeting with French officials in Paris.
'Russia and Belarus's aggressiveness in Eastern Europe is not mutually exclusive and should greatly alarm the West,' said Tobias Elwood, the former British military minister who now leads the Commons Defence Committee.
'It's a test of our collective resolve. If we are not resolute in our support for Poland and Ukraine then authoritarianism wins and we invite further destabilising adventurism.'
NATO said on Friday it is looking out for any escalation in the situation on its members' borders with Belarus, after Belarusian and Russian paratroopers staged joint drills near the Polish and Lithuanian borders.
'We will remain vigilant against the risk of further escalation and provocation by Belarus at its borders with Poland, Lithuania, and Latvia, and will continue to monitor the implications for the security of the alliance,' the North Atlantic Council, representing the alliance's member states, said in a statement.
'NATO allies call on Belarus to cease these actions, to respect human rights and fundamental freedoms, and to abide by international law.'
According to Bloomberg, American intelligence sources informed their European colleagues on a probable Kremlin military campaign in Ukraine's east to acquire territory akin to the Crimean peninsula's annexation in 2014.
The US has declined to say what intelligence it has about an impending invasion, but satellite photographs have indicated tens of thousands of Russian troops, tanks, and artillery pieces near the border.
Belarus tyrant Alexander Lukashenko is accused by the EU of pushing migrants to enter into Poland illegally in a cynical attempt to destabilize the bloc by using vulnerable people as a weapon.
On Thursday, Lukashenko himself warned of the risk of a conflict and accused armed groups in the Donbas region of Ukraine of trying to ship weapons to the migrants on the Polish border in order to spark fighting.
'They are Kurds, and the Kurds are militant,' he said according to Polish newspaper Wyborcza. 'When Poles beat them, cut them, torment them, etc., they become desperate. One rifle, one gun, and armed conflict is ready.'
Lukashenko has also threatened to cut off natural gas supplies running from Russia and through his country into Europe - though that threat was angrily slapped down by Moscow today.
Dmitry Peskov, Putin's spokesman, said Lukashenko had not coordinated with Moscow before making the remark and added that Russian pledged to fulfil gas contracts are 'beyond doubt'.
It came after Lukashenko spoke out at a meeting of government officials on Thursday, musing: 'We are heating Europe and they are threatening us... What if we cut off their natural gas?
'I would recommend the Polish and Lithuanian authorities to think before they speak up.'
Russia's Yamal-Europe pipeline runs through Belarus and into Poland, representing about 20 per cent of the country's total gas-carrying capacity into Europe.
Natural gas provides around a quarter of the continent's energy, with more than half of it coming from Russia, which sits on top of the world's greatest gas reserves.
Just a few weeks ago, European leaders were attempting to reach an agreement with Russia to enhance gas supply as reserves ran short due to increased demand when businesses reopened following the Covid disaster.
Putin is accused by the EU of limiting gas supply as a political negotiating chip in order to have a new gas pipeline, the multibillion-dollar Nord Stream 2, built. The claims were disputed by him.
Concerns about Russian troops on Ukraine's border have been ongoing since at least April this year, when Putin moved around 100,000 soldiers, tanks and artillery pieces to the region without warning.
He later said the exercise was to test 'military readiness' and pulled some of the units back, but NATO warned that many of them had remained at the front even after the 'exercise' was over.
Drone footage taken by Belarus border guards shows part of a large migrant camp that has sprung up along the Polish border, as the EU accuses Belarus of forcing vulnerable people into harm's way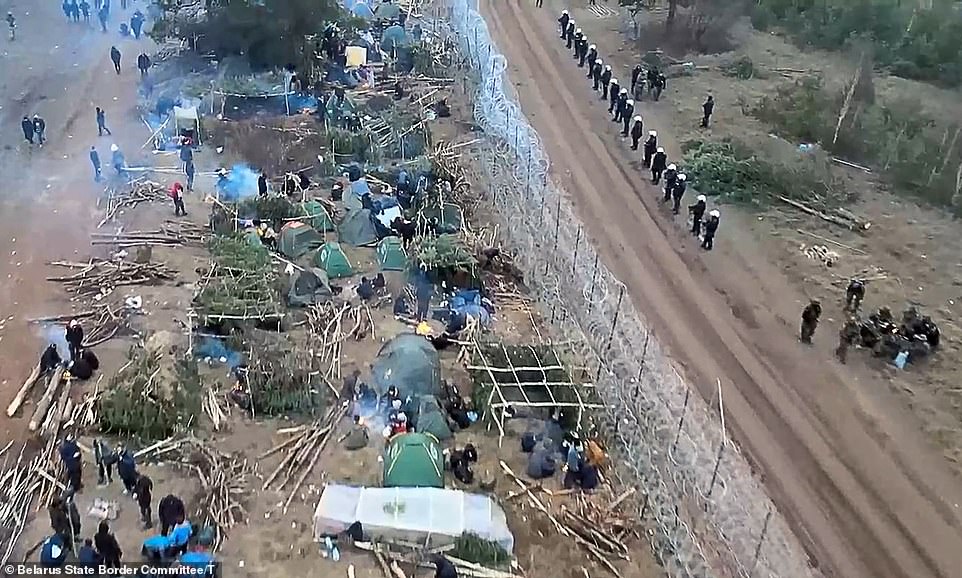 Poland has been complaining that Belarus has been sending migrants to its borders for months, but the crisis dramatically escalated this week with the sudden arrival of thousands of migrants in the area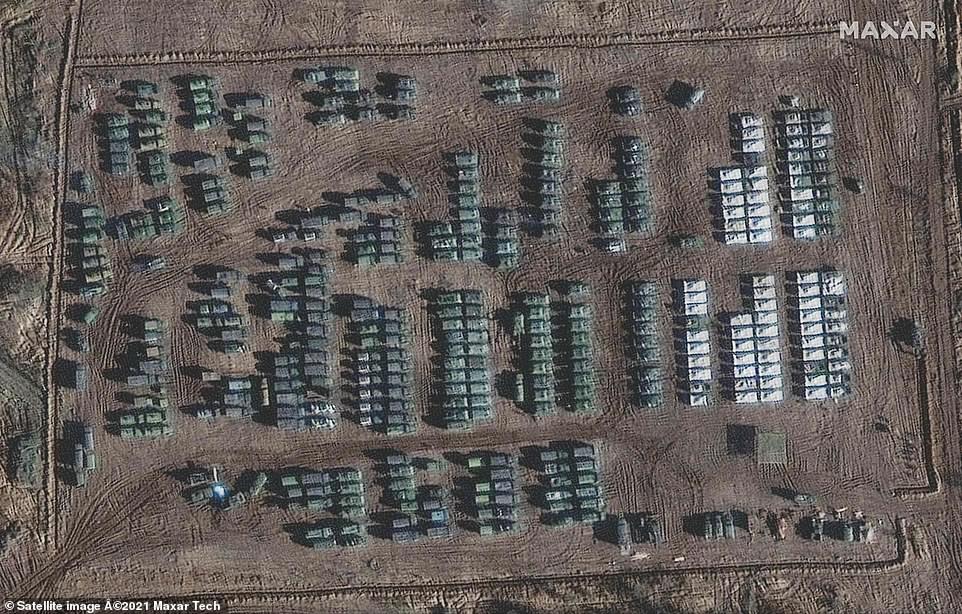 Washington's warning comes as Putin masses his forces close to Ukrainian territory, with satellite images taken in the last few weeks showing large camps of tanks and artillery pieces in the region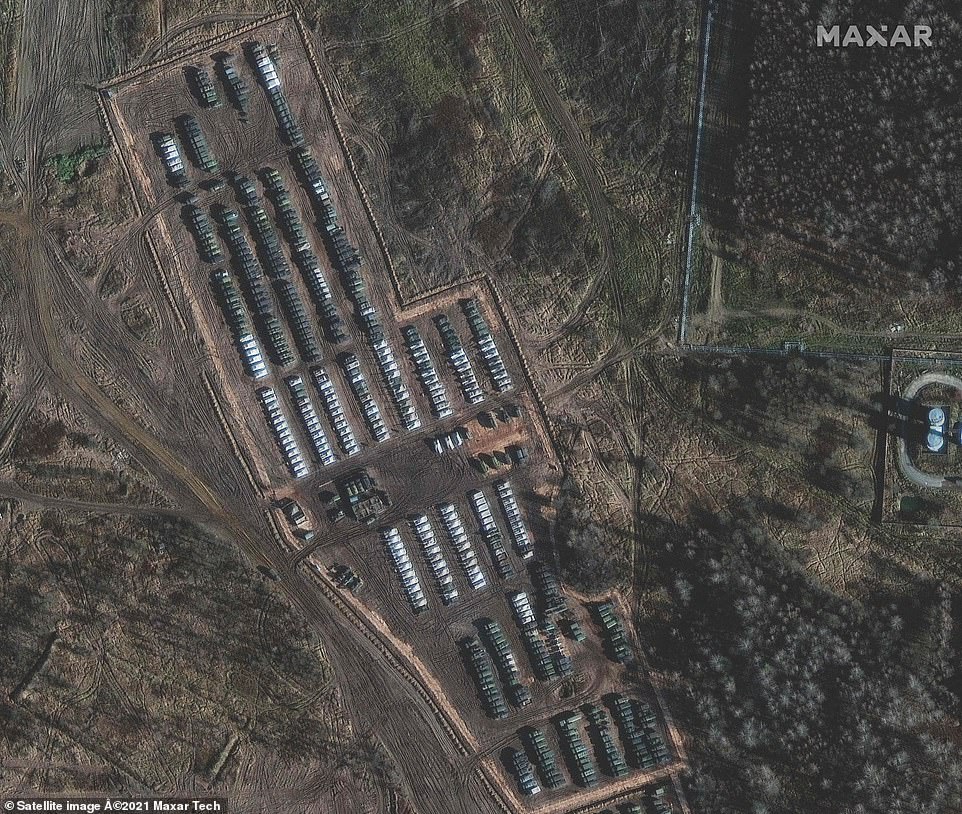 Ukraine warns there are now some 90,000 Russian soldiers near its border, where it has been fighting a years-long insurgency in its eastern regions by Russian-backed separatists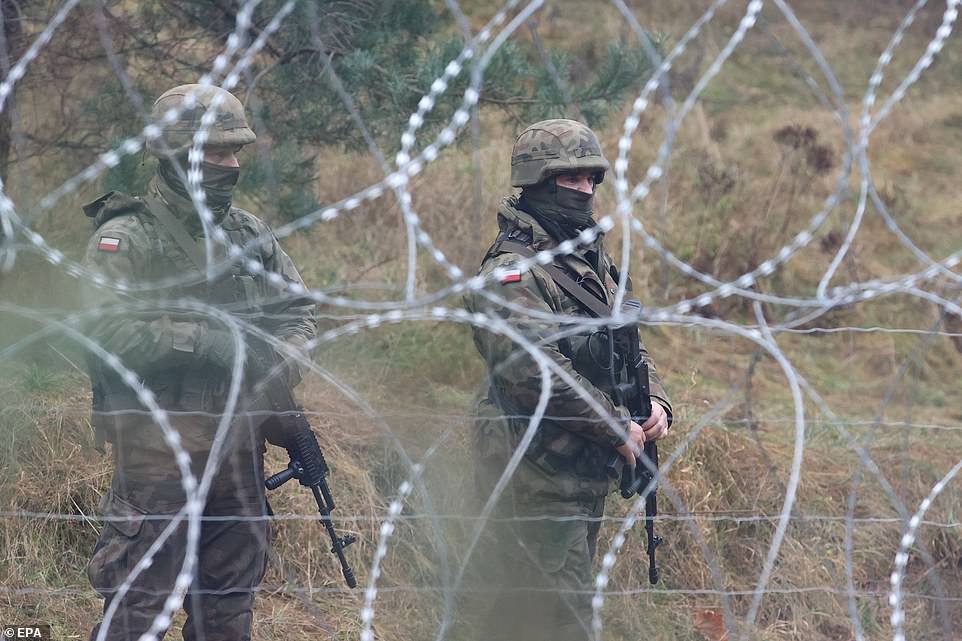 Poland has moved some 15,000 troops to its border with Belarus to help contain a migrant crisis that the EU accuses Lukashenko of engineering, amid warnings that situation could also spill over into conflict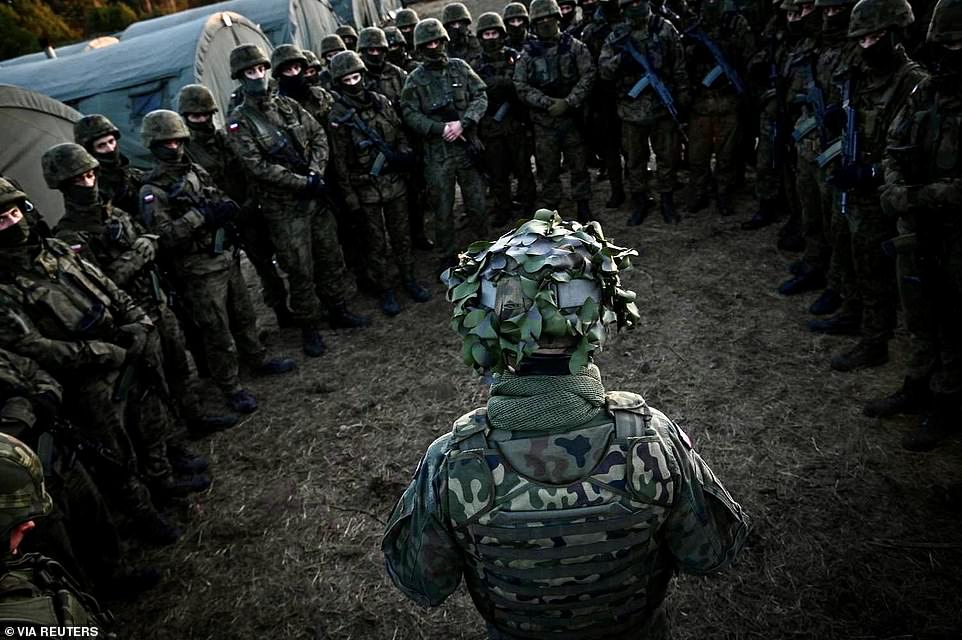 Polish troops have accused their Belarusian counterparts of inflaming tensions by firing blank rounds and pushing migrants through the border fence in an attempt to provoke a confrontation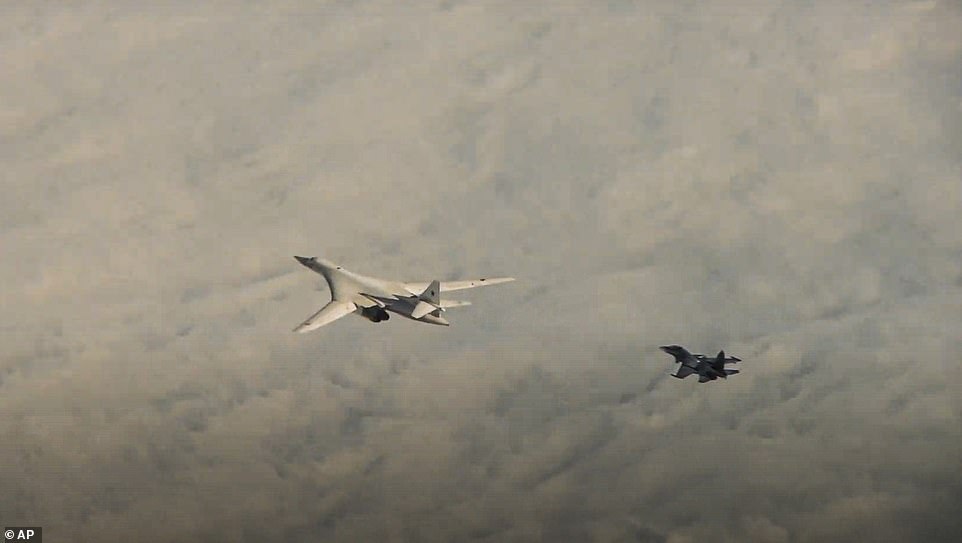 Russia has been flying nuclear-capable bombers over Belarus - its close ally - in a show of strength amidst the crisis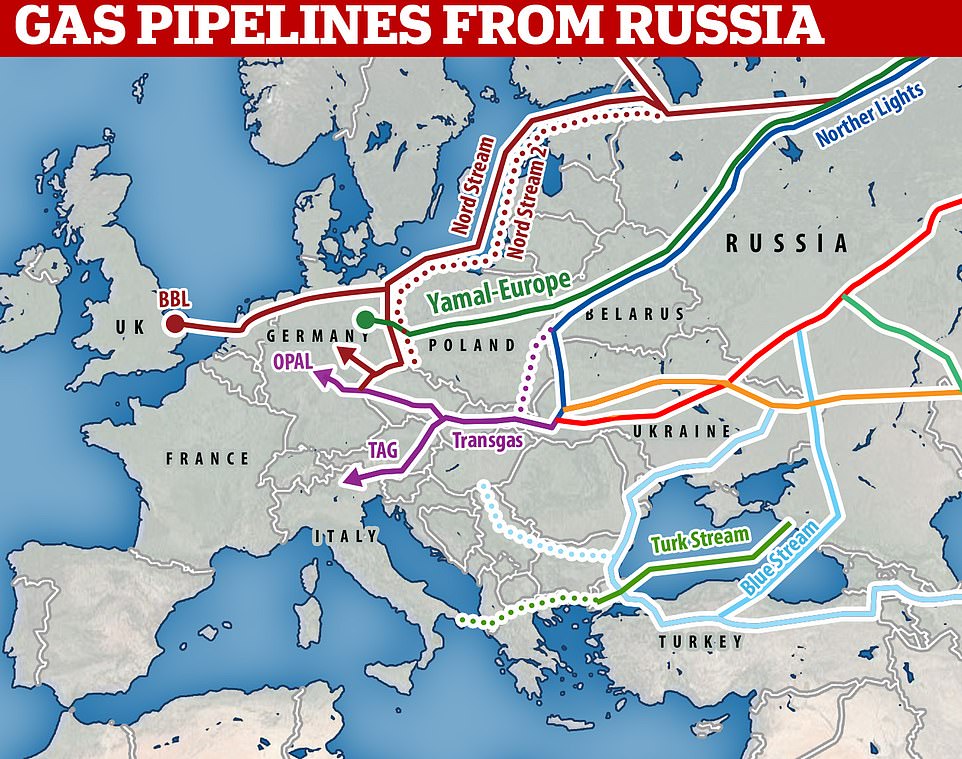 Over the summer, Russia performed further military maneuvers near the Crimean peninsula and Ukraine's eastern border, with more troops sent to the area.
Western nations kept a tight eye on the drills, which almost devolved into a clash when Russian vessels fired warning rounds at a British vessel.
More troop and tank movements seen by satellite in recent weeks alarmed Washington even more, prompting a warning to European leaders this week.
CIA Director Bill Burns even flew to Moscow and have a rare one-on-one with President Vladimir Putin.
There he shared the US's 'serious' concerns over the military buildup, sources told CNN.
DailyMail.com reached out to the State Department for comment but was referred to comments made on Wednesday by Secretary of State Antony Blinken, when he echoed similar concerns in a press conference with Ukrainian Foreign Minister Dmytro Kuleba.
'We're concerned by reports of unusual Russian military activity near Ukraine. We're monitoring the region very closely, as we always do, we'll continue to consult closely as well with allies and partners on this issue,' Blinken told reporters.
'And as we've made clear, any escalatory or aggressive actions would be of great concern to the United States. We continue to support de-escalation in the region and diplomatic resolution to the conflict in eastern Ukraine.'
The report comes as fighting between Russian-backed groups and Ukrainian forces heats up. It began in 2014 after Russia illegally annexed the Crimean peninsula following a revolution that overthrew Ukraine's former president who was widely seen as another mouthpiece of Putin's.
Ukraine's Joint Forces Operation, a militarized force created in 2018 to defend the country in the ongoing conflict in the Donbas region, accused Russia of violating the ceasefire agreement five times over a 24-hour period on Monday.
In a statement posted to Facebook the JFO accused Russia of 'armed aggression,' though the Kremlin has consistently denied involvement in the conflict.
Tensions in Europe have been inflamed by a gas shortage, with Russian company Gazprom, the continent's top energy supplier, having decreased its daily outflow in October in order to meet the needs of Putin's domestic replenishment campaign.
Ukraine's President, Volodymyr Zelensky, accused Putin of causing the gas crisis on purpose and asked Western Europe to punish him promptly.
But, once Russia's stockpile was judged complete, Gazprom upped its flow to Europe earlier this week.
However, the escalating refugee issue on the border between Poland and Russia's neighbor Belarus threatens to exacerbate the situation, which might worsen as winter approaches.
Belarus and Poland are responsible for a large portion of Russia's oil supplies to Europe.
Over the last week western democracies have accused Belarus dictator Alexander Lukashenko of 'weaponizing' migrants from Iraq and elsewhere in the Middle East by enabling them to fly to his country before seeking to break into the EU.
Devastating scenes have emerged from the region of desperate migrants getting brutal treatment from soldiers on both sides. Some even froze to death in the harsh Eastern European climate this time of year.
In response to threats of expanded sanctions, Lukashenko threatened to shut down the oil supply coming in from Russia to the rest of Europe.
'I would recommend the leadership of Poland, Lithuanians and other empty-headed people to think before speaking,' he said.
Among the countries vowing sanctions over the conflict are NATO and EU member states, as well as the US.
Russia has also been accused of escalating the crisis, and the EU is reportedly in talks to target national airline Aeroflot as part of a new sanctions package.
The Kremlin said on Thursday that Russia had nothing to do with the migrant crisis on the Belarus-Poland border and rejected the suggestion as 'crazy.'
It instead blamed the EU itself, claiming the international body was trying to 'strangle' Belarus.
However, two supersonic Tu-22M3 nuclear bombers were seen performing 'tasks of combat alert for air defense' in support of the Belarus leader, the Russian defense ministry said in response to the rising tensions on the border.
Russian Foreign Minister Sergei Lavrov told a joint news conference with his Belarusian counterpart Vladimir Makei that he hoped responsible Europeans would 'not allow themselves to be drawn into a spiral that is fairly dangerous'.
Lukashenko's 'weaponised migrants' cheer as they smash through Polish border fence: Belarus airline STOPS flying more from Turkey in bid to halt build-up of refugees as Putin vows Europe's gas will NOT be cut off
The 'weaponized migrants' of Alexander Lukashenko applauded as they burst over a Polish border fence today, only to be confronted by another barrier and additional soldiers.
Hundreds of migrants poured across a highway and onto a grassy hill, where they confidently applauded at Polish riot police and military stationed beside a barbed wire barrier, according to video.
Lukashenko's security personnel carried thousands of desperate refugees from the Middle East and North Africa to the Belarus-Poland border last week, forcing Poland to deploy 15,000 troops around the border.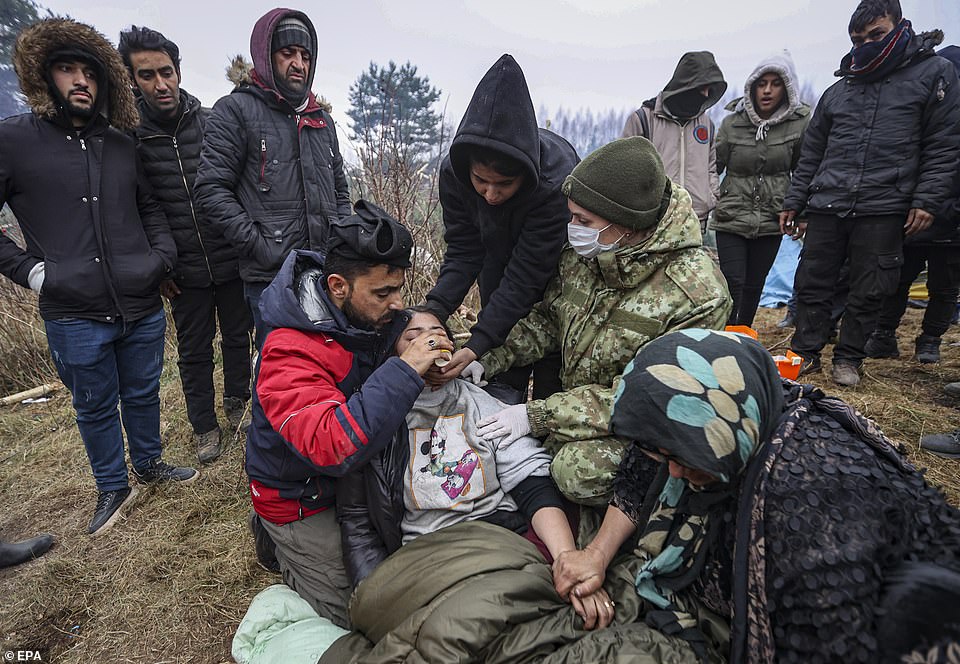 The EU accuses Lukashenko of luring the migrants to Belarus and the country's Belavia airline has been forced to deny it is involved in trafficking the refugees as part of the 'hybrid war.'
Belavia said citizens of Iraq, Syria and Yemen, would be blocked from flights as of Friday 'in accordance with the decision of competent authorities in Turkey.
Amid the chaos on Europe's doorstep, the White House last night warned Brussels to brace for a Russian invasion of neighbouring Ukraine.
The CIA briefed European officials about a possible Russian assault to capture territory in eastern Ukraine similar to the 2014 annexation of the Crimean peninsula.
As military hardware massed on Ukraine's eastern front, the Kremlin today announced it was sending paratroopers to the Belarus-Poland frontier for snap drills just 30 miles from where the migrants are camped.
'A unit of Russian paratroopers will practise a landing in an unknown territory in the Hrodna region of Belarus on November 12 as part of drills to inspect combat readiness of the paratrooper forces,' the Russian defence ministry said.
Russian nuclear bombers were also flying over Belarus for a third day running as Putin remained firmly behind Lukashenko.
Kremlin-backed tyrant Lukashenko remains defiant in the face of increased sanctions from Brussels, threatening on Thursday to cut off Russian gas supplies to Europe from a major pipeline which runs through Belarus.
On Friday, however, Vladimir Putin quelled the danger, telling reporters that "the dependability of Russia as a [gas] provider under present and future contracts is beyond dispute."
The presence of tens of thousands of troops, tanks, and artillery pieces close to the border has fuelled fears of a Russian invasion, with satellite photographs indicating vast camps of vehicles near Yelnya, Bryansk, and Kursk.
Ukraine, which has been fighting a proxy war in its eastern regions against Russian-backed rebels for years, has responded by sending 8,500 additional troops to the border.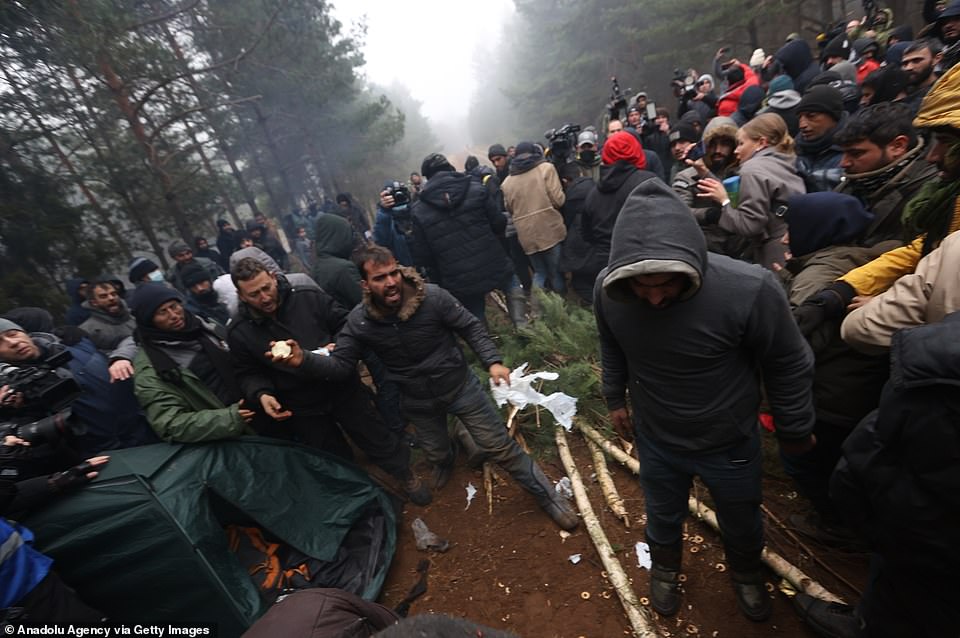 A group of migrants were seen violently clashing with one and other as food supplies were handed out by an aid organisation on Thursday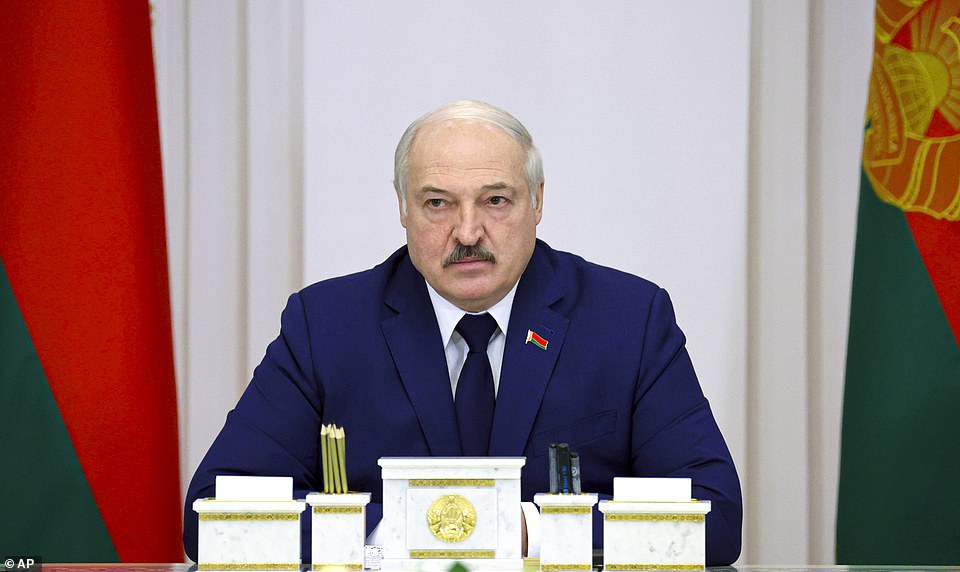 Meanwhile, Lithuania, Latvia and Estonia have also been warning of the risk of conflict between Belarus - a close ally of Moscow - and Poland amid a migrant crisis on their shared border.
On Thursday, Lukashenko warned of the risk of a conflict and accused armed groups in the Donbas region of Ukraine of trying to ship weapons to the migrants on the Polish border in order to spark fighting.
'They are Kurds, and the Kurds are militant,' he said according to Polish newspaper Wyborcza. 'When Poles beat them, cut them, torment them, etc., they become desperate. One rifle, one gun, and armed conflict is ready.'
European countries and the US condemned Belarus Thursday following an emergency meeting at the UN Security Council.
President Vladimir Putin of Russia has encouraged the EU to begin diplomatic discussions with Belarus in order to settle the crisis with 4,000 migrants tented on the Polish-Belarus border in subzero conditions.
Poland is refusing to let the migrants cross the border, accusing Minsk of enticing them to Belarus in order to send them across the border as retaliation for sanctions.
Following an extraordinary meeting of the UN Security Council on the incident, US and European delegations denounced "the deliberate instrumentalization of human people whose lives and welfare have been put in jeopardy by Belarus for political goals."
Minsk is aiming at 'destabilizing neighboring countries and the European Union's external border and diverting attention away from its own increasing human rights violations,' they said in a joint statement.
The statement made no mention of Belarus ally Russia, which before the meeting rejected western allegations that it was working in conjunction with Minsk to send the migrants over the EU's eastern border into Poland.
And in his second phone call with German Chancellor Angela Merkel in as many days, Putin 'spoke in favour of restoring contacts between EU states and Belarus in order to resolve this problem,' the Kremlin said in a statement.
The EU has so far declined to meet with Belarusian President Alexander Lukashenko, who warned on Thursday that any fresh sanctions might result in Minsk cutting off natural gas transit to Europe.
After a harsh assault on the opposition following a disputed presidential election last year, the EU cut ties with Lukashenko and levied sanctions.
Because of the migrant crisis, the EU is set to decide next week to slap further penalties on Belarus for human trafficking.