The crypto-market as a whole has had a good year. Any asset in the top ten would agree with this statement, but XRP is not one of them. While it remains seventh in the rankings, its April 2021 high of $1.966 has yet to be tested.
Long-term, every top asset has reached a new high in the last few months. Bitcoin, Ethereum, and Cardano are among the coins on this list. XRP, on the other hand, is still trading near its 2017 high.
After the SEC debacle, it has struggled to maintain consistent momentum. Unfortunately, structurally, its market may undergo a massive shift in the coming months.
However, it is important to note that the price of XRP will continue to be influenced by a number of external factors. The following article will go over the bullish parameters that could set off its rally.
Will XRP re-enter the top three?
At the time of publication, XRP was ranked seventh on the charts, with a market cap of $52 billion. Binance Coin was ranked third, with a market capitalization of $82 billion.
If XRP reaches $82 billion on the charts, it would represent a 60 percent increase to $1.75. This target could be extremely viable based on market structure.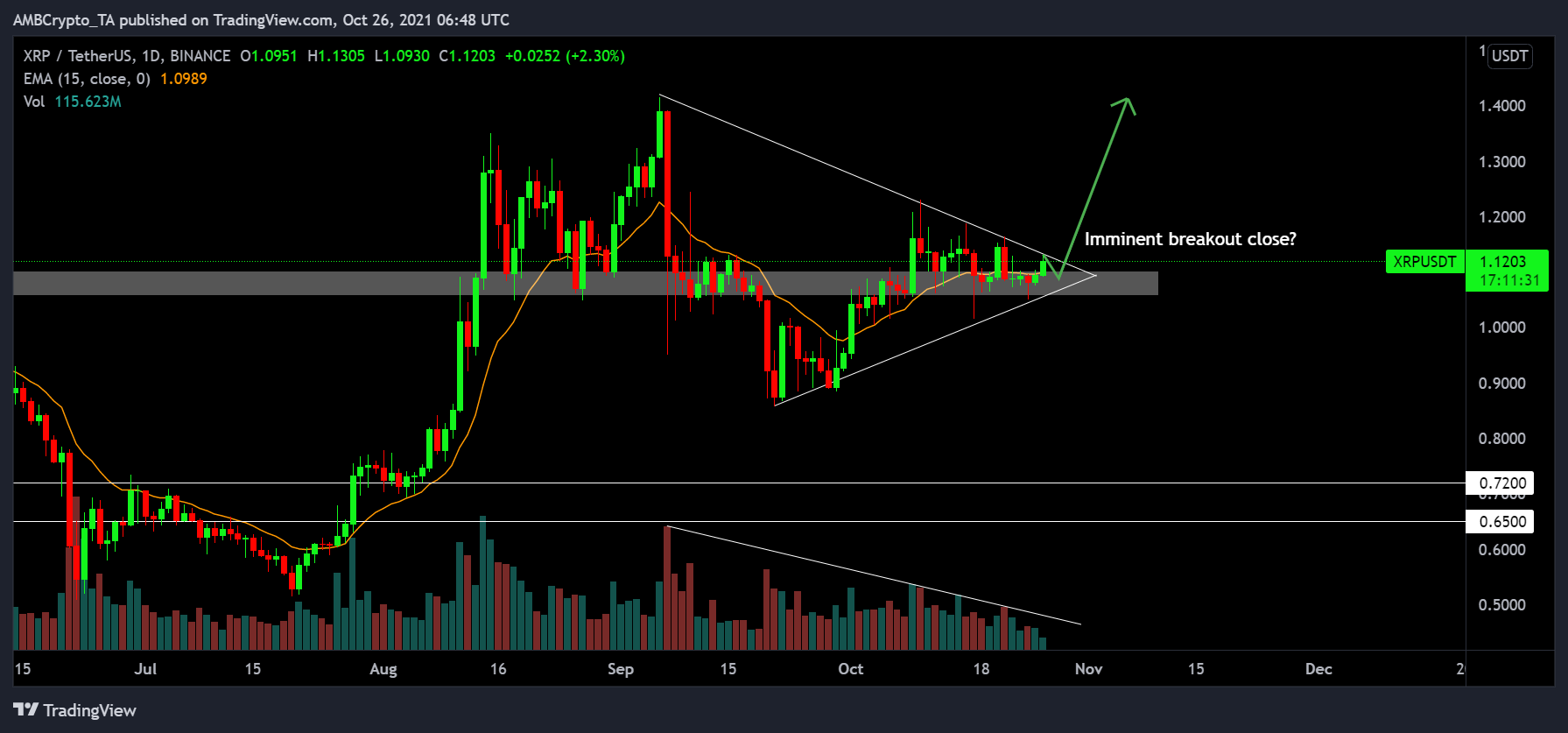 Using the 1-day chart as an example, XRP has been consolidating strongly in the liquidity pocket (highlighted in the chart) for the past month. With a prominent symmetric triangle forming at the time of writing, the potential for a break and rally towards its immediate resistance of $1.40-$1.50 is fairly high.
One confirmation comes from the fact that lower trading volumes have been met by lower prices, implying that any increase in trading volume would automatically trigger an increase.
However, XRP's reach may no longer be limited to $1.40 or $1.50. The asset could be on track to surpass its 2017 ATH by the end of December and continue its rally into next year.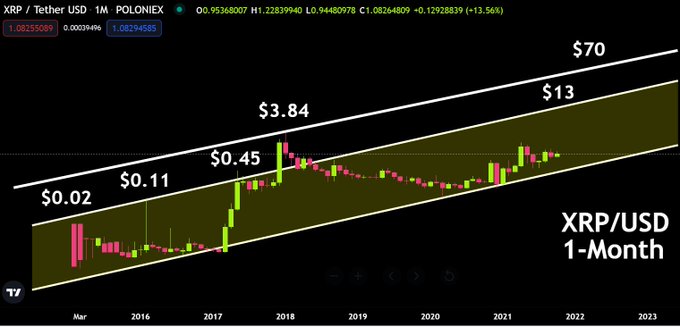 Given that it explodes in the desired direction, the monthly chart for XRP appears to be structurally targeting a massive breach of $10 on the chart.
While such a movement is almost unfathomable, there may be a few narratives that are gradually shifting in XRP's favor.
Coinbase, the Securities and Exchange Commission, and Warren Buffett?!
The SEC began putting pressure on Ripple late last year, and in December 2020, it filed a lawsuit against the company and two of its executives. XRP's value plummeted during a period of collective bullishness, and Coinbase announced its delisting on January 19th.
It has been ten months since the lawsuit was filed, and Ripple has yet to be found guilty. Over the last few months, the tide has shifted in favor of Ripple. In fact, Judge Sarah Netburn has ordered the SEC to provide clearer explanations for why the Howie test applies to XRP but not Ether or Bitcoin.
Jeremy Hogan, a vocal attorney in the XRP-SEC lawsuit, stated,
"UH-OH. The SEC is going to be forced to admit that there is nothing in an of these contracts that created an expectation of profits by purchasers of XRP. That's a big problem for the SEC."
With positive developments slowly surrounding XRP and Ripple, a part of the community believes that it is only a matter of time before XRP is re-listed on Coinbase.
Coinbase — re-list $XRP already.

— David Gokhshtein (@davidgokhshtein) October 23, 2021
While both of these narratives have a direct impact on the value of XRP, the Warren Buffett angle may be more long-term.
According to reports, Berkshire Hathaway has invested $500 million in Brazil's NEO bank, which is a RippleNet member that uses its ODL services.
It is possible that Buffett saw intrinsic value in Ripple's ODL remittance services. This could have resulted in such a large investment.
You should not count your chickens before they hatch.
Regardless of the enticing narratives, it is critical to understand that such price increases (if any) for XRP may occur over the next few months or quarters, rather than weeks.
It is still important to understand market dynamics before investing in an asset that has juggled market and legal volatility for over a year. Hence, as always, Do Your Own Research because this isn't investment advice.