With Bitcoin reaching a new high above $67,000, market participants were now waiting for the world's largest altcoin, Ethereum, to achieve a similar result.
Ethereum, which is currently challenging the upper trendline of its horizontal channel, was expecting a 60% run up from the breakout point, bringing its price close to $7K.
However, a failed breakout attempt could result in significant losses for ETH. If bulls are unable to break through the $4,400 barrier with conviction, bearish divergences along the RSI and MACD signaled dangers ahead. At the time of writing, ETH was trading at $4,083, down 2.5 percent in the previous 24 hours.
Ethereum Daily Chart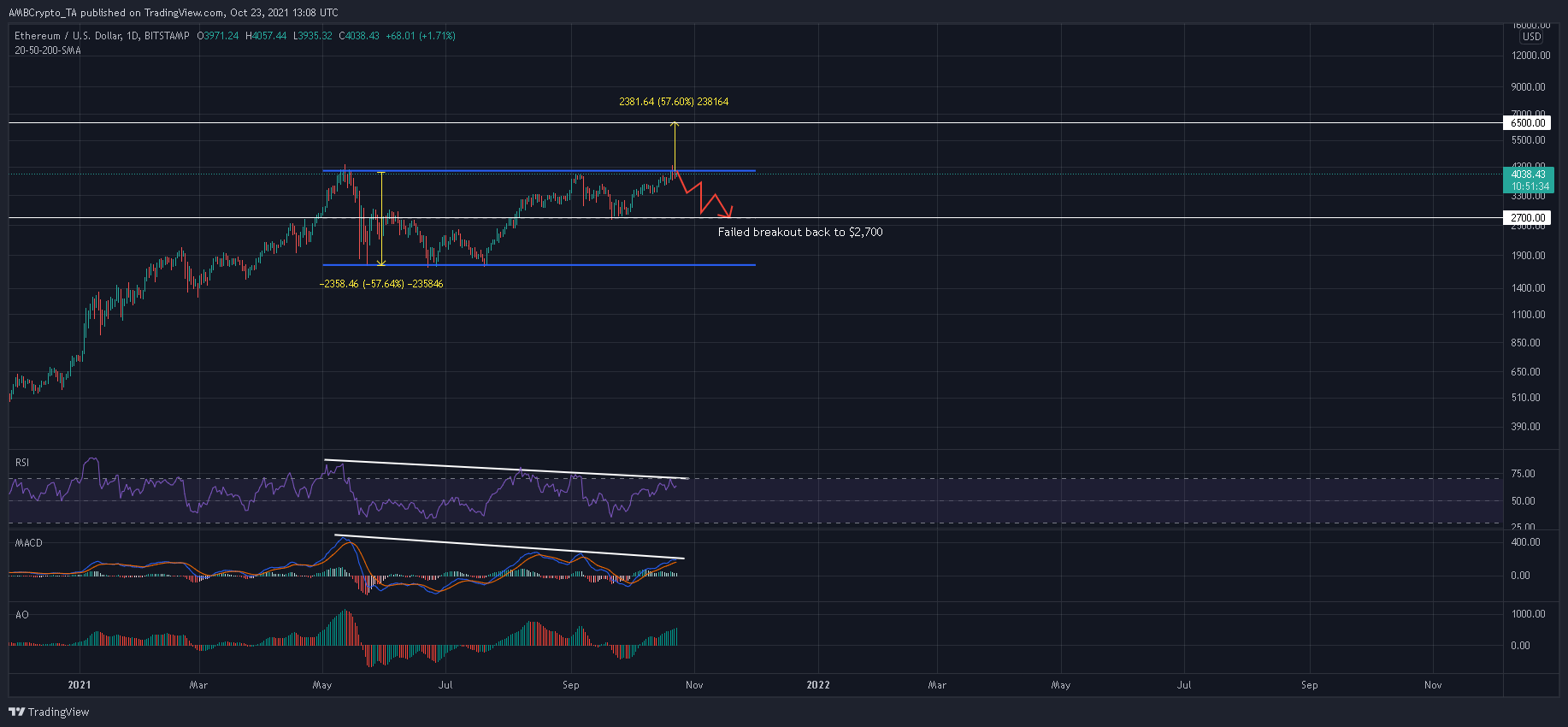 On the charts, Ethereum's three distinct highs around $4,300 and three distinct lows around $1,700 indicated a horizontal channel. Since early May, ETH has followed the pattern's boundaries, experiencing a reversal after reaching its extreme ends.
Since August 4, bulls have kept ETH above the channel's mid-line. Based on the highest and lowest points of the pattern, an inverse head and shoulder formed above $2,700 ETH, preparing for an upward breakout and a possible 58 percent hike.
However, a closer examination of some of its indicators revealed a rather troubling picture. For example, from early-May to late-October, the RSI formed four lower peaks, indicating a bearish divergence with respect to ETH's price action.
Lower peaks were also visible on the MACD. Based on these readings, ETH would struggle to challenge $4,400 and would revert to the $2,700 midpoint if the RSI and MACD fail to break their upper trendlines.
Bulls, on the other hand, can take heart from the Awesome Oscillator's trajectory, which showed no such threats. A move above $4,400 was very much possible, and it could even happen as soon as the broader market turned risk on.
Conclusion
ETH appeared poised to break out north of its horizontal channel and target $6,500 in the coming months. However, if the RSI and MACD remain restricted below their upper trendlines, ETH will face a 35% sell-off back towards the $2,700 level.