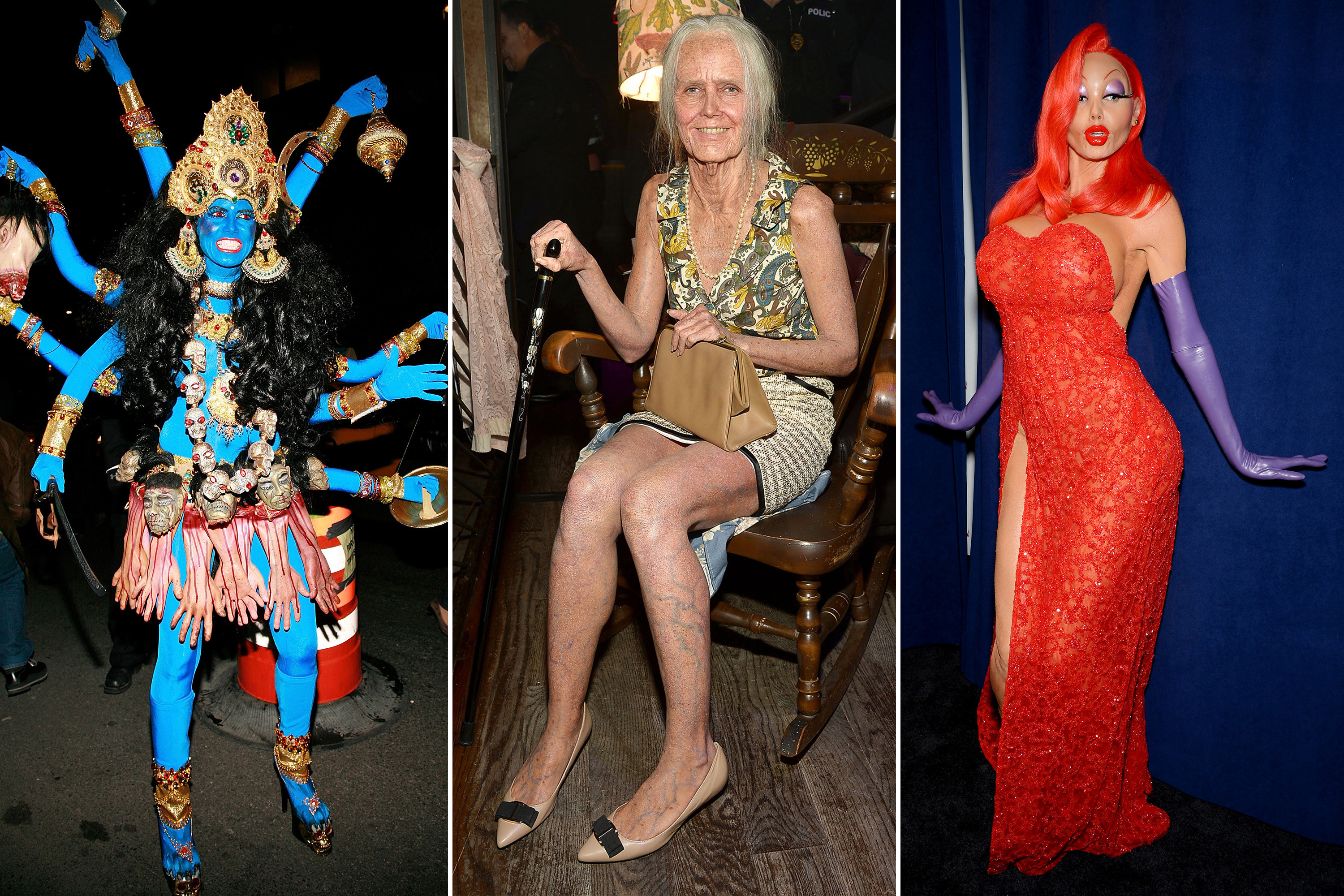 Nobody does Halloween quite like Heidi Klum. The supermodel has become synonymous with the spooky holiday over the past two decades, regularly subjecting herself to hours of makeup, prosthetics, body casts and fittings for the sake of a jaw-dropping costume.

And while she's unlikely to throw her annual star-studded Halloween party this year due to the coronavirus pandemic, you can still count on Klum to come up with a stunning outfit. "I don't want to let my Halloween fans down because there are so many people who love creativity as much as I do and are jonesing to see what I do," she told us in 2019.

In the meantime, take a look back at the committed catwalker's most iconic costumes from over the years -- from "Shrek" ogress to old lady -- all ranked from mundane to magnificent.
FilmMagic; Mike Coppola; WireImage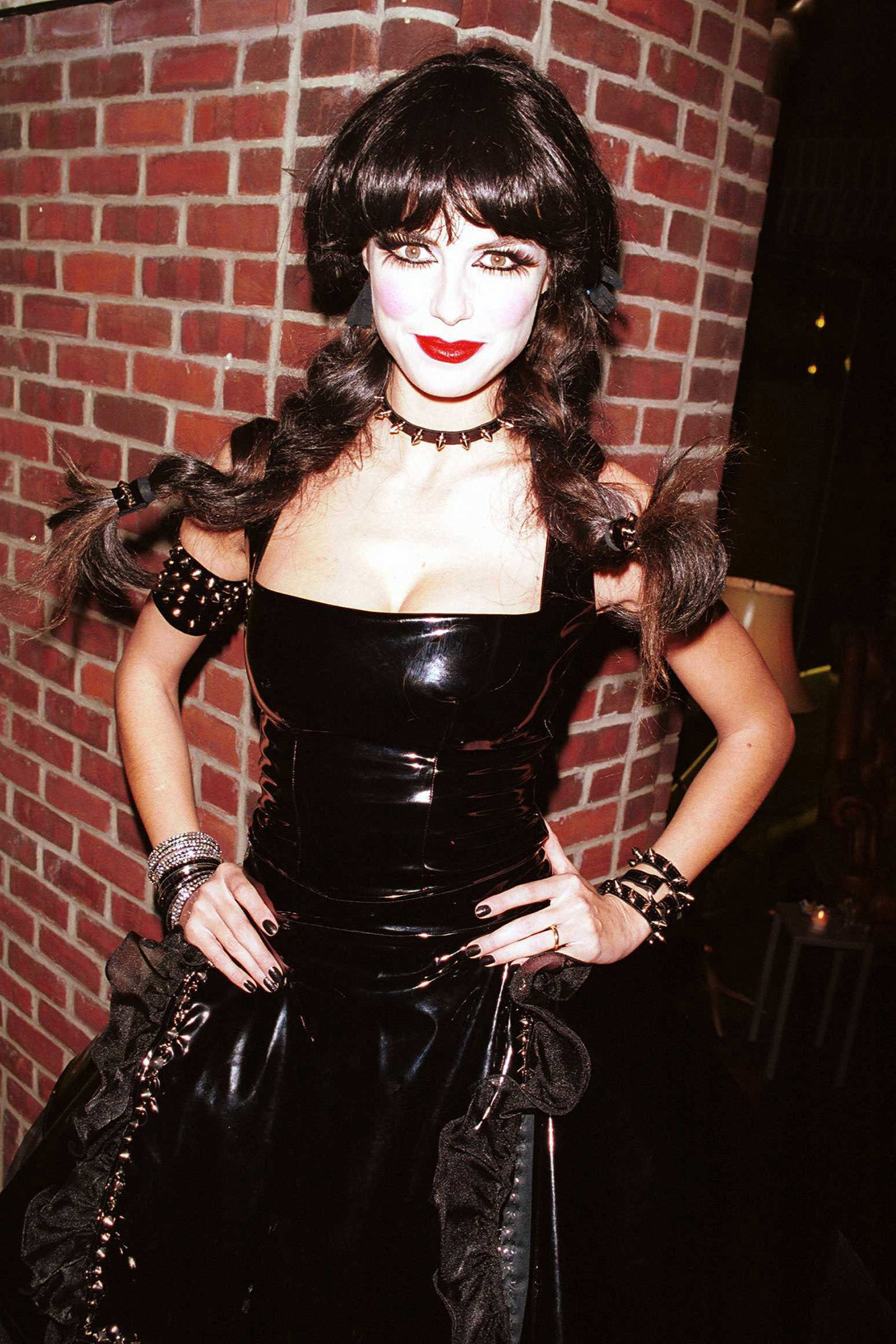 21. S&M Klum (2000)

"I wanted to be Heidi, but a little bit more S&M," the model told us of her first-ever Halloween party look, which featured a German dirndl with a punk twist. Spooky enough, but nothing compared to her over-the-top outfits to come.
FilmMagic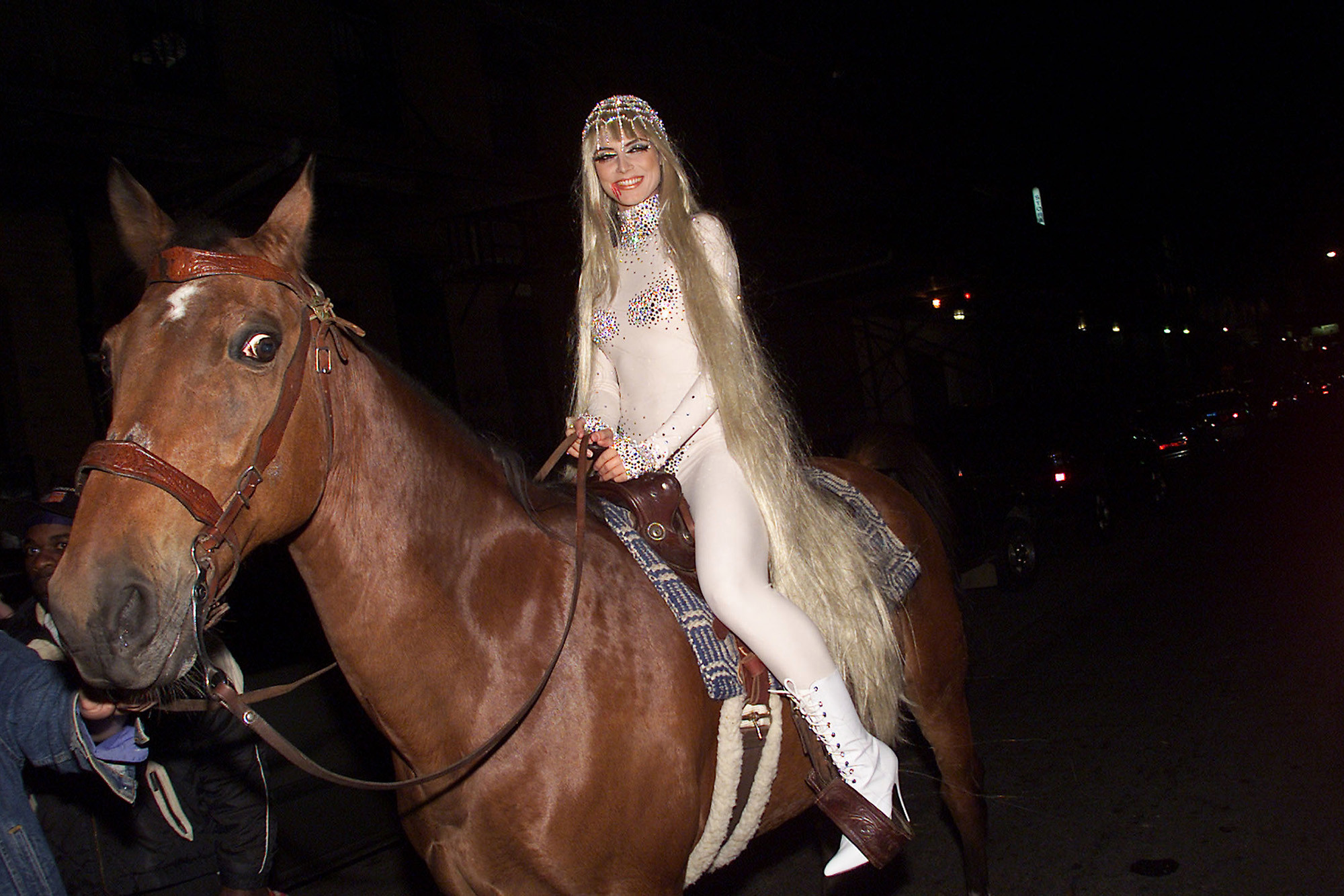 20. Lady Godiva (2001)

The highlight of this Halloween look? The horse, of course -- which Klum wasn't sure how to ride. "[The NYPD] gave me one of the police horses and it was very nice. But I was still scared," she said.
Getty Images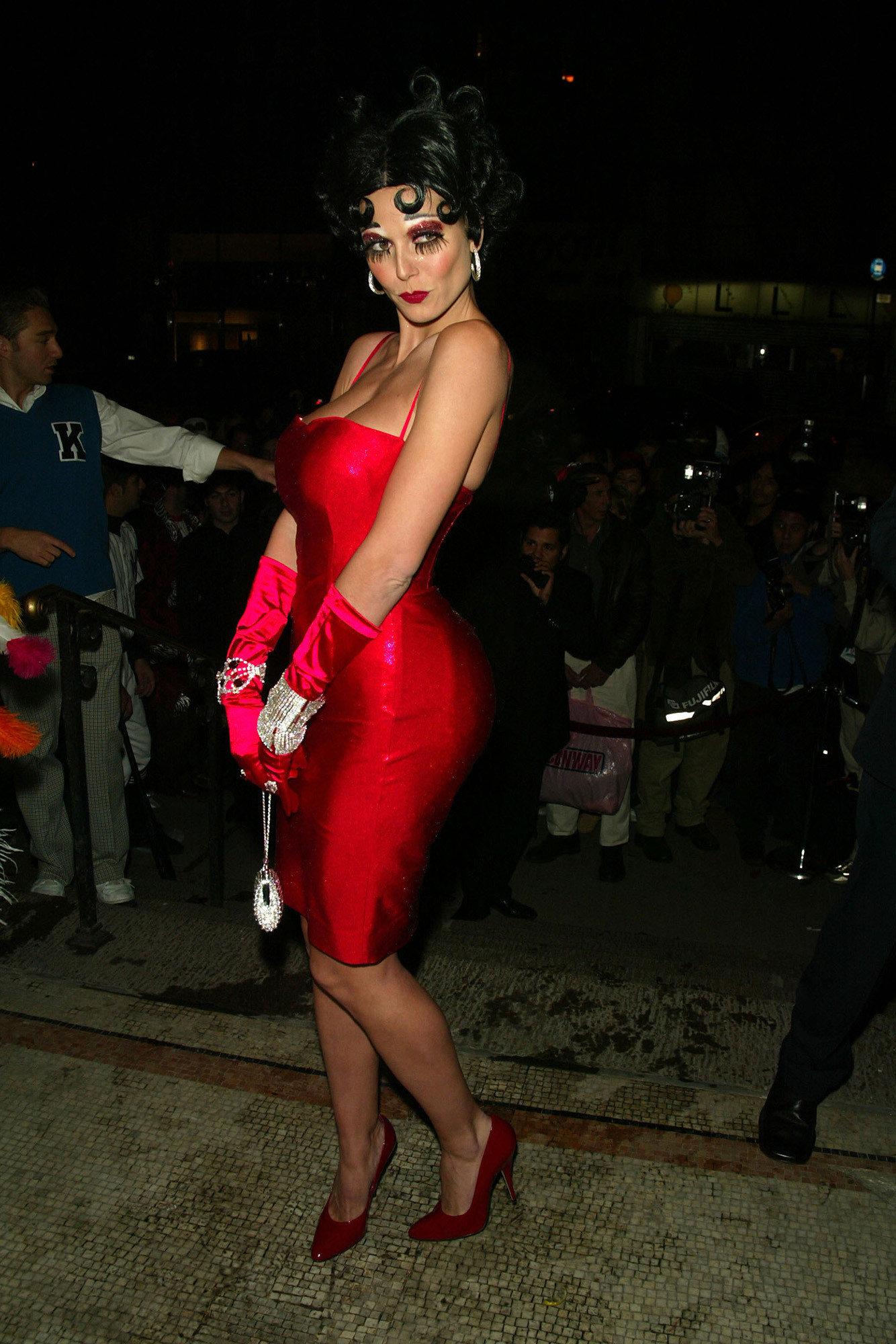 19. Betty Boop (2002)

Klum donned fake boobs and drawn-on brows to transform into the beloved cartoon character.
Getty Images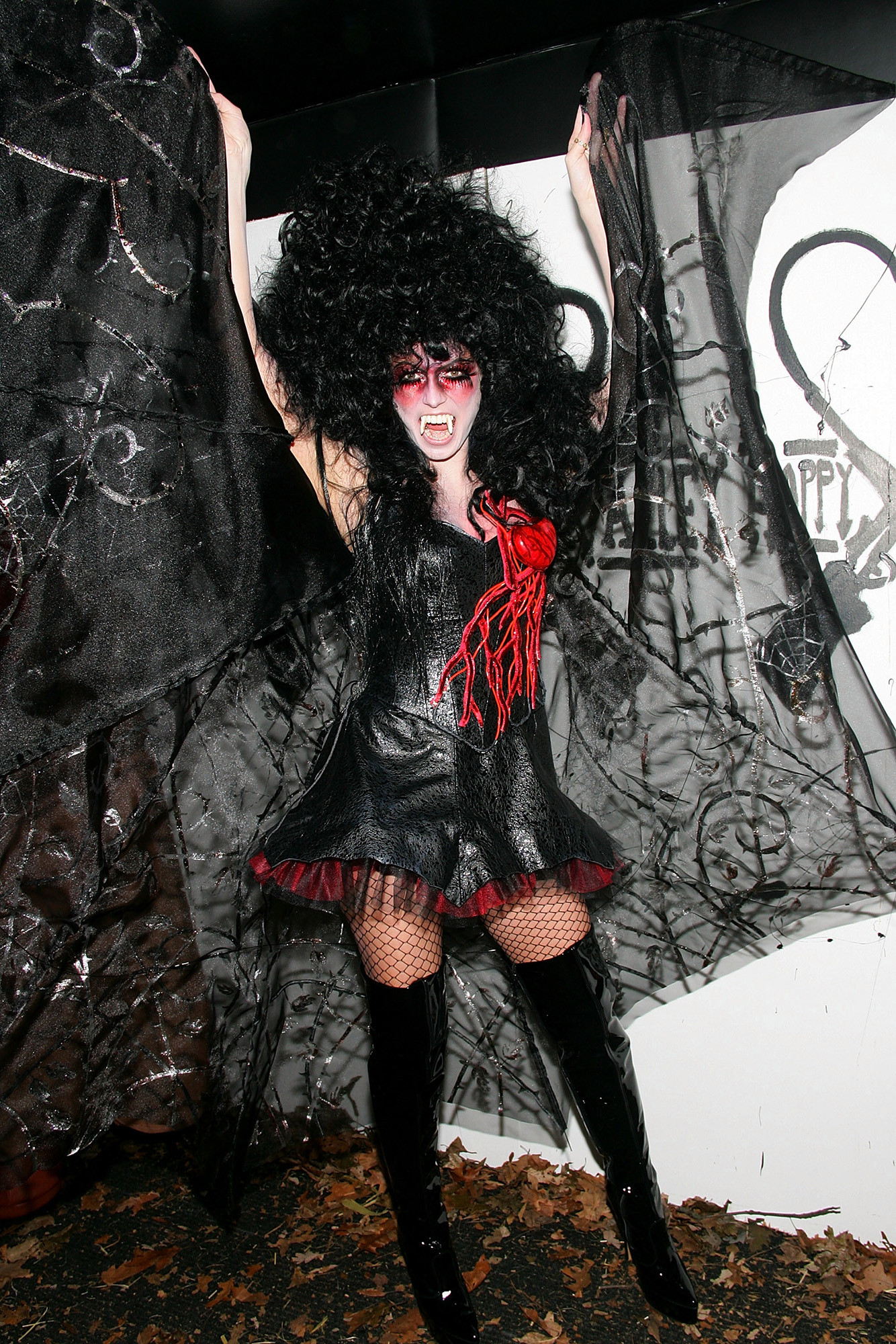 18. Vampire (2005)

This bloodthirsty look required some major DIY on Klum's part. "I had help with the costume but didn't have [pro] hair and makeup until 2011!" she told us, adding that she sewed together five wigs to create her character's voluminous 'do.
Getty Images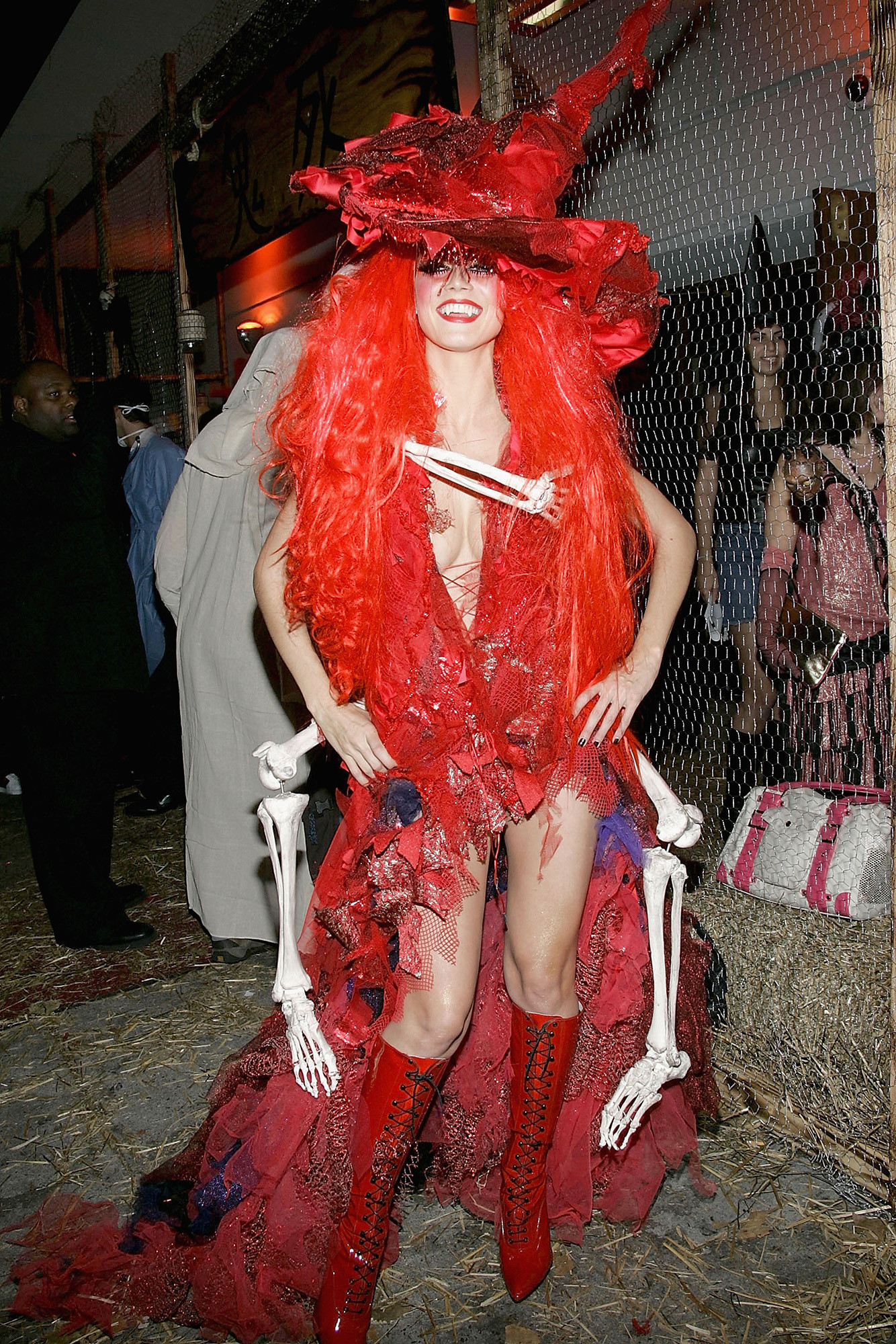 17. Witch (2004)

While not especially creative by Klum's standards, this look wins extra points for the commitment involved: "I had to go to one of those medical-supply stores and get a big, heavy fake skeleton that doctors and nurses use to study with, and carry it on my back all night long," she told us.
Getty Images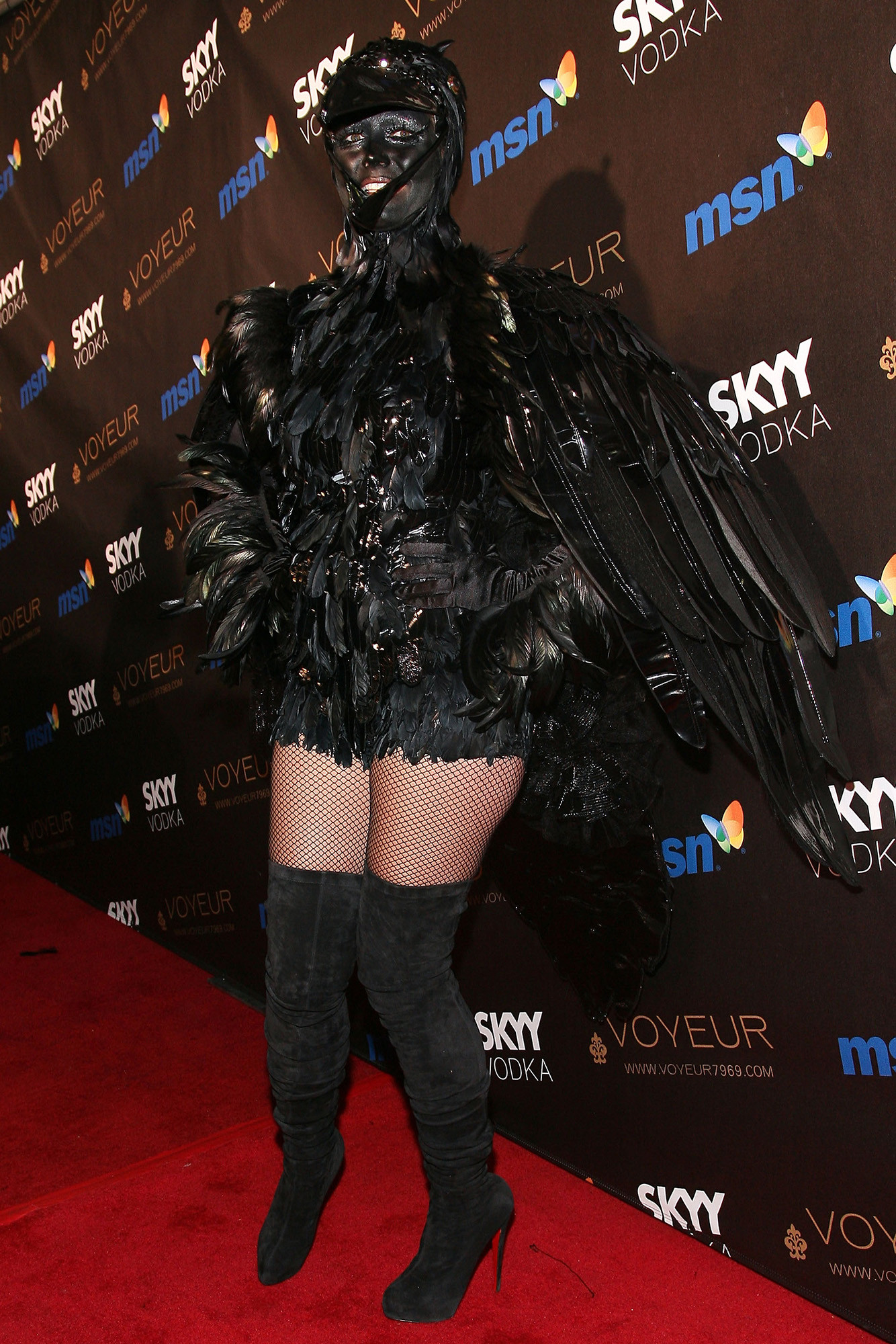 16. Crow (2009)

Paging Moira Rose! We're sure the model ruffled a few feathers in this caw-some creation. "I had just given birth. I was like, 'Black is slimming,'" Klum explained of her choice.
Getty Images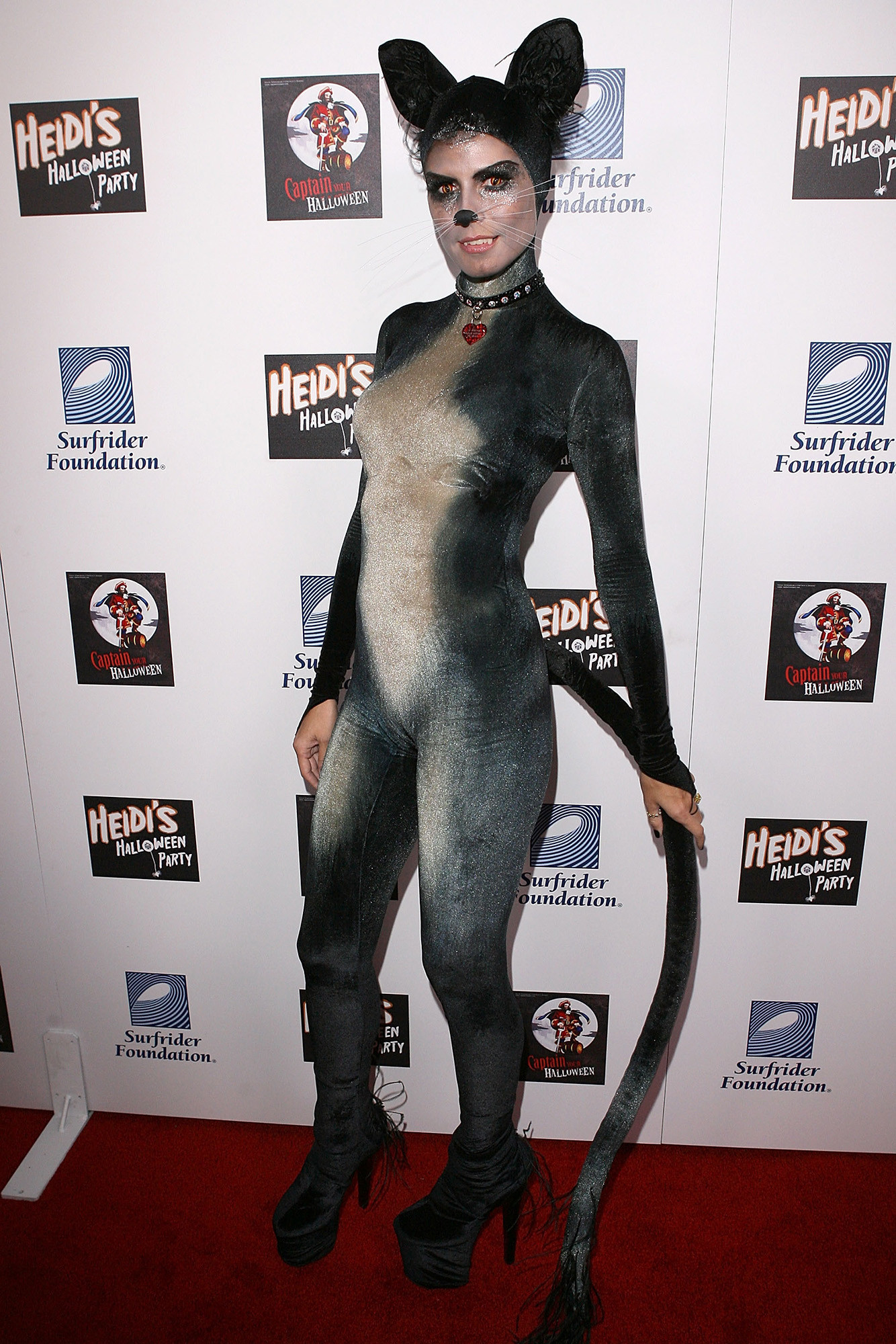 15. Cat (2007)

Klum made for one fine feline in this slinky, glittery getup. Sometimes, you've just gotta go the "sexy animal" route!
WireImage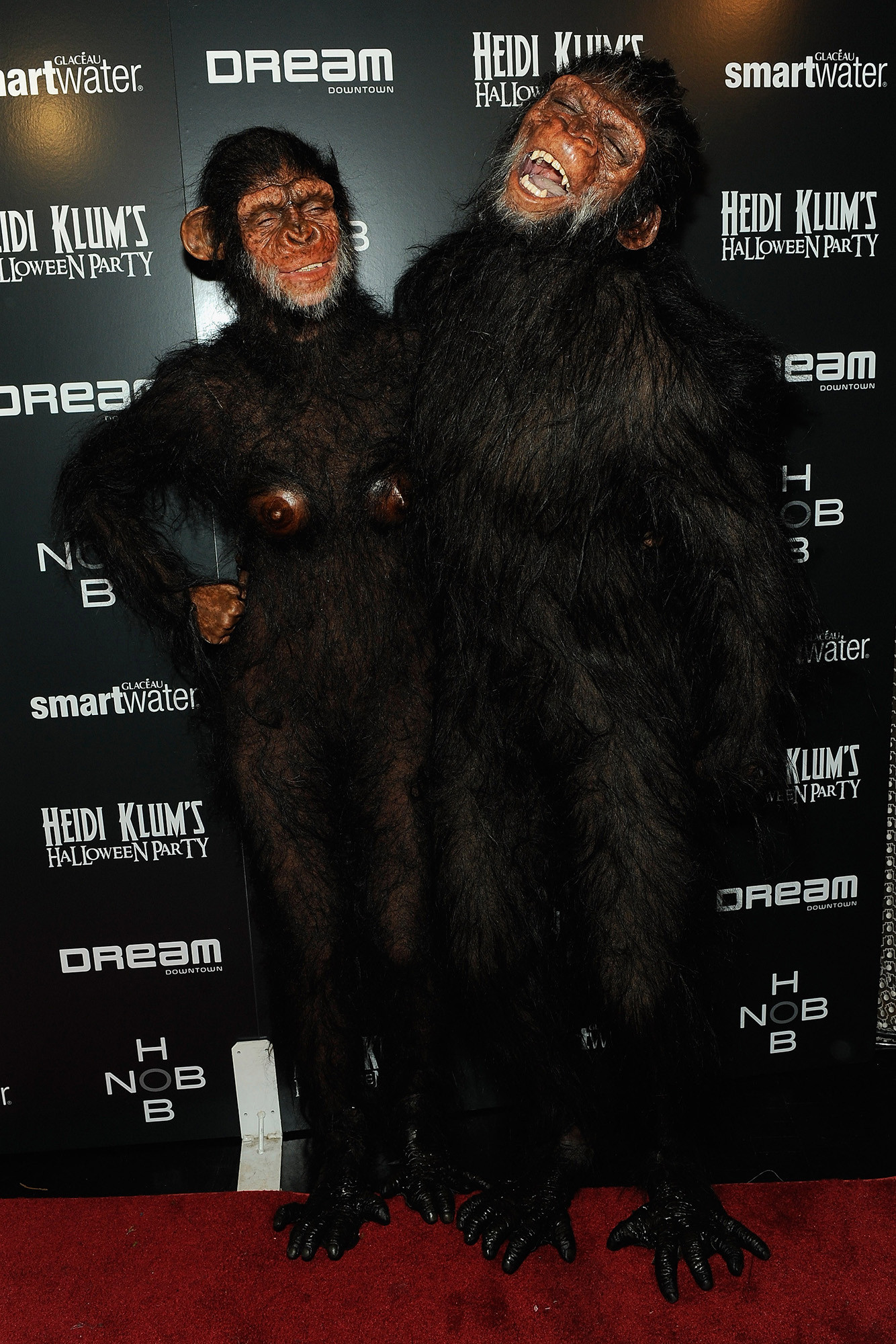 14. Ape (2011)

In the first of two looks she'd wear that year, Klum monkeyed around with then-husband Seal. She told us these looks were especially complicated to create: "An ape has so many spots, all these little freckles, and then [prosthetics artist Mike Marino] had to glue all these little hairs onto the prosthetics."
Getty Images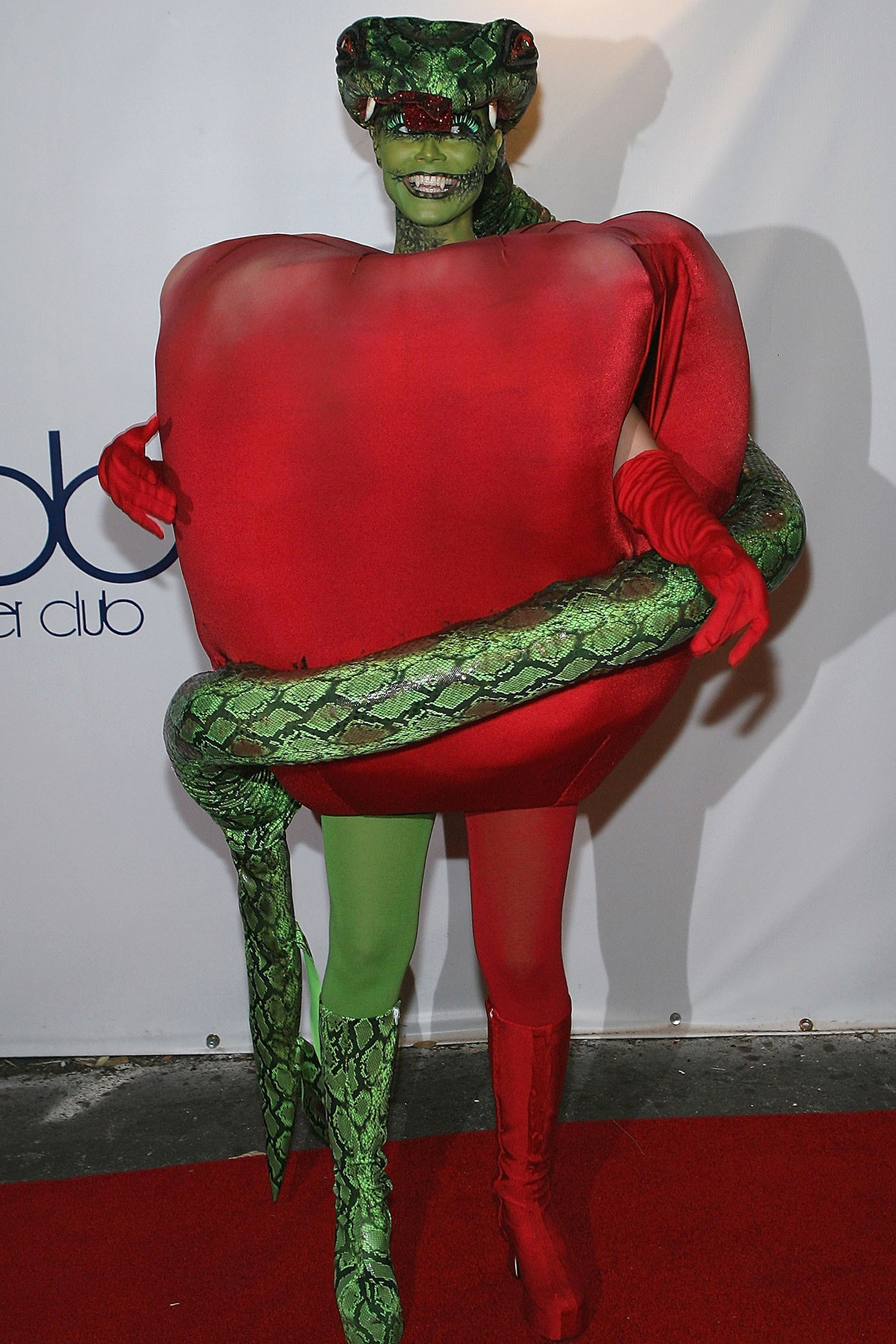 13. Eve and the forbidden fruit (2006)

While nine months pregnant, Klum got extra creative. "I thought, 'What can I be that is big and safe for the baby and comfortable for me?' We had to get a convertible because I couldn't fit through car doors," she recalled of this Biblical look.
Getty Images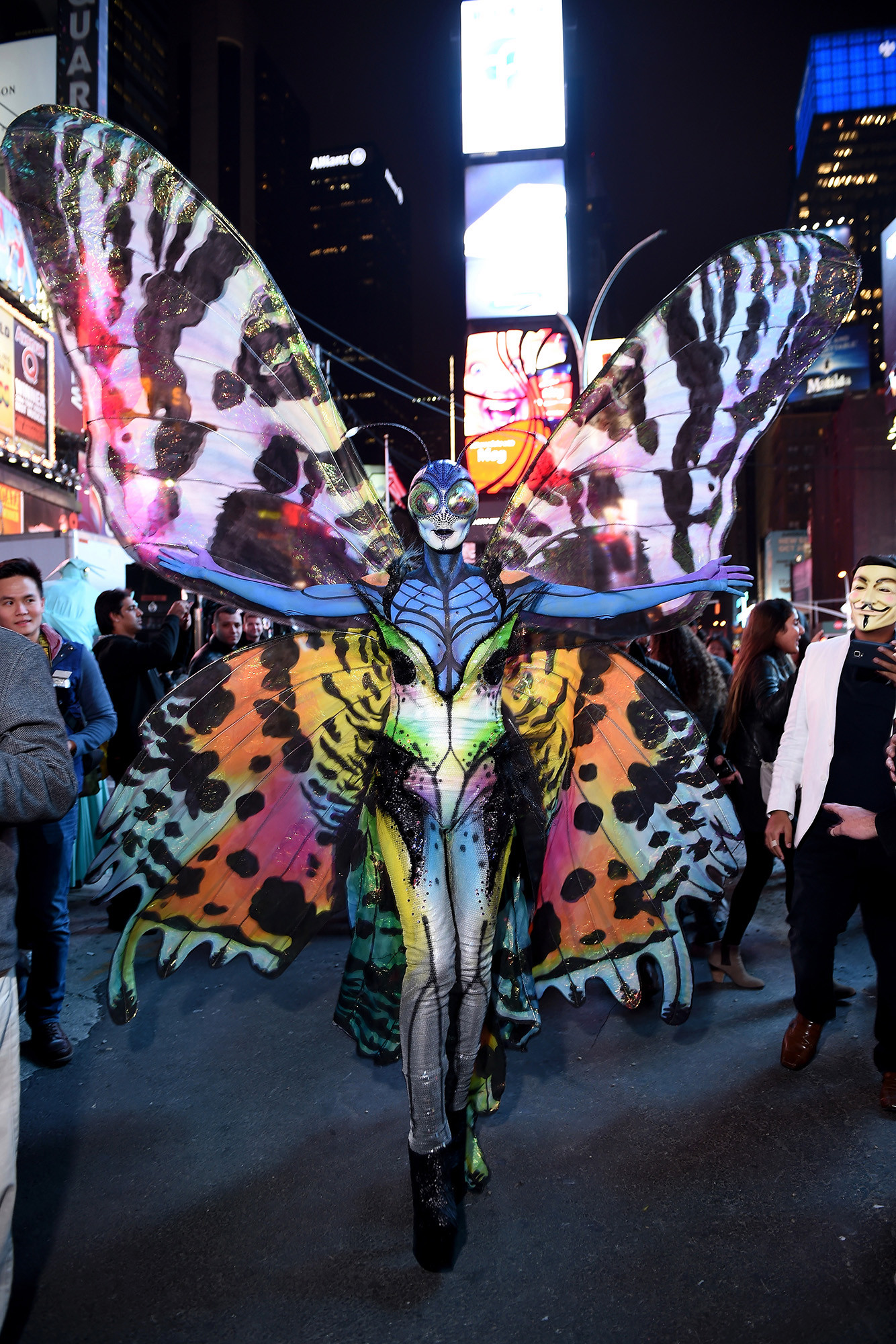 12. Butterfly (2014)

Talk about impressive wingspan! Klum told us "it was very hard to see" in this look. "I had these plastic round eyes and behind that, the batteries for the lights."
Dimitrios Kambouris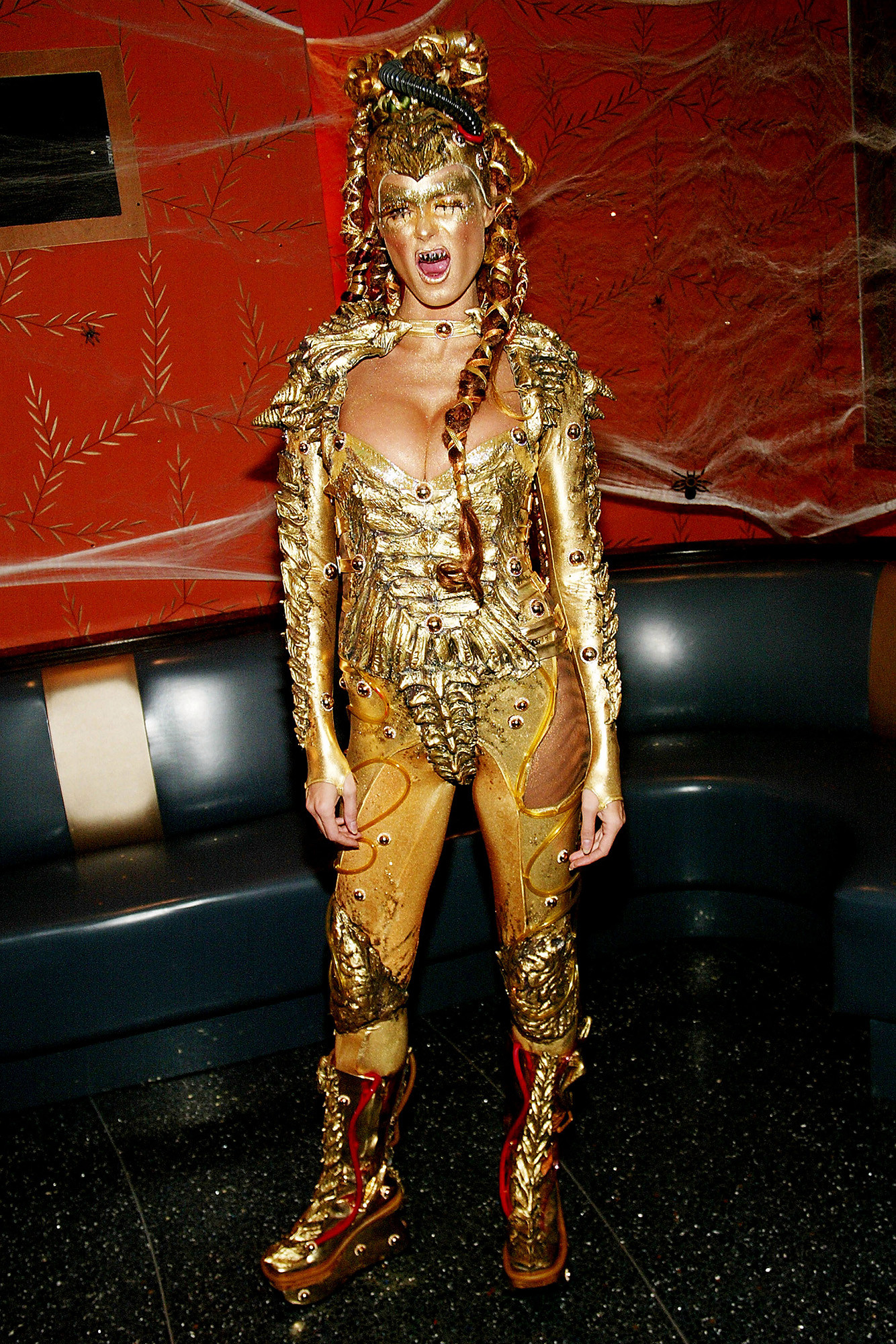 11. Golden girl (2003)

Klum gilded every inch of herself for this costume, from her hair to her teeth to her décolletage.
Getty Images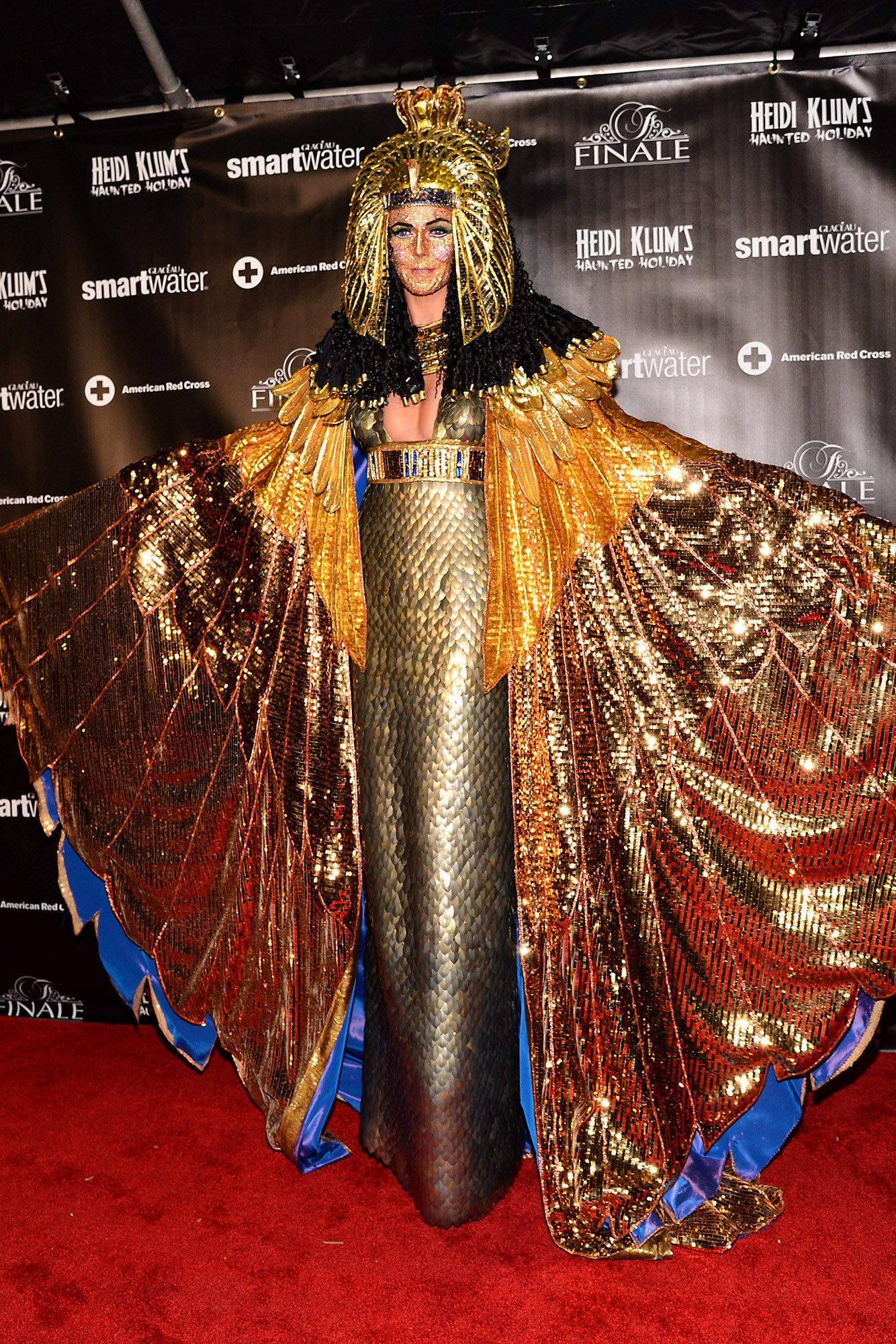 10. Cleopatra (2012)

Klum took this glamorous look to the next level by covering her face in crystals.
Mike Coppola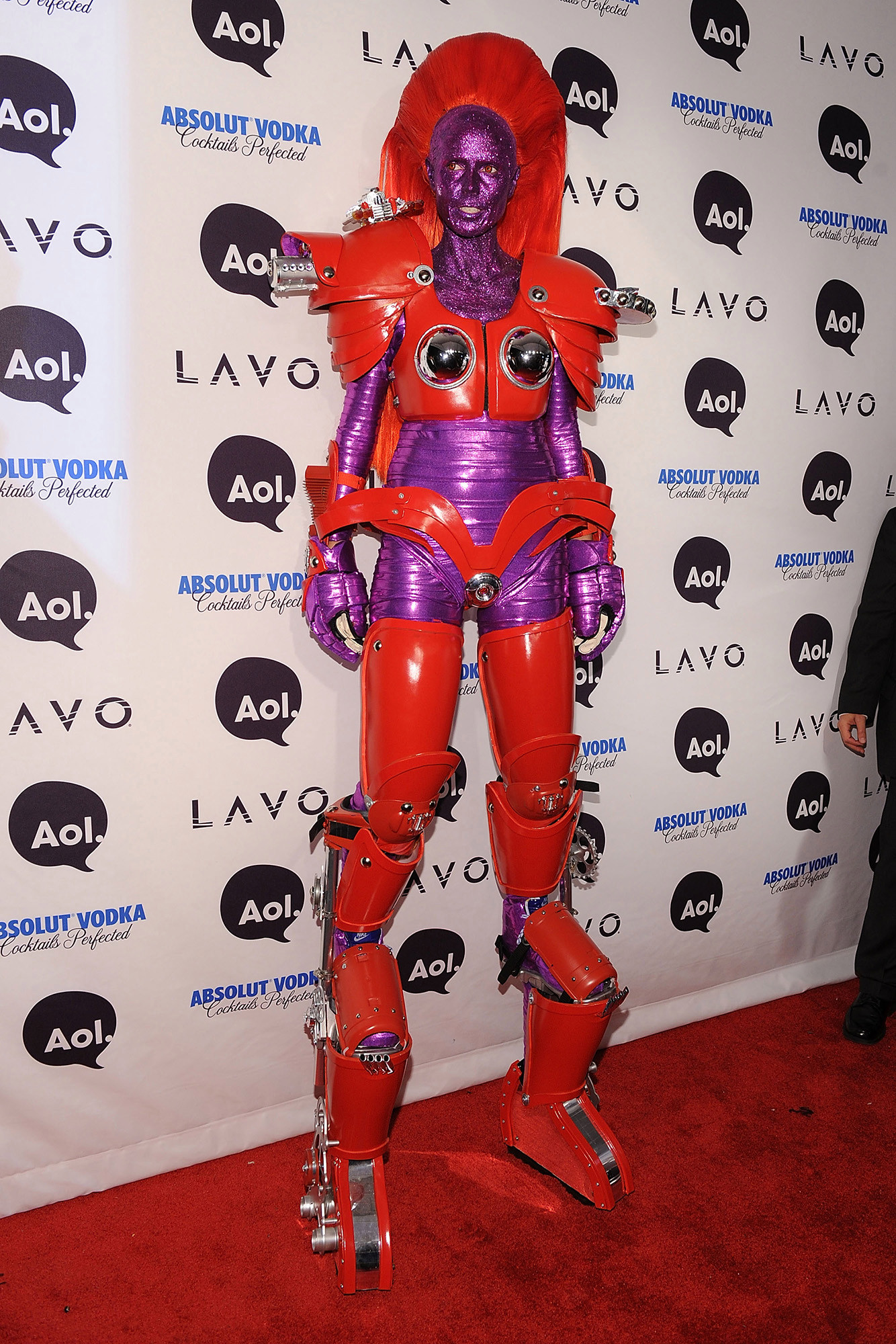 9. Robot (2010)

Klum doused herself in purple glitter and even wore red contacts to complete her costume. We're still not sure how she managed to walk on those stilts.
Getty Images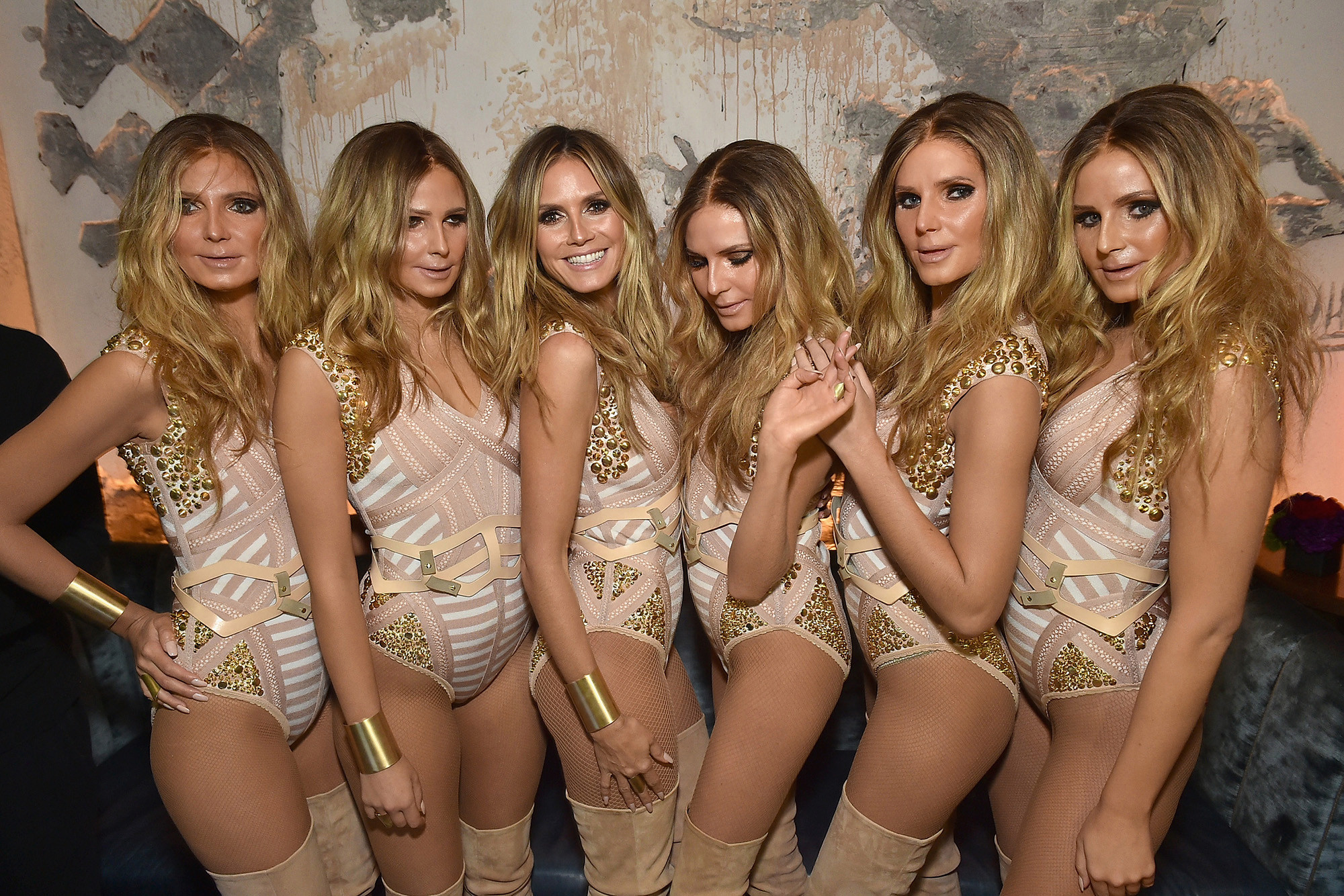 8. Klum clones (2016)

She flipped the script for this dramatic entrance, arriving with an army of blond lookalikes with identical measurements. Prosthetics were used to make the models' faces match Klum's -- eerie!
Mike Coppola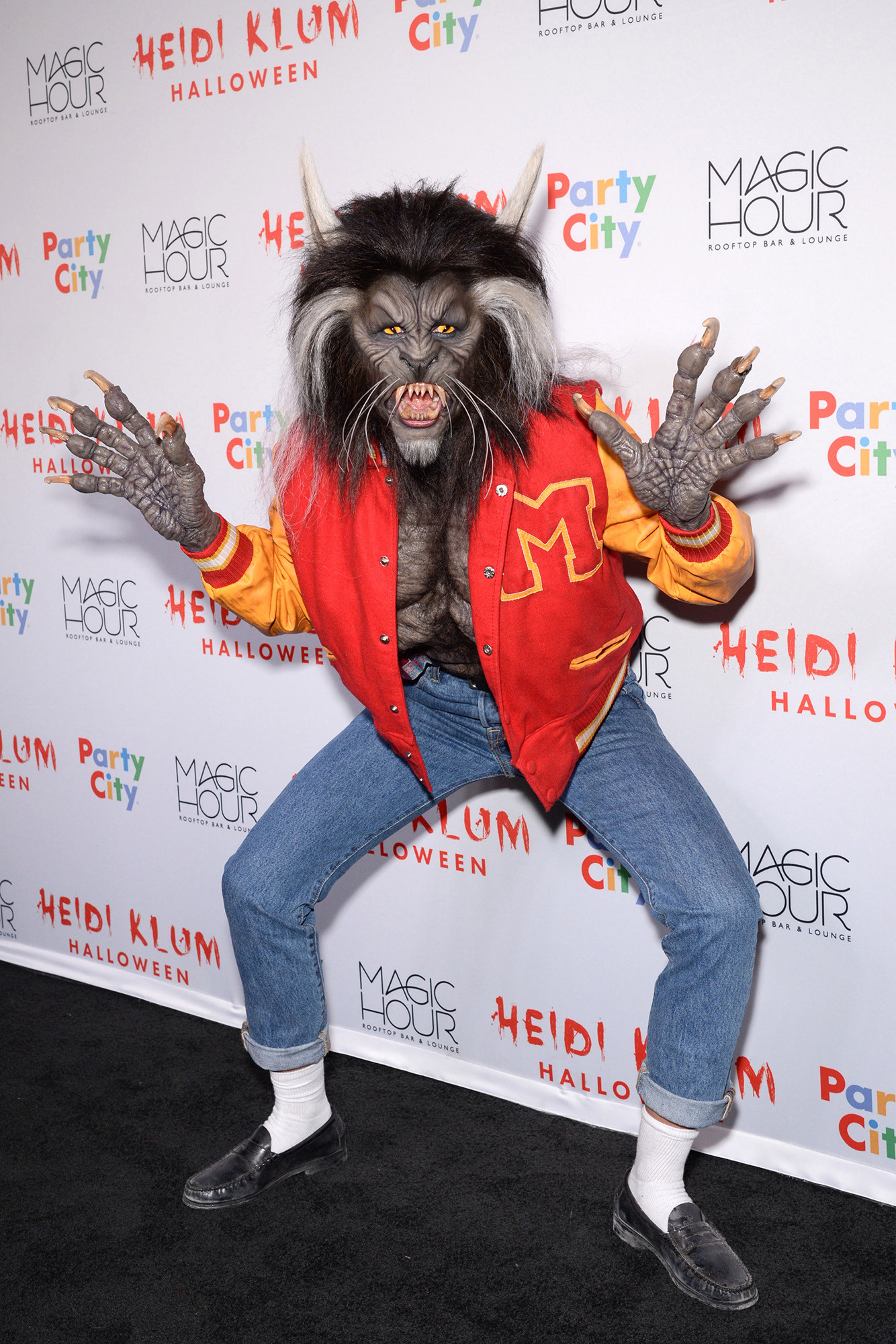 7. "Thriller" werewolf (2017)

The star paid tribute to Michael Jackson with this killer outfit, even rehearsing for four days to get her dance moves just right.
FilmMagic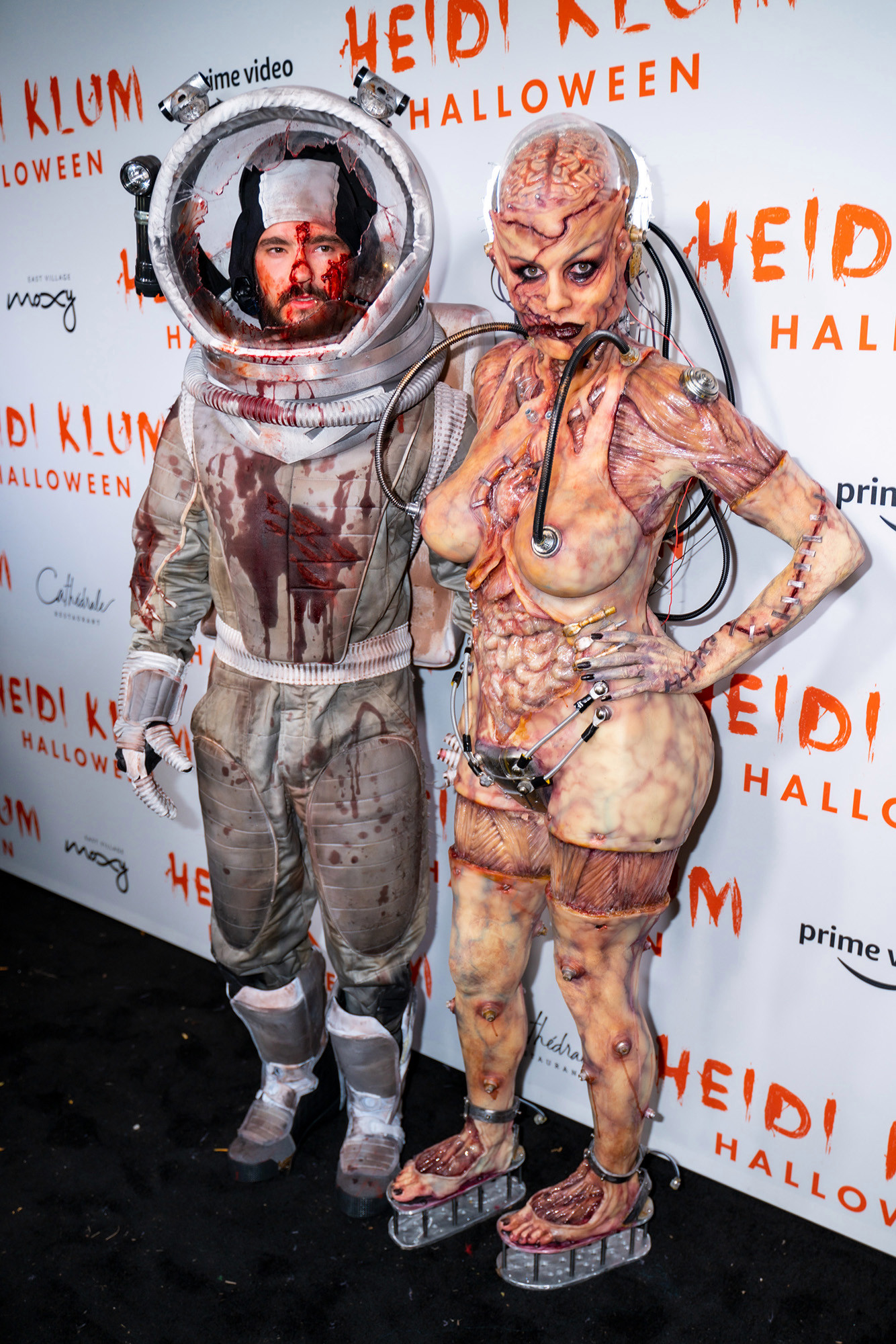 6. Alien (2019)

By far the most terrifying of Klum's costumes, this gory, gruesome alien-slash-zombie getup might give you nightmares.
FilmMagic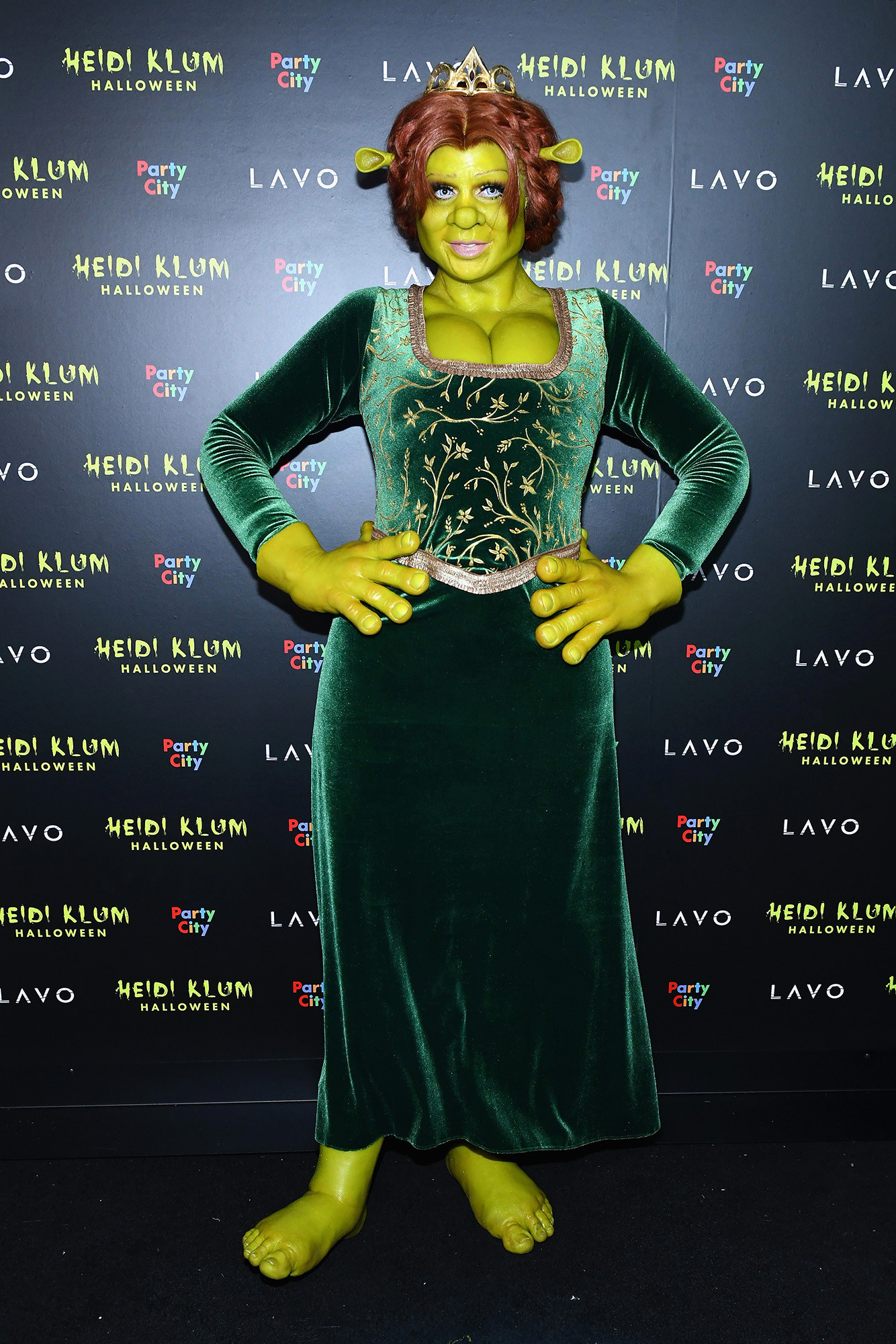 5. Fiona from "Shrek" (2018)

It's not easy being green -- Klum piled on the prosthetics for this awesome outfit, even arriving at her party in an onion carriage. Tom Kaulitz, meanwhile, joined her dressed as the movie's titular ogre.
Getty Images for Heidi Klum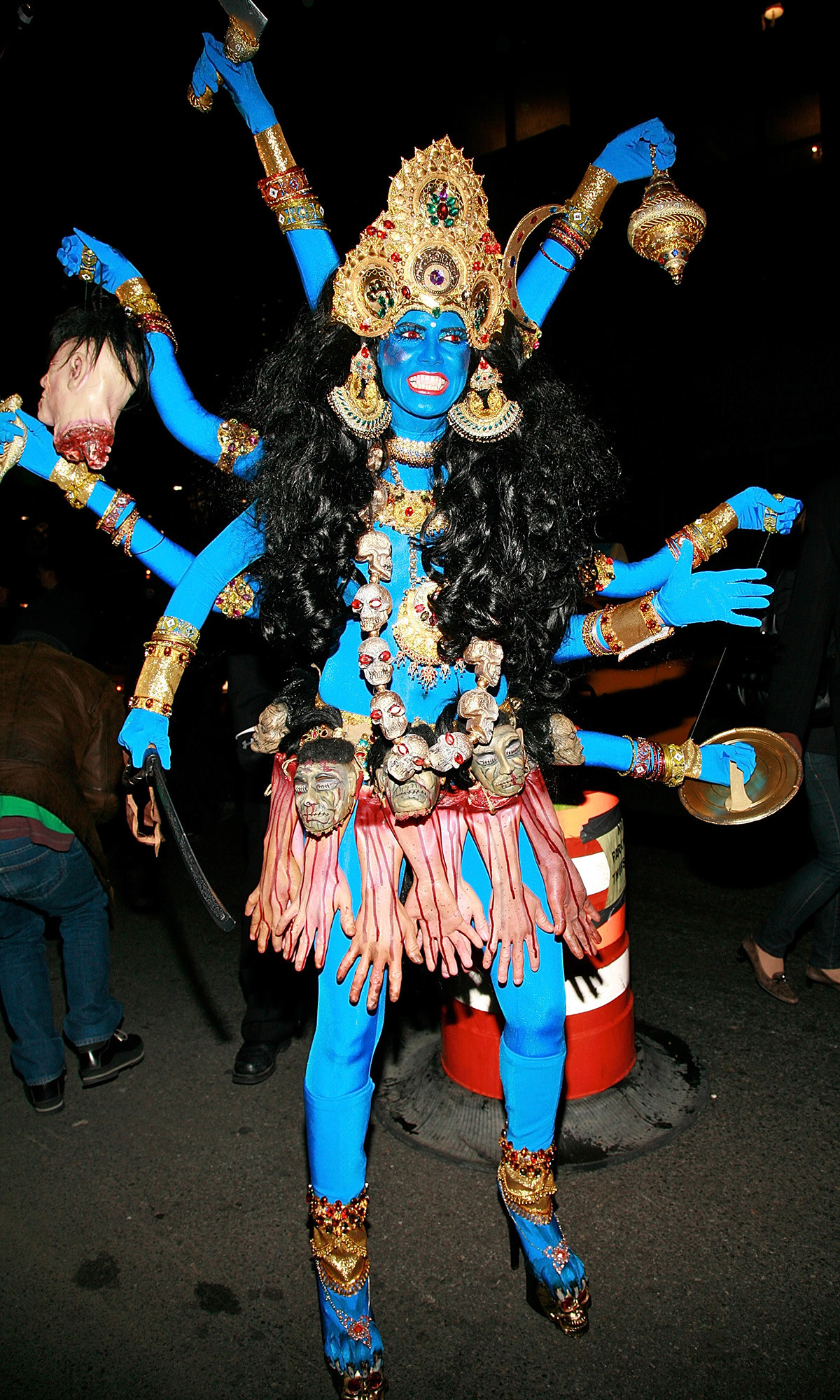 4. Hindu goddess Kali (2008)

While this colorful costume was deemed culturally insensitive by some, there's no denying the artistry involved. Klum told us the eight-armed look was "tricky" to achieve: "You have this heavy backpack with eight arms you lug around all night."
FilmMagic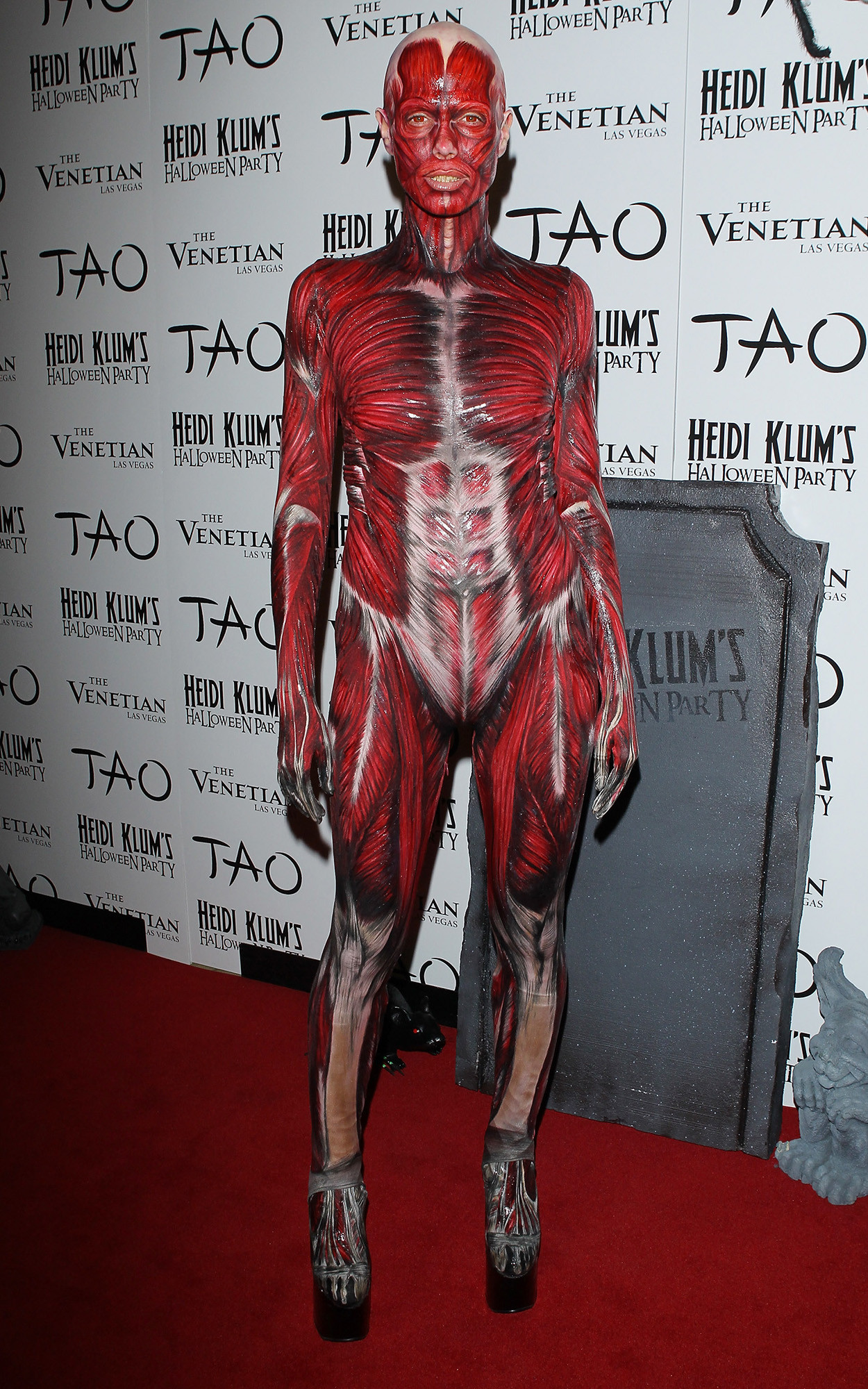 3. Skinless human body (2011)

Inspired by the "Body Worlds" exhibition, Klum shed her skin for this creepy costume, even arriving on a gurney accompanied by a duo of doctors.
FilmMagic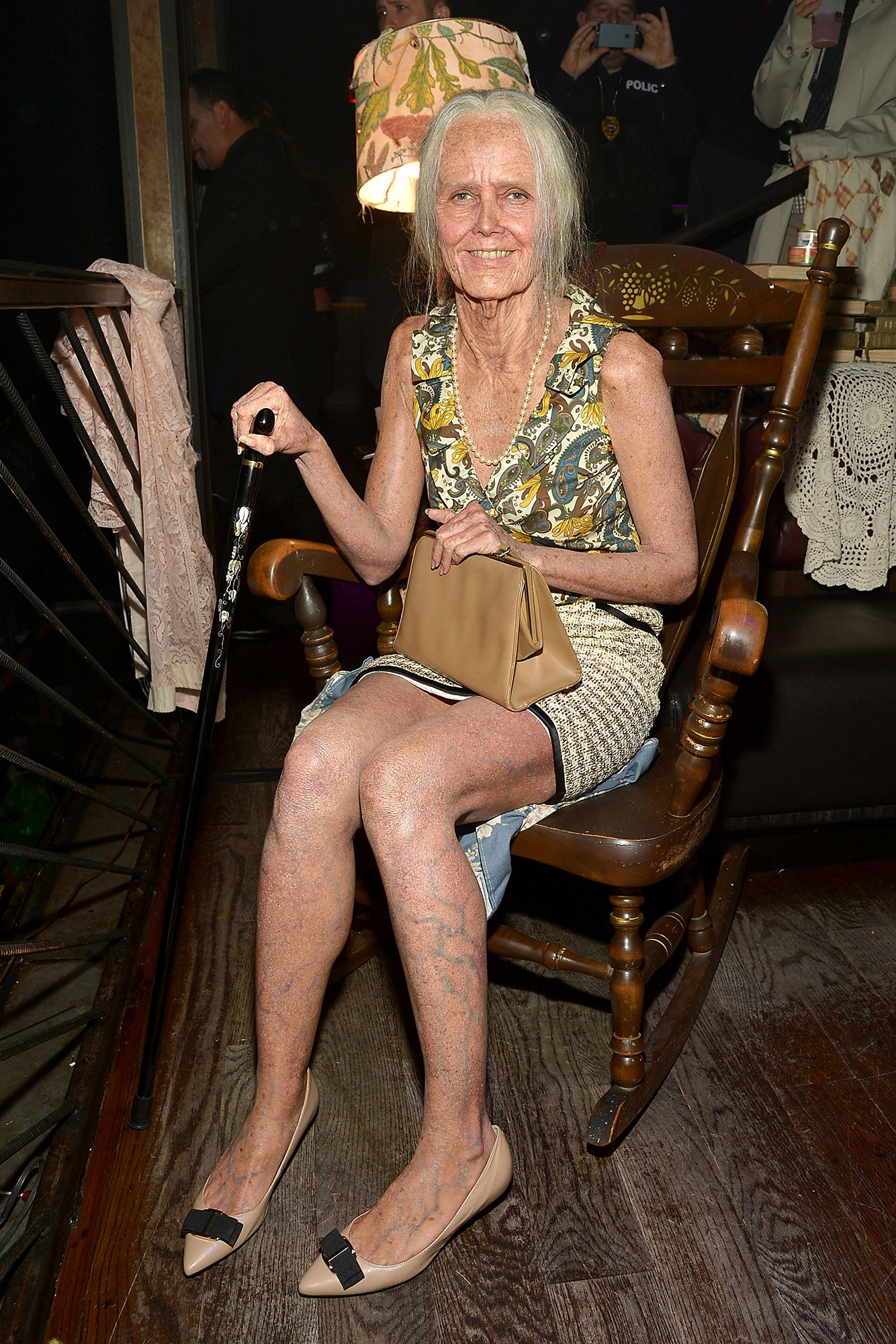 2. Old lady (2013)

A true testament to the magic of makeup, this elderly look rendered Klum unrecognizable. The model told us the costume -- her personal favorite so far -- "was sparked by people telling me, 'Wow, you're 40 now, how are you feeling with being old in [the modeling] industry?'"
Mike Coppola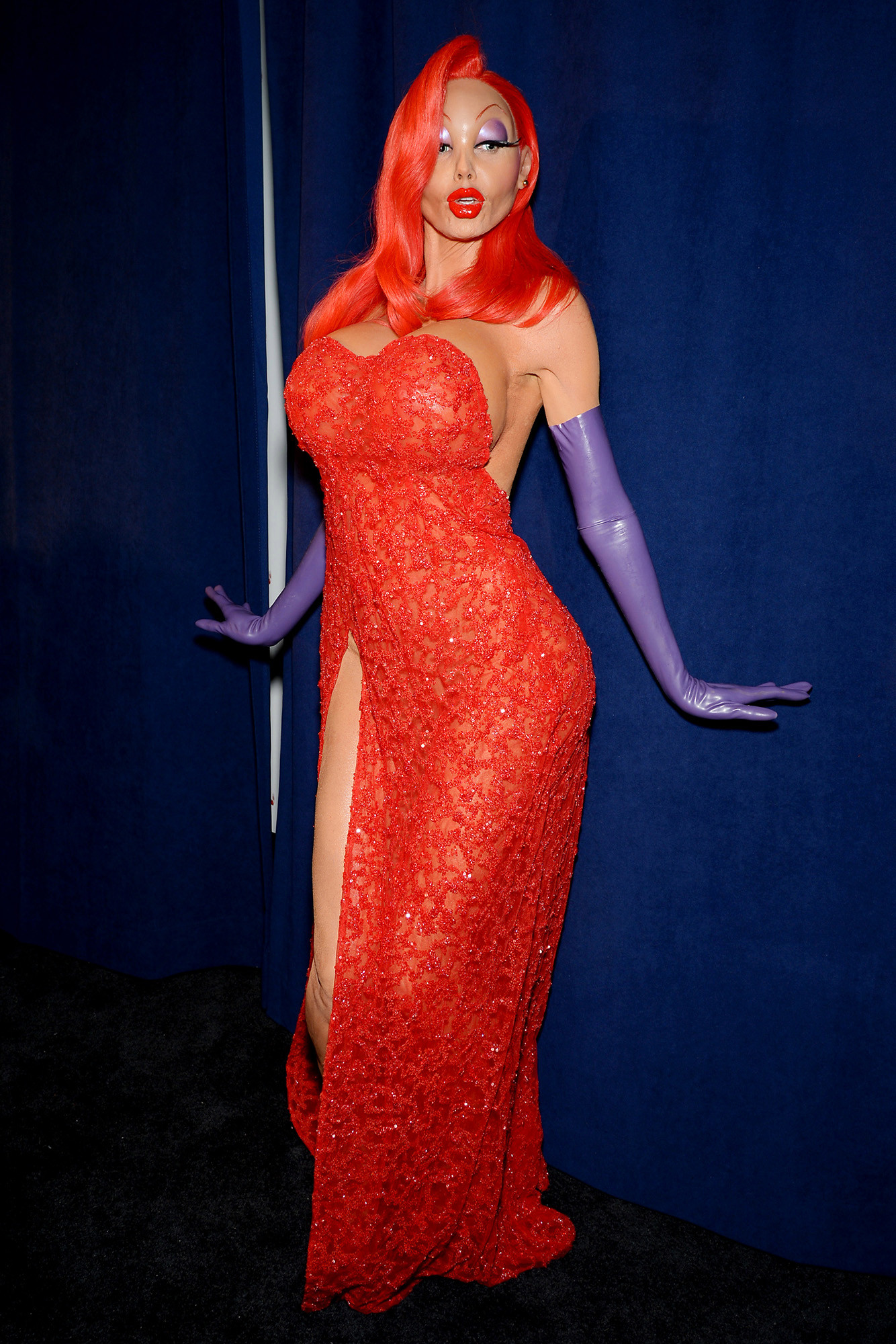 1. Jessica Rabbit (2015)

Klum outdid herself in every way with this cartoon creation come to life. "I was looking up who is the most well-known sex symbol -- and it's Jessica Rabbit," said Klum. "I said, 'Perfect.' What man doesn't want Jessica Rabbit? I wanted plus-plus everything: boots, butt, lips. Everyone was grabbing my boobs and butt because they knew they were fake."
WireImage